Inventory Management Built Right into QuickBooks Enterprise 2016
Inventory management software that makes you more efficient
Easily see how many items are on hand, on sales order, on purchase order, and at your reorder point
Enter inventory data efficiently and reliably with a bar code scanner
Track items among multiple locations, down to the bin level and serial or lot number
Manage all of your inventory tasks within QuickBooks - it's all one software, nothing extra is needed.
Inventory management can be a challenge for any business.
How much inventory do you have on hand now and ready to sell?
Where in your warehouse is the inventory you need?
How do you efficiently enter inventory data?
Which cost accounting methods do you want to use?
What is the best way to track thousands of inventory items to hundreds of thousands of inventory items?
What kind of inventory reporting do you need to make good business decisions?
Sophisticated Inventory Management – right in QuickBooks Enterprise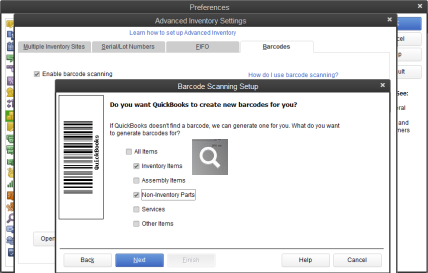 QuickBooks is the #1 rated small business financial software.1 And Intuit's inventory management software is designed specifically for the QuickBooks user, making adding inventory management capability to your life a snap. No counting, no workarounds, no spreadsheets, no more exporting. You use the same interface you're used to with QuickBooks without the need to integrate separate software, and there's no need for any complicated syncing between QuickBooks and other data streams: everything works as a single, unified tool to make managing inventory as simple as possible.
The Advanced Inventory Add-On for QuickBooks Enterprise makes managing inventories of any size a simple task. You'll notice the complete integration with QuickBooks right away if you manage inventory using bar codes. You just scan inventory and serial numbers with a scanner and QuickBooks takes over, putting your data in the correct fields automatically. And if your inventory items don't have barcodes, QuickBooks can create them for you!
Complex inventory tasks now made easy: advanced sorting by location, bin, lot, and serial number.
Among other easy-to-use tools that make managing your inventory more efficient is bin location tracking, which gives you pinpoint location information for every item in your inventory, across multiple sites or warehouses, right down to the bin. You can even see which serial/lot number is in each bin. Bin location and other tools let you sort by item, bin and location to make picking and stocking simpler and more efficient. Know at a glance what you have on hand, and where. Exactly.
Everything you need to efficiently manage your inventory is integrated seamlessly into your QuickBooks, so you don't need to worry about learning how to use yet another software package; you already know how. Your inventory data is automatically tracked as you do the things you do to conduct your business. Every invoice, every sales order, every P.O. is automatically reflected in your inventory. It couldn't be easier - if you use QuickBooks, and you need inventory management, you need Intuit's Advanced Inventory for QuickBooks Enterprise.
* If you're currently using QuickBooks Desktop, we'll apply the current value of your QuickBooks Pro or Premier multi-user license fee towards your upgrade to QuickBooks Enterprise 2016. If you're not currently using QuickBooks Desktop, please call in to discuss eligible discount available. Credit limited to a maximum of $1,800. Offer available by phone only. Not valid for customers who are already on QuickBooks Enterprise. Offer valid from Oct 8, 2015 to Oct 31, 2015. Offer valid in Canada only. Terms, conditions, pricing, features and support options are subject to change without notice.

1. Based on NPD Retail Tracking Service for retail sales from May 2011 - May 2012