The ProAdvisor Program enables accounting pros to grow their firm, skills and QuickBooks expertise by providing benefits including training, customer care, strategic marketing tools, and accountant specific product discounts. To learn more about the ProAdvisor Program, visit: https://quickbooks.intuit.com/accountants/proadvisor/.
Points System
We've updated several components of the program, with a focus on more benefits, ways to earn new points-based structure, and an improved in-product experience. As a new QuickBooks Online Accountant (QBOA) user under a new QBOA firm, you will automatically be placed in the Silver tier.
Tier Thresholds
Silver: 0 to 199
Gold: 200 to 799
Platinum: 800 to 1599
Elite: 1600+
Earn points
Listed below are actions you can take to earn points.See Firm of the Future to learn more on how to earn points.
Add a QuickBooks Online subscription for a client - 25 points per client
Complete certification for QuickBooks Online - 100 points
Complete advanced certification for QuickBooks Online - 200 points
New!

We know that small details matters to you, so we're introducing the new Detailed Points History that you can access inside QuickBooks Online! Every action that adds or removes points from the firm balance will show up in an easy to read format, which allows you to track points quicker.

Take a peek at the Detailed Points History in QBOA! Go to ProAdvisor. Select Benefits then History.
Note: If you are already certified in QuickBooks Online and you take the re-certification exam or full new certification, you will NOT receive an additional 100 or 200 points.
Instead of losing the points (due to your certification expiring), you'll maintain your current points.
Benefits
The ProAdvisor program offers benefits such as training, product discounts, strategic marketing tools, and dedicated support. The higher your tier, the more benefits you unlock. Continue taking actions to earn points to get to the next level. See the Tiers and what benefits they unlock in QBOA by selecting ProAdvisor then Benefits.
Marketing tools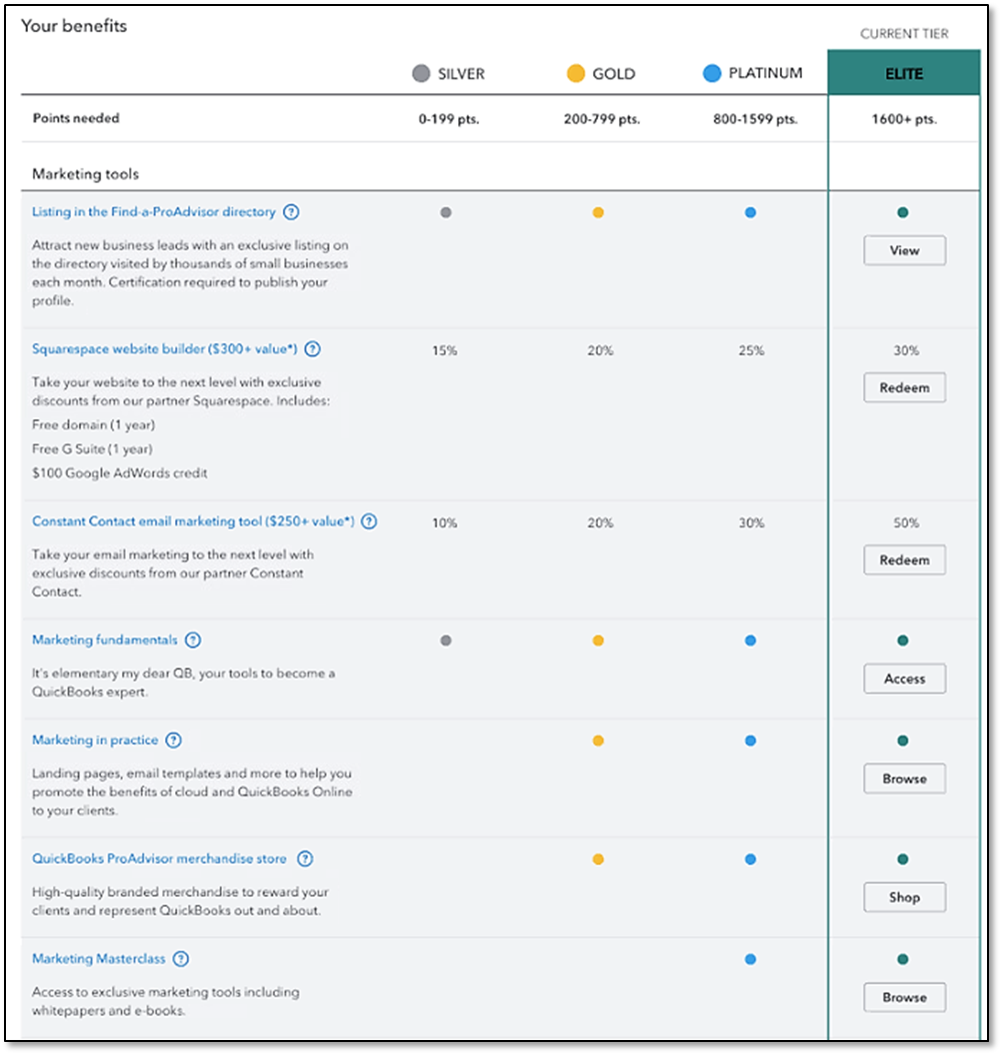 Product support and Training