Get to know how clients use the Find-a-ProAdvisor search results.
As a certified QuickBooks ProAdvisor, we encouraged you to publish a free profile on the website attract clients.
Here's an overview on how the search results works.
Set up your profile to specify the services, products, and industries you serve. This info will help clients to sort out possible accountants that can help there concern.
Apply filters
Prospective clients can search use the following filters:
Industry served. Shows the profiles with the specific industries selected.
Service provided. Shows the profiles that offer the same specific service selected.
Product supported. Shows the profiles that supports the QuickBooks products selected.
Sort by. Shows the profile by category that includes best match, distance, rating, and last name.
"Sort by" options
Best Match
This is the default Sort by method that uses multiple criteria to find the perfect accountant for the clients concern.
Maximise your profile to improve the ability to match with potential clients.
Distance
This calculates the distance between the centre of the city or the Postcode of the client with the address listed on your profile.
Profiles are listed from closest to furthest and searches by city have different results from searches by Postcode.

Rating
It is based on Overall rating from the client reviews from the highest to lowest.
Last Name
This allows clients to sort accountants by last name in either A-Z or Z-A order. This makes it easier to find a specific accountant or tax professional.
Credentials
Your credentials such as CPA (Certified Public Accountant) and EA (Enrolled Agent) appears next to your name on your public ProAdvisor profile. If you select both, your profile will only show CPA because as a CPA, you are qualified to perform EA tasks.
Your QuickBooks certified products will show under your name with your highest and current level of certification per product.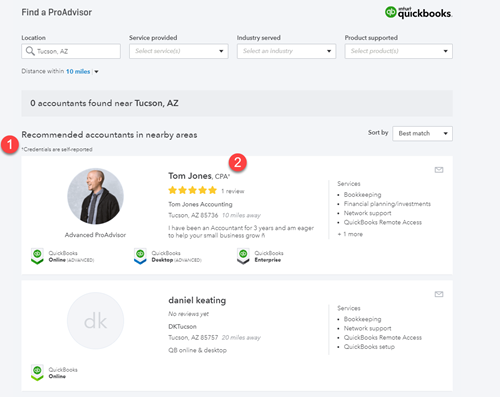 FAQ
How do I improve my profile's placement in search results?
Complete your profile to show your credentials, services, and industries you support to improve your profile's placement.
Why did my profile placement change on the Find-a-ProAdvisor website?
We continuously improve the website for the clients to help them find the perfect accountant. It is constantly changing for variety of reasons like profile improvements made by your colleague to the time of year. For example, if clients search for tax services and you offer that service, your profile placement will change.
Why does my profile show that I'm some distance away from where I am when using the city or Postcode?
We calculate the distance from the address listed on your profile to the centre of the city or Postcode entered. Searches by city usually have different results than Postcode because of the different boundaries.
For example, if your address is 2800 E Commerce centre place in Tucson, and you search for profiles in the 85706 Postcode, the results shows that your office is located 2 miles from the centre of the Postcode.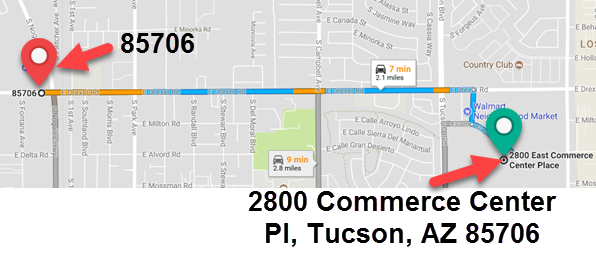 Why doesn't my profile show up when I search my Postcode or city?
There are different reasons why your profile doesn't show up correctly, contact a ProAdvisor support to help you.