Your payments processing experience has changed! Here's a summary of the changes effective October 1st 2018.
| | |
| --- | --- |
| From | To |
| You process payments directly in QuickBooks Desktop | You'll need to process payments through an online portal |
| You don't need a separate login to process payments | You'll need a user ID & password to be authenticated |
| Payments are processed by our partner, First Data | No change |
Who is First Data?
First Data is our payments processing partner in Canada for QuickBooks Desktop Merchant Services.
How do I register an account for the online portal?
In order to use the online portal, you will need to create a user ID & password. You can register using the account registration page starting on September 26.
Enter the following information:

Merchant ID (MID): You'll receive an email either on September 26 or 27 with your new merchant ID. If you haven't provided us with an email address, please call 1-877-772-9158 to add it to your account.
Tax ID: 98-9898989 (set value)
Postal Code: First enter the first three letters of your postal code, then a space, then the next character. For example, if your postal code is L4W 5S2 you would enter L4W 5.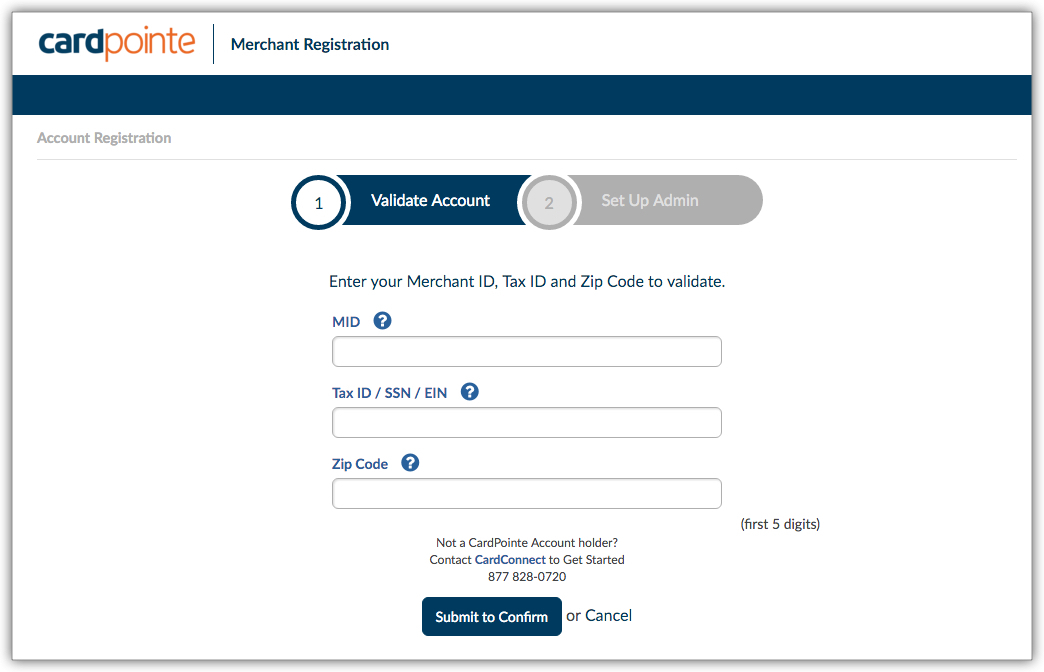 Click Submit to Confirm. The Set Up Admin screen displays, allowing you to associate an administrative user with your Merchant Account.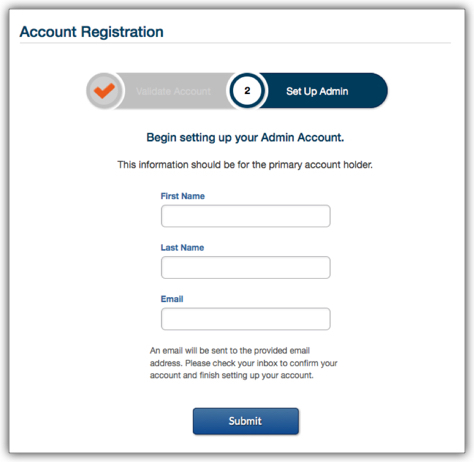 ​Upon completing these fields, click Submit. CardConnect will send you an email that includes a link to complete your registration. Once you have registered your account, please bokmark the following login page - https://cardconnect.com/login.
Note: The link to finish your registration, which is included in the email that you receive from CardConnect, expires after two weeks from the date of receipt. If you fail to complete your registration prior to this expiration period, please contact CardConnect
How do I process payments in the virtual portal?
The merchant that you would like to run a transaction against. This automatically defaults to the first location listed within the Locations section of the Administration screen.
The type of transaction that you wish to run through the Virtual Terminal. This option automatically defaults to Sale. Available transaction options include:

Sale - Process a sales transaction. The Transaction Processes available with this option include Authorize and Capture and Authorize Only.
Force Credit - Force a credit for processing. This is useful when you wish to offer customers a credit without a receipt or specific proof that they purchased goods from you.
Verify - Verify a customer's payment method without authorizing funds (also known as a Zero Dollar Value Authorization). A Zero Dollar Value Authorization performs an Address Verification (AVS) check, and confirms that the three or four digit Card Verification Value (CVV) code is valid.

The transaction process type that you would like to run when processing a sale through the Virtual Terminal. This option is available only when the transaction type is set to Sale. Available transaction process types include:

Authorize and Capture - Authorizes the availability of funds from a customer's payment source, and then transfers those funds from the customer's account to the your merchant account.
Authorize Only - Authorizes the availability of funds from a customer's payment source so that funds may be captured at a later time.

Search for an existing customer profile to associate with a transaction.
The customer's billing and contact information that you wish to associate with the transaction. Additional details about this section:

The Name on Card field is mandatory, and all other fields are optional.
Selecting the Email Receipt checkbox emails a receipt of the transaction to the address provided in the Email Address field.
The Store Customer Profile checkbox is selected by default. Unchecking this box will result in the customer's payment profile not being saved for use at a later time.
NOTE: Any stored customer profiles in QuickBooks Desktop will not automatically transfer over to your account in CardPointe. You will need to manually create these profiles once in the virtual portal.

You can manually enter the customer's payment card information in this section of the Virtual Terminal. If you are performing a card-present transaction, clicking swipe/secure key displays a message prompting you to swipe the customer's payment card.
Enter the transaction amount in the Amount field.
Selecting the Customers tab allows you to easily add new customer profiles to your merchant account, as well as edit existing customer profiles.
What are my payments processing support options?
If your questions is specific to processing a payment in CardPointe, you can create a ticket by following the steps below:
Navigate to the "Support" tab and click Create Ticket

If you have multiple merchant locations, you can open a ticket for a specific location by choosing the site from the Location drop down
Select the purpose of the ticket from the Reason drop down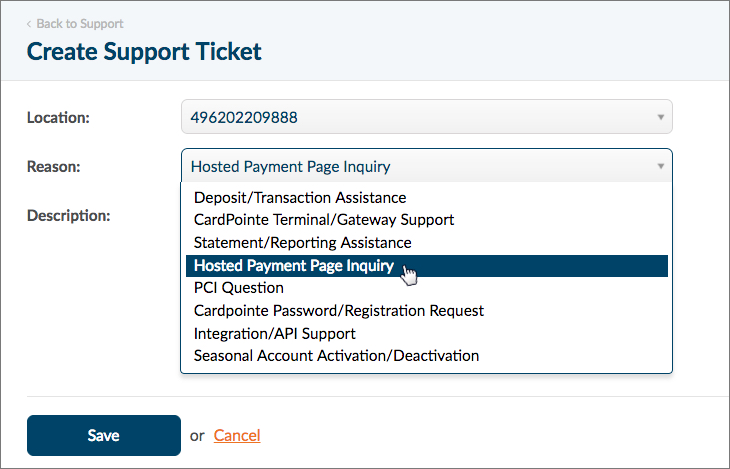 Provide details about your request or inquiry in the Description field
When finished, click Save to submit the ticket. A member of our support staff will respond as soon as possible. If you would prefer to be contacted over the telephone, please include your contact information in the ticket description
You can also contact CardPointe at 1-877-828-0720
For all other questions regarding QuickBooks Desktop, contact us at 1-877-772-9158
Why are you making these changes?
We're making these changes to ensure that your payments processing is safe and secure. Transactions via the online portal are backed by tokenization and PCI-validated Point-to-Point Encryption (P2PE)
Will my rates change?
We're not changing your rates or fees at this time. Should this change, we will communicate it to you well in advance.