About Transmitter numbers
ProFile FX module requires that a transmitter number be provided in order to transmit an XML file.
The XML file has a section called "T691", which acquires the MM number and builds a valid XML file for transmission to CRA.
Acquiring a Transmitter number
Use generic transmitter number MM555555 to file this return if you are filing only one return and do not have an existing Transmitter number.
Use the Transmitter number that the CRA assigned to you if you are filing more than one return. You can call the CRA at 1-800-665-5164 or visit the related CRA page to acquire a Transmitter number.
Review the CRA information page for further details on submissions.
Entering the Transmitter number
1. Open the ProFile application.
2. Select the "Options...." option from the EFILE drop-down menu on the top toolbar: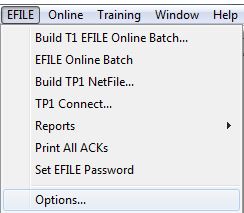 The "Electronic Filing Options" window displays.
3. Select the "Transmitter" option under the "T3/FX" section in the left-side pane: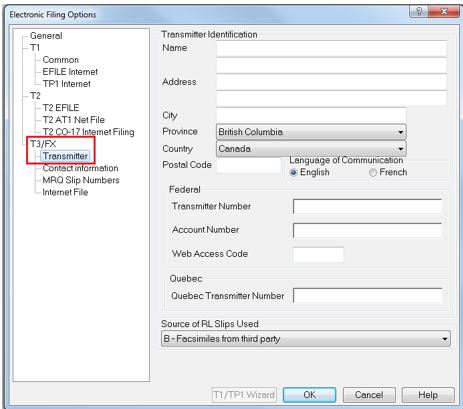 4. Enter the transmitter number in the "Transmitter Number" field under the "Federal" section of the window: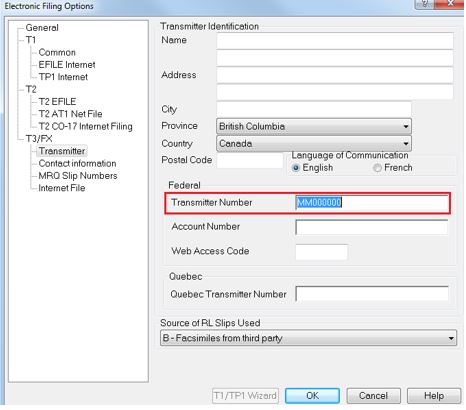 5. Click the "OK" button.
Note: if a number has not been assigned or if there is a delay in receiving the number, ProFile users can enter "MM000000"; this is a generic number that will be accepted by CRA.
Get in touch with other Accountants

Follow us on Twitter and Like us on Facebook