Receiving a "Webservice Unavailable" message when trying to NetFile an AT1 or CO-17 from the corporate T2 module.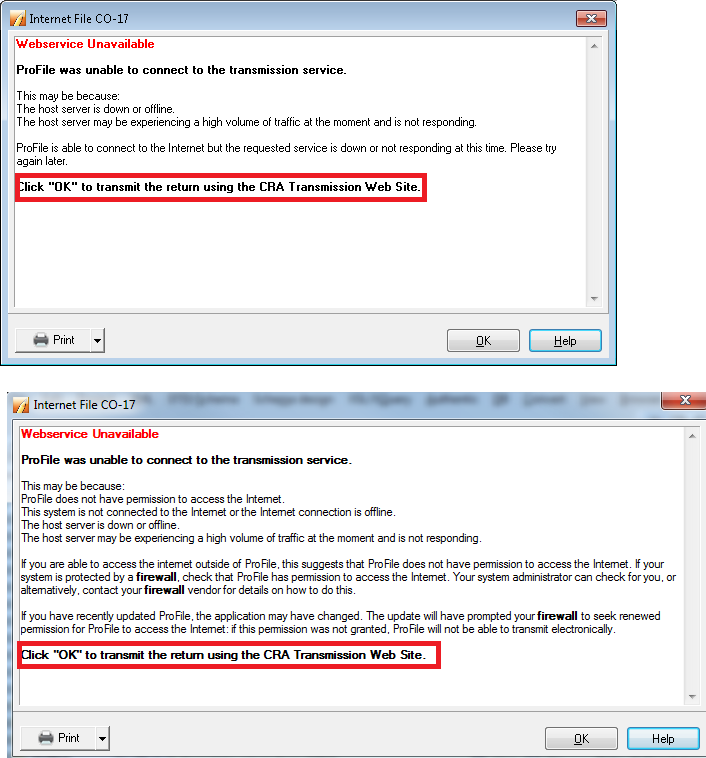 The message following this error incorrectly indicates that the return can be transmitted to the CRA Transmission Web Site. CO-17 and AT1 do not use the CRA Transmission Web Site, but their own provincial government agencies - Quebec and Alberta respectively.
This message will be updated in a future release to not only include the specific provincial agency message.
However, in the event of this message appearing, follow the usual troubleshooting step.
Troubleshooting steps:
Exit ProFile and go to:
Control Panel > Internet Options
Click Advance > Security section
Check the boxes for
Use SSL 2.0 & 3.0
Use TLS 1.0, 1.1 & 1.2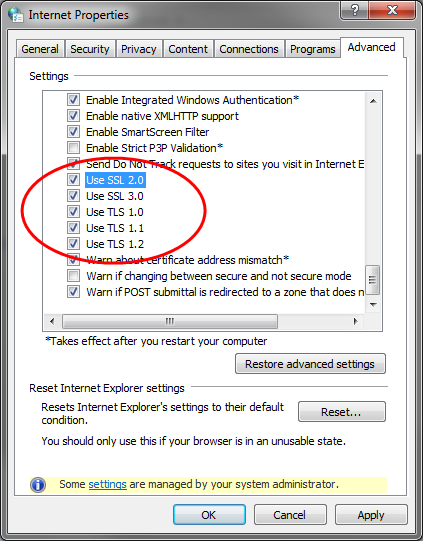 Ensure Pop-up blocker is turned off
Privacy > uncheck Turn off pop-up blocker
Clear cache and cookies
General > Delete
Ensure that only "Preserve Favourites..." and "Cookies and website data" are checked. Everything else should be unchecked.
Clear privacy:
Privacy > Advanced > uncheck (if there is a check mark)
Check Proxy settings
Connections > Advanced > uncheck "Use proxy server...."
On Internet Explorer, go to Tools in the menu bar:
Compatability View Setting > Check "Display all websites in Compatibility View
Firewall
Check for .NET 3.5 and Windows Updates
Reboot machine
Get in touch with other Accountants

Follow us on Twitter and Like us on Facebook