Issue
An error displays when attempting to EFILE the T1163 form:
"The business type code is "6" and the amounts at field 9950 and/or field 9960, do not balance to their respective total."
Resolution
Review sections 4 and 5 on the T1163 form.
In each section, ensure that the business type code and the corresponding amount for an entry are both present in the list(s).
In this example, the business type code is missing: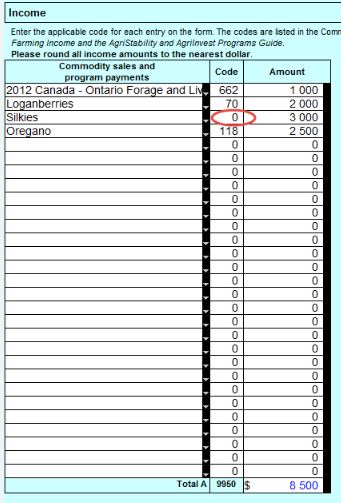 As a result, the amount is included in the total section (e.g. "Total A") of ProFile line 9950. However, CRA does not take into account the amounts with an entry code of "0" when computing the total of line 9950.
The result is a CRA rejection with error code "Y80009".
To resolve, ensure each entry in sections 4 and 5 have a corresponding code and amount before EFILE of the T1163.
Get in touch with other Accountants

Follow us on Twitter and Like us on Facebook