Learn how to use Google Single Sign-On (SSO) to sign in to QuickBooks Online.
Sign in to your QuickBooks account using your user ID and password. 
Google SSO allows you to sign in to your QuickBooks Online account using your Google credentials. With Google SSO, you only need to log in once and you can easily switch between Google Workspace and QuickBooks Online.
Here's how Google SSO works with QuickBooks Online.
Google SSO and QuickBooks
Google Single Sign-On enables users to access all their enterprise cloud applications by signing in one time for all services. To log in to QuickBooks Online using your Google credentials, select Sign in with Google, then enter your Google email/phone and password.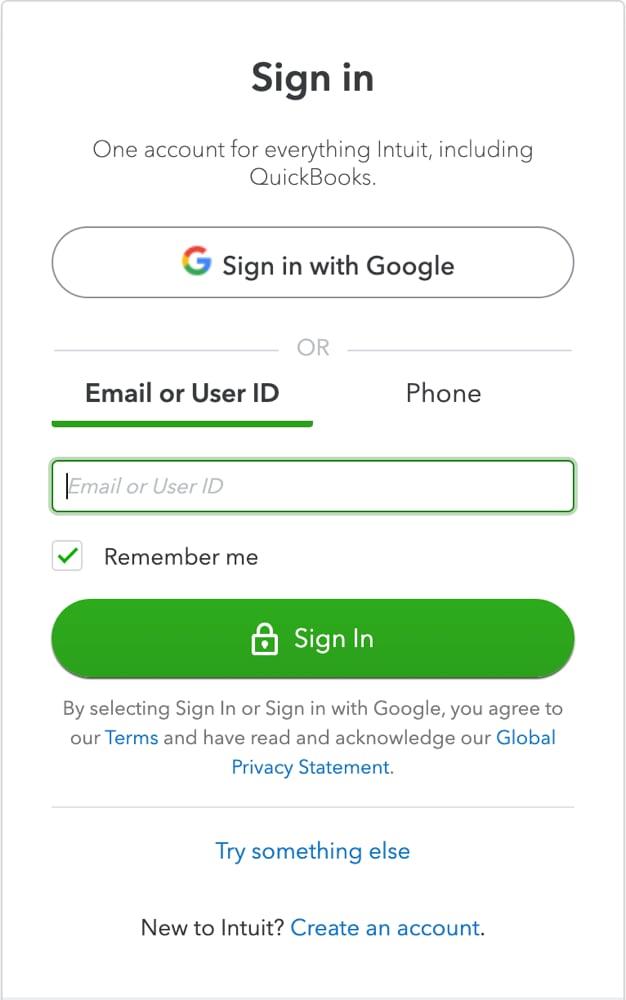 Note: Google SSO isn't available in QuickBooks Self-Employed.
Get help if you can't sign in to your account.
Google Workspace and QuickBooks
Google Workspace is a set of intelligent apps connecting all the people in your company. It's currently available for QuickBooks Online in selected regions.
Access QuickBooks from Google Workspace
If you're already signed into Google Workspace and type in the URL for QuickBooks Online into a new tab or page, it won't recognize the SSO user. You must launch from the app launcher or app card in Google Workspace.
If you're new to QuickBooks Online, you must use the credentials you used to sign up for your QuickBooks Online account. We recommend using different credentials for your Google Workspace account.
If you're an existing QuickBooks Online user, the SSO will kick in after launching the app. Select Sign in at the top of the page.
Reset your password for Google Workspace
You can go through the usual "forgot password" process for Google Workspace. After resetting your password:
Open QuickBooks Online within Google Workspace.
A window opens prompting you to enter the new QuickBooks Online credentials.
Complete the MFA verification steps.
After sign-in completes, SSO uses the new credentials.
Disconnect QuickBooks Online from Google Workspace
Go to your sign in page and use your QuickBooks credentials. This should be different from what you use to sign in to Google Workspace.
Select the Intuit Account icon at the top-right, then Manage your Intuit Account
 Select Sign in & security.
In the Linked Identities section, locate the Signed in With Google identity, then select Remove.
Confirm you are removing the permission of Google to access QuickBooks Online.
Select Remove to complete the disconnect process.
Frequently Asked Questions