Intuit now provides customers with the ability to see and delete the data that Intuit maintains.

You have in your account tool the ability to access the data that Intuit has on your account and delete that data if you so choose to.

Note: It is not possible to delete data from an active subscription. Your subscription must be inactive to delete data.
To review the Data privacy tool:
1. Open your account page.
2. Select Data privacy.
The Data privacy window displays: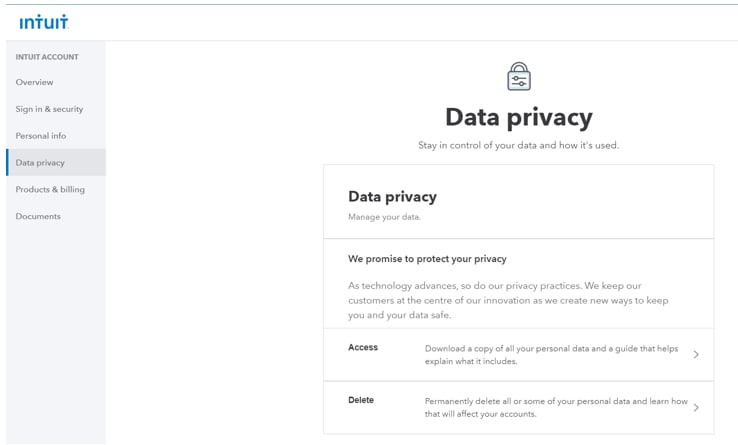 The Federal Law on Protection of Personal Data Held by Private Parties (FLPPDPP), the Regulations, and the Guidelines on Privacy Notices establish the principles and minimum standards for processing personal data and form the bases of the regulatory framework for the protection of personal data in Mexico's private sector. FLPPDPP generates specific obligations for data controllers, as well as a series of procedures and norms so that there is greater care with the treatment and sharing of this information. QuickBooks users can request deletion, correction and backup of personal data present in our system.
To access your data
1. Select the Access option.
2. Read the important notes about downloading your data.
3. Select Continue when ready to proceed.
4. Confirm which account you are accessing the data of.
5. Sign-in again to maintain the security of your data.
You are now ready to receive your data. Please be advised that it can take up to 15 days to receive your data.
To delete your data
Be advised: We strongly recommend you download your data before deleting it.
1. Select the Delete option.
2. Confirm you want to delete your data and for which product/account.
3. Read the important notes about deleting your data.
4. Sign-in again to maintain the security of your data.

The process is complete and your data deletion request has been submitted. Please be advised that it can take up to 15 days to delete your data.
Frequently Asked Questions
Can a delete request be reverted? How long do I have to reverse this decision?

A deletion request can be stopped if done within 72 hours of the deletion request.
Once a deletion request is submitted, you may cancel the request on the data privacy tab of your account page. Note that you may only have one deletion request processing at a time.
I deleted my data but I want to start a new account...can you restore the deleted data?

No. Once an account is deleted we no longer have any records of your information. A new account would have to be created.
How will I know when my data has been deleted?

You will receive an email once the data has been deleted. You will receive no further communications from Intuit after that regarding the data deletion.