Want to earn money referring QuickBooks Time to your franchisees? Just contact QuickBooks Time Support to register.
As a referring franchisor, you can:
Set up your franchise portal
Easily refer QuickBooks Time to your franchisees
Start earning commissions!
Set up the QuickBooks Time Franchise Portal
Notes:
The Franchise Portal runs best in Google Chrome. If you're using Internet Explorer, you must use version 9 or later.
Your browser's pop-up blocker must be enabled.
After registering, in QuickBooks Time, go to QuickBooks Time Franchise Portal.
To navigate the Franchise Portal
Dashboard
Use the dashboard to track information relating to the franchisees you've referred, including:
Activation status
Number of team members
Estimated commission per month
Total commission earned from each
Understanding the Dashboard
Note: The portal view defaults to OVERVIEW. Select YEAR BY MONTH to see one calendar year of the commissions you've earned. Hover over each bar to see exact dollar values.
Active Accounts: Current total number of referred franchisees that are paying for QuickBooks Time
Active Users: Current total number of active users from all of your referred franchisees
Next Check: Commission you will receive at the next quarterly payout. Note: You must have earned a minimum of $250 in commission to receive payment.
Accounts in Trial: Current total number of referred franchisees that are still within their trial period
Users in Trial: Current total number of active users still in their trial period
Commission Potential: Total commission you will earn if all of the Accounts in Trial and Users in Trial transition from trial accounts to paying accounts
Refer a Client
Just enter your franchisee's email address, and they'll receive an email like this:
I think you would love QuickBooks Time time tracking for your business! Team members can track time on any device, you can easily integrate with for payroll, and the customer experience team is phenomenal! There are tons of amazing features, try it free for 14 days by clicking here:
Client overview
Client Name: Referred franchisee's company name
Account Status: Each franchisee's current status: In Trial, Active, or Inactive
Users: Number of active users in each franchisee's QuickBooks Time account
Invoiced Last Month: Amount that each franchisee was billed for all users in their QuickBooks Time account
Commissions Last Month: Amount of commission you earned last month from each franchisee
Total Earned Commission: Running total of earned commissions
Billing History
Client Name: Each referred franchisee's company name
Date: Date commission was earned
Type: CHARGE, PAYMENT or CREDIT
Note: Brief description of the billing line item
Amount: Dollar amount of the transaction
Currency Code: Transaction currency
Balance: Running total of earned commissions
Resources
Getting ready to meet with a franchisee? The Resources tab contains a media kit and all the materials you need to be a successful referrer.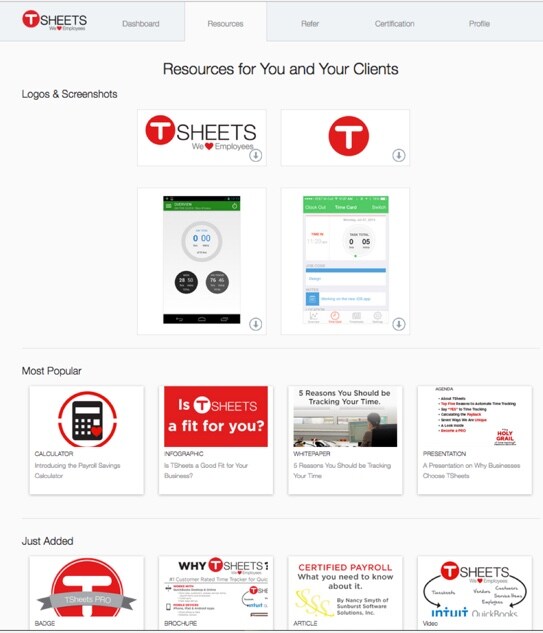 Profile
Use the Profile window to update your contact information. QuickBooks Time LOVES to send fun gifts to our referrers!