Learn how to run the repair tool for QuickBooks Desktop for Windows.
If you get an error when you use, install, or update QuickBooks, our tool hub can help. Just run Quick Fix my program to fix common errors right away. We'll help you use it, so you can get back to your business.
Run Quick Fix my Program from the QuickBooks Tools Hub
Step 1: Download the QuickBooks Tool Hub
The QuickBooks Tool Hub helps fix common errors. You'll need to close QuickBooks to use the tool hub. For the best experience, we recommend you use Tool Hub on Windows 10, 64-bit.
Close QuickBooks.
Download the most recent version (1.6.0.3) of the QuickBooks Tool Hub. Save the file somewhere you can easily find it (like your Downloads folder or your Windows desktop). Note: If you've installed Tool Hub before, you can find out which version you have. Select the Home tab. The version will be on the bottom.
Open the file you downloaded (QuickBooksToolHub.exe).
Follow the on-screen steps to install and agree to the terms and conditions.
When the install finishes, double-click the icon on your Windows desktop to open the tool hub.

Note: If you can't find the icon, do a search in Windows for QuickBooks Tool Hub and select the program.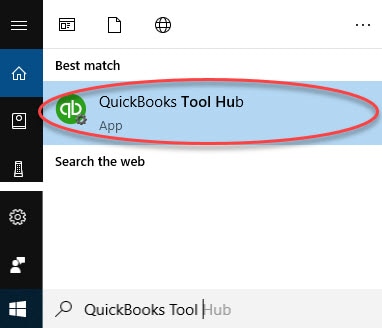 Solution 1: Run Quick Fix my program
The Quick Fix will shut down any open background processes QuickBooks uses.  It'll run a quick repair on your program.
In the QuickBooks Tool Hub, select Program Problems
Select Quick Fix my Program.
Start QuickBooks Desktop and open your data file.
If you still get the error, move on to Solution 2
Solution 2:  Run the QuickBooks Install Diagnostic Tool
If something went wrong during the QuickBooks install, it could cause problems when you try to use it. Run the QuickBooks Install Diagnostic Tool to fix common install issues.
Open the QuickBooks Tool Hub, then select Installation Issues.
Select QuickBooks Install Diagnostic Tool. Let the tool run. It can take up to 20 minutes.
When the tool finishes, restart your computer and start QuickBooks Desktop, then open your data file.
Update your QuickBooks to the latest release. This makes sure you have the most recent fixes and security update.
Fix Error 1628: Failed to complete script based install
This error happens if a Windows service called "Windows Installer" is not working correctly. To fix this, it's best to reach out to an IT expert or a specialist from Microsoft.