Review marks appear on the toolbar as red icons: check marks, an "X", and a question mark:

Preparers can use review marks to highlight fields in ProFile, indicate that the field contents have been verified, or that the data requires further review:
Using Review Marks
When a review mark is selected from the toolbar, the mouse pointer changes to an arrow with the corresponding mark attached. Click on fields within ProFile to either show they have been reviewed or that they require further attention. The review marks appear over the black status box to the right of the field: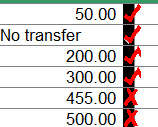 Issues with Review Marks
If review marks appear as numbers rather than the symbols on the toolbar, this indicates that the font used to display these symbols is missing or corrupted on the computer system:

This is only a display issue and will not effect how the review marks function.
To restore the review mark symbols, reinstall ProFile; this will not affect data files or configuration. The re-installation will supply the missing font, or overwrite a corrupted font file, and the review marks will return to normal.
On your existing tax returns/financial plans the review marks will automatically replace the red numbers.
Preparer Sign-off in the Auditor
Preparers can undertaker a preparer sign-off in the Auditor by right-clicking on the message and selecting preparer or partner sign-off options.
Get in touch with other Accountants

Follow us on Twitter and Like us on Facebook