1. Position the mouse on the field to which you wish to assign the "cha-ching!" sound (for example, "Net fee plus disbursements").
2. Hold the left-click button; the cursor changes to a white arrow attached to a white box:

3. Hold and drag the cursor to the grey monitor bar at the bottom of ProFile; the field name displays:

4. Right-click on the field name in the monitor bar and select the "Monitor" option.
The "Monitor" window displays.
5. Enter the text "chaching" and the applicable field code in the "Formula" field: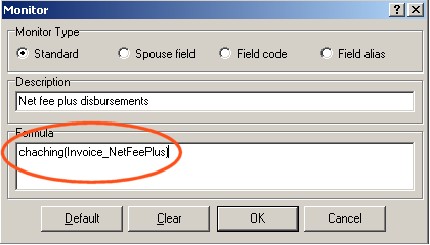 6. Click the "OK" button.