Each word processor template has a print condition that works with your Options > Form Selection settings to determine when ProFile will print that template. The default conditions that are set when you install ProFile will work correctly for any office. However, you may want to change these to suit particular business practices.
To change the print condition for a template:
Go to Options > Templates.
Select a template from the list.
In the Print Condition field, enter a condition to determine when to print the template. Typically, print conditions include field codes and comparisons like T1Info.B[8]=0.

- Enter 1 in the Print condition field to print this template for every client.
- Enter 0 to deactivate a template, if you do not want ProFile to print a template under any condition.


Select your template for printing in one of the print jobs under Options > Form selection.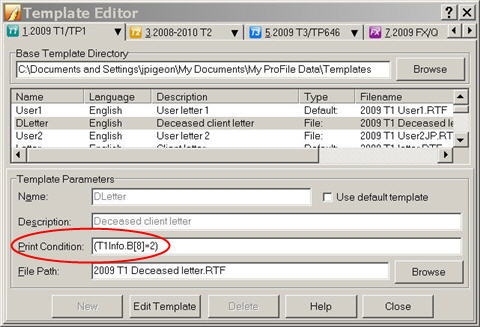 Get in touch with other Accountants

Follow us on Twitter and Like us on Facebook