Note the following before beginning...
This process requires an FX Web Access Code (WAC) from the CRA. This is not the same code used for T2 corporate returns.
Click here to learn more about requesting a WAC from the CRA.
In addition, batch Internet filing of slips from FX is ONLY available from the Client Explorer database; it is NOT available via Classic Database.
Selecting Returns and Slips to Batch File
1. Set up the Client Explorer database.
2. Filter the returns in Client Explorer to display only the current FX year.
3. Select the returns to be batch filed.
4. Click the "Build EFILE" link: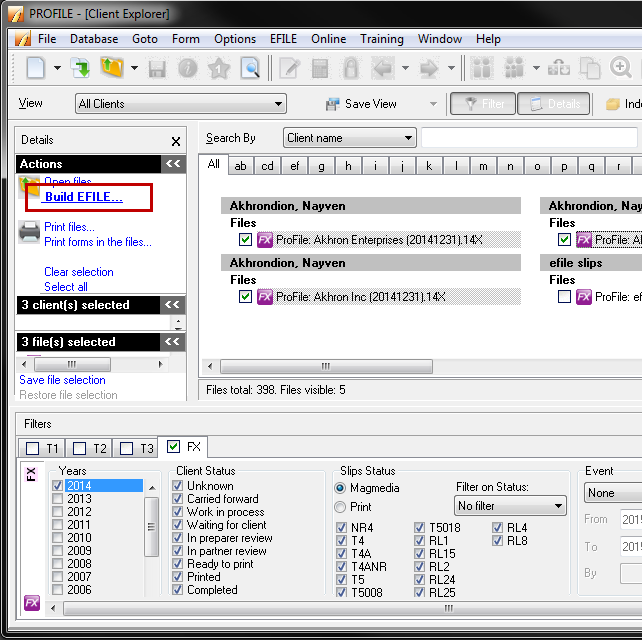 5. Select the slips for each return. Multiple slips for multiple returns can be selected for the batch; everything will be generated in the same XML file: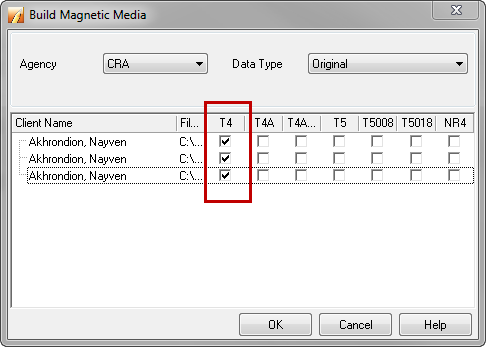 6. Click the "OK" button.
If successful, a message indicating the completion of the XML build displays; you will need to use this directory location later in this process: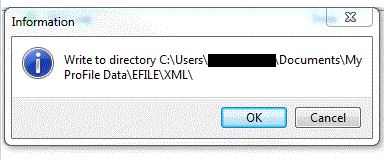 7. Click the "OK' button; ProFile indicates with a green checkmark that the XML has been successfully built: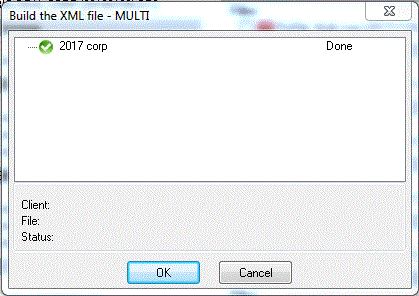 8. Navigate to the CRA XML transfer website at this link.
9. Scroll to the bottom of the page and click on the Internet file transfer link:


This allows access the CRA XML upload window after signing on to the CRA site.
10. Navigate to the location where ProFile indicated it saved the XML.
11. Click the "Submit" button.
The XML file transmits to the CRA.
The CRA provides a confirmation window following transmission. Capture or screenshot the confirmation window if you require evidence of the transmission.