Issue
In some ProFile forms a large, blank space may be seen between some fields, as illustrated in the following screenshot:

This is a result of page breaks being activate within ProFile.
Resolution
Select the "Environment..." option from the "Options" drop-down menu in the top toolbar: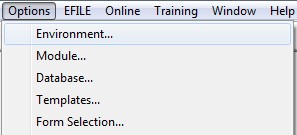 Select the "Display" tab and uncheck the "Page Breaks" checkbox:

Click the "OK" button; the settings are saved.
It is not necessary to restart ProFile.