Issue
ProFile users encounter a "Catastrophic failure" error message: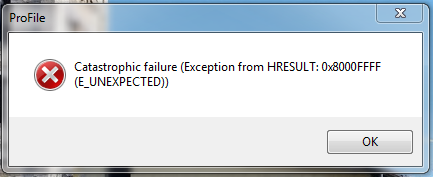 The address code contained in the error can vary; common examples include 0x8000FFFF, 0x80072EE7, 0x8DE00005, and 0x800CCC0F. In some instances there is no address code displayed.
This error is a result of a failed component between ProFile and Windows.
Resolution
Repair the Windows C++ components.
Run a repair on ProFile.
If the above actions do not resolve the issue, perform a clean uninstall/reinstall of ProFile.
Get in touch with other Accountants

Follow us on Twitter and Like us on Facebook