Issue
ProFile users encounter the following error message: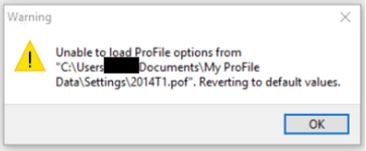 The error reads "Unable to load ProFile options from "[FILE PATH]". Reverting to default values."
Resolution
It is necessary to reset ProFile settings to their default, as there is a corruption in a setting component.
1. Note any existing settings you have established in ProFile. These may include - but are not limited to - EFILE credentials, preparer information, and print settings.
2. Close ProFile.
3. Navigate to the settings folder at C:Users/[USERNAME]/Documents/My ProFile Data
4. Create a new folder inside My ProFile Data titled "Archived old settings".
5. Move the following four folders in the My ProFile Data folder to the new folder "Archived old settings":
6. Restart ProFile.
7. Re-enter your ProFile settings.
Additional Suggestion
ProFile recommends making a backup of the user's settings folder. This will preserve the ProFile settings and allow a faster restoration if the error occurs again, rather than having to restore lost settings individually.