Issue
ProFile users receive a "hexadecimal value" error message when opening or trying to create a new file:
The error results from corrupted settings.
Resolution
ProFile users will either be utilizing an Options package or using local settings.
If using an Options package:
1. Review the "Using the Options Package" article; unload the existing options package and create a new options package.
Note: do not delete the existing Options package; users may wish to refer to it for settings information in the future.
2. Assign the new Options package for use by ProFile.
If using local settings:
1. Close ProFile.
2. Open the "My ProFile Data" folder; it is typically located under C:Users[USER NAME]Documents.
3. Identify the four existing "Settings" folders: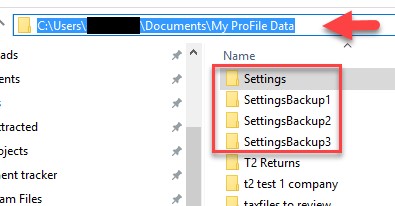 4. Rename the existing "Settings" folders with the "_old" designation (for example, "SettingsBackup1_old").
5. Restart ProFile; four new "Settings" folders generate in the "My ProFile Data" folder.
6. Re-create all previous settings, including preparer information, EFILE credentials, and any other customizations necessary for preparation. Previous settings are lost due to the corruptions of the Options package and/or "Settings" folders.