Intuit Link allows the re-invitation of a client who didn?t accept a previous invitation. The re-invite function will prompt the client again to accept the invitation and start providing documents and responses to the preparer.
Re-inviting a Client to Intuit Link
Navigate and log on to the Intuit Link site.
Select the "Clients" link on the left-side menu; the list of clients displays:

Identify the client to be re-invited to Inuit Link; in this instance, the "TYYY PROGRESS" column designates the client "James, Jenkins" as "Invite pending":

Click the "Re-invite" link located under the "ACTIONS" column, as illustrated in the following screenshot:

The "Invite Client to Intuit Link" window displays: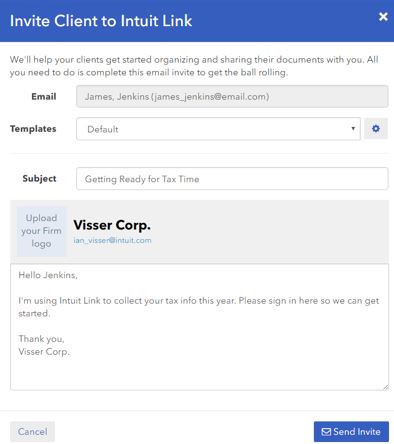 Complete the fields in the window as required.
Click the "Send Invite" button; the invite is re-sent to the client.
Note: clients who have accepted an invitation with one email address cannot be re-invited using an alternate email address.