Description
Receiving a Security Warning when trying to open or create a new return
This is occurring due to security settings on the network, and because of a UNC path system setup. For some specific modules and/or tax years the resources may have been moved outside of the default location where the *.dll files are stored, and there are new GRS files linked to that *.dll file to resolve out of memory issues.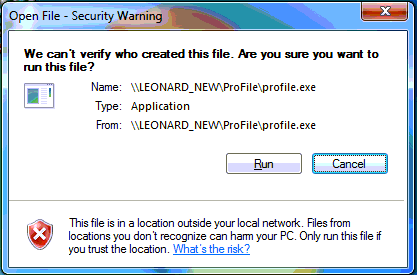 Go to Control Panel > internet Options > Security
Select Local Intranet
Click on Sites, and uncheck "Automatically detect Intranet network"
Then click on both:
"Include all local (intranet) sites not listed in other zones"
And
"Include all network paths (UNCs)"
Once completed follow the following steps:
Delete the Workstation install icon
Map the ProFile location rather than using a UNC path system, and then reinstall the Workstation install file as the administrator.
Get in touch with other Accountants

Follow us on Twitter and Like us on Facebook