ProFile lets you configure a password for the PDF documents that ProFile emails to clients.
You can either:
Use a specific password that you create.
Or let ProFile automatically generate a password based on the Client's information (such as their name and SIN number).
To set up a password for emailed PDFs
Select the Environment… option from the Options dropdown menu in the top toolbar.
Select the PDF tab: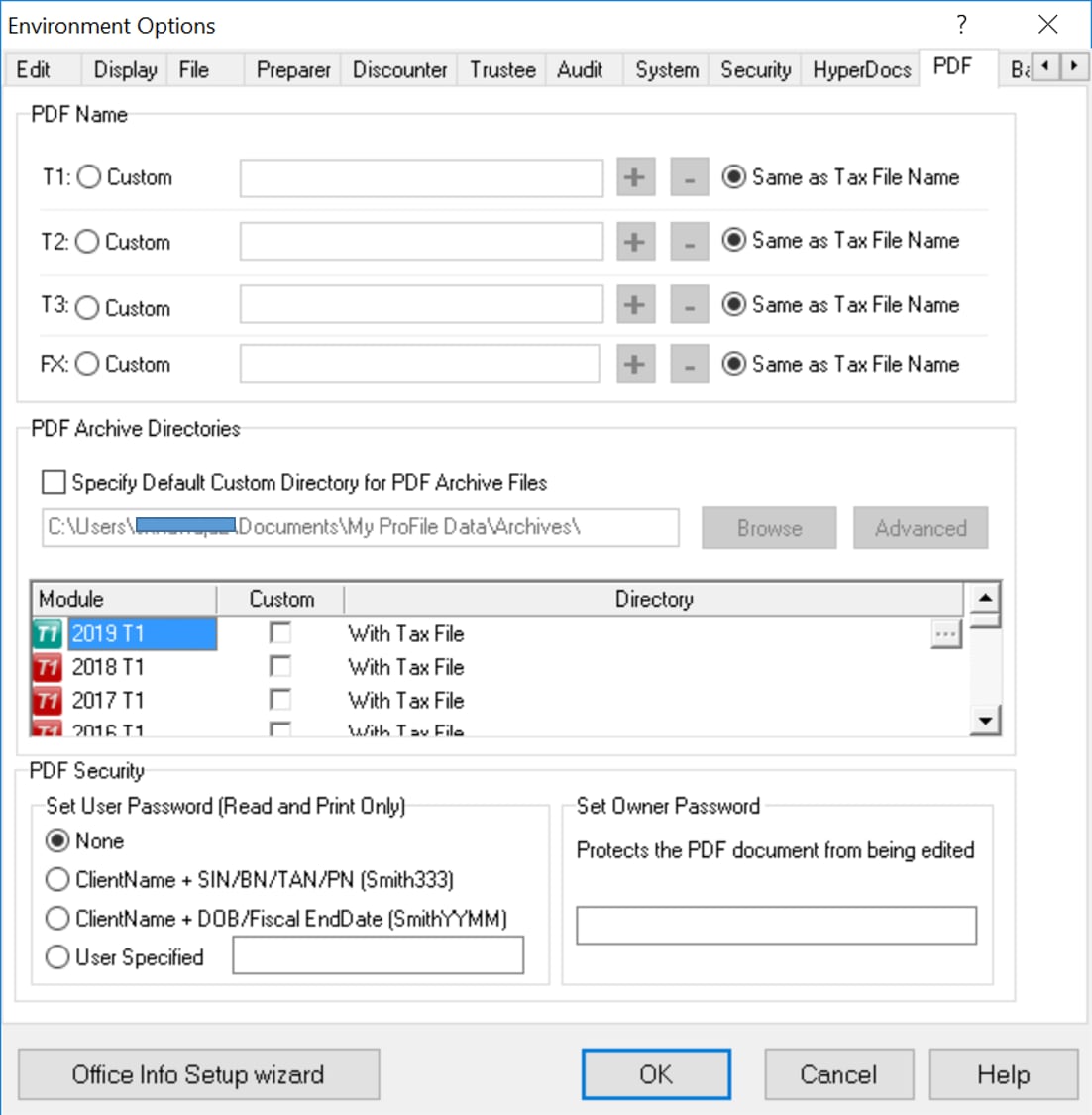 Under the section PDF Security, go to the Set User Password (Read and Print Only) section and set up a password that your clients will use to read the PDF. With this password, clients can read and print the PDF, but can't make changes to it.
Choose from the four following password types:
None: No password.
ClientName + SIN/BN/TAN (Smith333): The first five characters of the client's last name or business' legal name, followed by the last three digits of their SIN number (for individuals), Business Number (for T2 returns), or Trust Account Number (for T3 returns).
ClientName + DOB/Fiscal EndDate (SmithYYMM): The first five characters of the client's last name or business' legal name, followed by their date of birth (for individuals) or fiscal year end (for businesses and corporations) in YYMM format.
User Specified: A custom, static password that you create.
Note: When ProFile creates passwords based on a name, any spaces within the names are ignored. If the name has less than five characters, then every character is used.
In the Set Owner Password section, enter a password that allows changes to be made to the PDF file with tools like Adobe Acrobat.
Tip: If you specify an Owner Password but set the User Password to "None" anyone can read the PDF file with Acrobat Reader. Recipients are prevented only from making changes to the file.
Select the OK button when you are done. The settings save.