Issue
T2 CO-17 files using ProFile's PDF password-protection cannot be read by Revenu Quebec.
Description
When Revenu Quebec receives embedded password-protected PDFs in CO-17 forms, they cannot be opened or read.
The password-protection features are found under the "Options" -> "Environment..." drop-down menu in the top toolbar.
Select the "PDF" tab from the "Environment Options" window: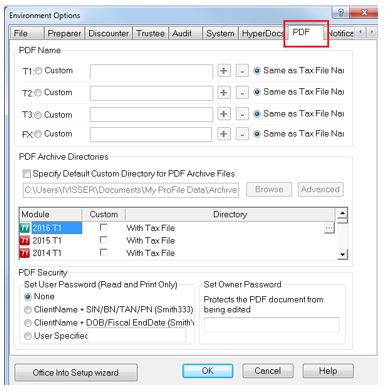 The password-protection features are located at the bottom of the pane, titled "Set User Password (Read and Print Only)" and "Set Owner Password":

Resolution
Preparers submitting CO-17 forms to Revenu Quebec should not utilize either of these password-protection features for PDFs.
Preparers undertaking an CO-17 EFILE transmission should remove any PDF password protection, EFILE, then reestablish the PDF password protection to ensure the transmission is successful.
This issue will be addressed in an upcoming ProFile release.
Note: this issue impacts only CO-17 forms being submitted to Revenu Quebec. CO-17 forms that are password-protected for clients are not impacted.