Errors may occur while in the course of carrying forward TaxCycle files. Review the following errors below to troubleshoot the issue.
Managing errors in conversion
It is possible that in the course of converting TaxCycle client files to ProFile that one or more files may fail to convert: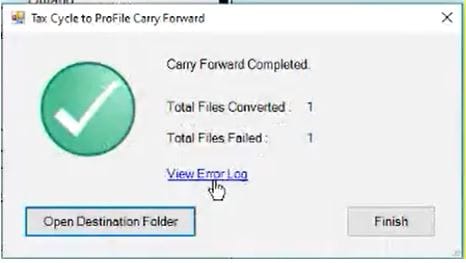 1. Click the View Error Log link in the window.
The error log displays:
2. Review the error message in the log (for example, "The process cannot access the file").
3. Address the issue and retry the client file conversion attempt.
Cannot find valid files in the "C:/conversiondata" folder
ProFile cannot find any valid files in the C:/conversiondata folder: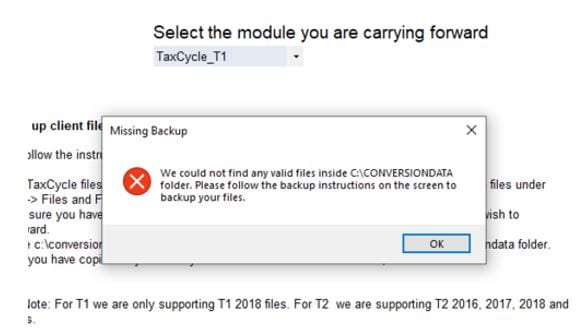 The error reads: "We could not find any valid files inside C:/CONVERSIONDATA folder. Please follow the backup instructions on the screen to backup your files."
Ensure the C:/conversiondata folder exists on the computer and ensure TaxCycle client files are present in the folder. If not, follow the copy and paste instructions:
1. Create a new folder under your computer's C: drive titled "conversiondata".
2. Navigate to the folder containing the TaxCycle client files to carry forward. You can find this location under Options -> Files and Folders in your TaxCycle software.
3. Remove any locks or password protection from the files to carry forward.
4. Copy and paste the files to carry forward to the new C: conversiondata folder you created.
Files cannot be downloaded because they are not in "Completed" status
When selecting TaxCycle client files for download, the following error displays: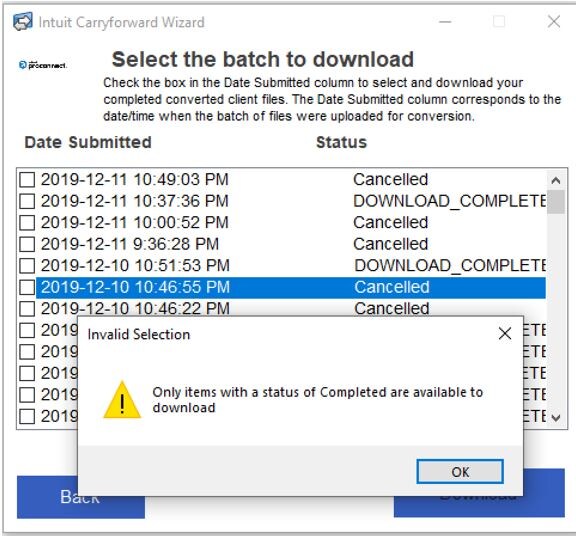 The error reads: "Only items with a status of Completed are available to download"
It is only possible to select TaxCycle files that are in the "DOWNLOAD_COMPLETE" status.
Ensure the client files have undergone the conversion process in ProFile and try again.
Data Conversion Download Failed
The following error occurs:
"An unexpected problem was encountered while downloading your files. Please verify your internet connection is working and try again."
This error can occur when the Internet connection is interrupted while attempting to communicate with the server.
Check the following:
verify your Internet connection is online and stable
if you are using a Wi-Fi connection, try a direct Internet connection as an alternative
if you are using a network version of ProFile, try from another computer
check that your firewall or antivirus software is not blocking the data conversion app. There may be logs indicating something was blocked in your software.
your IT person may need to verify your computer or network settings, or that something upstream is not interfering such as a hardware firewall, or router setting
restart ProFile and check again
If you retry and are not able to successfully download, contact our support department for further troubleshooting advice.
Conversion Error 2002
Error 2002 displays during the client file conversion process. The error may include several different messages:
| | |
| --- | --- |
| Error Message | Issue |
| "We were unable to process return(s) as we currently do not support the tax year." | This error occurs when the client return is from a tax year not supported by the carry forward function. |
| "We were unable to process this return as we currently only support the following extensions .2018T1,.2016T2,.2017T2,.2018T2,.2019T2." | This error occurs when the client file has an extension not supported by the carry forward function. |
| "Failed to process password or locked file." | This error occurs when the client file is password-protected or locked. Remove the protection and/or lock from the file in TaxCycle and try again. |
| "Currently we are not able to process this file." | Contact ProFile Support to assist with the error. |
| "Failed to process file." | Contact ProFile Support to assist with the error. |
| "Json deserialization failed." | Contact ProFile Support to assist with the error. |
| "Failed to process file #1." | Contact ProFile Support to assist with the error. |