Description
Action Cancelled
If you cannot EFILE a return within ProFile, purchase a return with the ProFile OnePay Wizard, or check for updates using the ProFile Online > Check for updates menu, you may need to configure your firewall to allow ProFile access to the Internet.
A firewall can prevent certain programs from accessing the Internet. Some examples of firewalls are Norton Internet Security, McAfee Personal Firewall, and Zone Alarm. If a firewall is blocking ProFile, you may see a similar screen when you attempt to connect:
If you are running Norton Internet Security, you should see a small globe icon in the WindowsTM tray, located at the bottom right corner of the screen. Double-click on this icon to open the Norton program.
Rather than disabling the entire firewall, you can configure it to let ProFile access the Internet. To do so, follow these steps:
1. Click on the words Personal Firewall. The Personal Firewall menu will display on the right side of the screen.
2. Click Configure in the bottom right corner of the Norton Internet Security dialog box.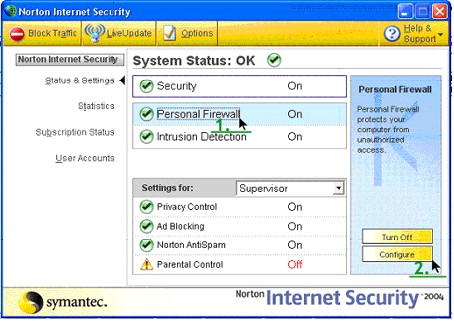 This will bring you to a screen where you'll be able to set the options for your firewall.
3. Click the Programs tab to view the different programs that have tried to access the Internet.
4. Scroll through the list of programs. If you have tried connecting to the Internet using ProFile and failed, you will likely see ProFile in this list, with a Block All status appearing under the Internet Access column.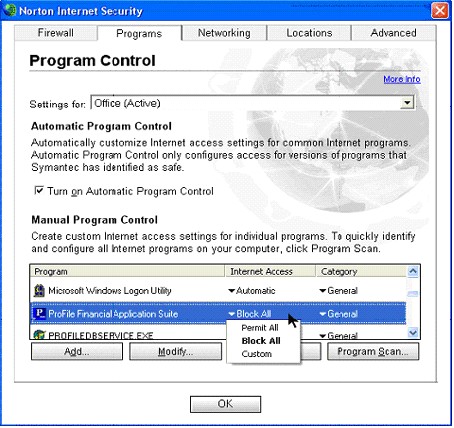 5. Click on Block All and select Permit All from the drop-down menu.

6. Confirm that the Internet Access status next to the ProFile program shows Permit All, and then click OK to exit Norton Internet Security.
Get in touch with other Accountants

Follow us on Twitter and Like us on Facebook