The Client Explorer can be used as an address book, as well as a file-management tool. Addresses display on screen and the address can be changed in the Client Explorer without affecting previously filed returns.
The client details can be edited for a particular client by right clicking on a client and selecting Edit Client Details from menu. This opens a dialog box where the client's personal information can be changed, and even add a picture to display next to the client name in the Client Explorer window.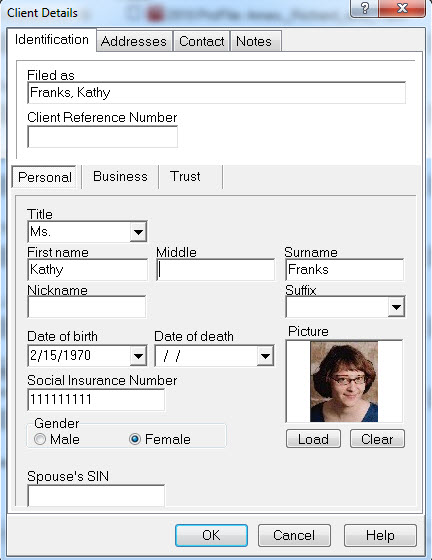 Any changes made does not affect data in the client's files; rather, it updates the client record in the database. This keeps the client contact information up-to-date and still protect the data in completed files.
More like this
Client Explorer filters

Query the Client Explorer

Client Explorer Save View button

Print reports using the Client Explorer

Export ProFile data into another program with Client Explorer
How to find specific files in the Client Explorer database
How to export data using the Client Explorer database in ProFile
Get in touch with other Accountants

Follow us on Twitter and Like us on Facebook