Description
Using the "Report" feature to print data from ProFile:
Getting Started
1. Click on the "Database" menu and choose "Report".
2. Select a ProFile module (T1, T2, T3, or FX) for the type of client files that will included in the report.
3. Apply status filters to the query to narrow the client list; it displays only the files that are to be include in the report.
4. Click the "Options" button: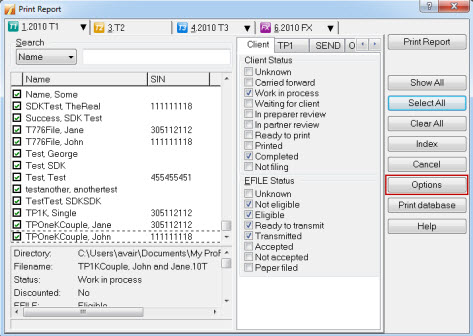 Creating Column Headings
The "Fields" tab allows column headings to be created.
1. Click in a cell in the top row; click o the "Properties" button to add, change, or format the column heading: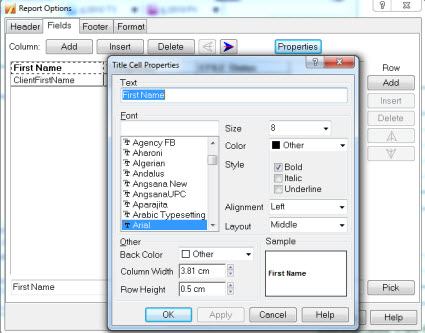 2. To change/enter the column headings, click in the text field located in the bottom-left of the "Report Options" window: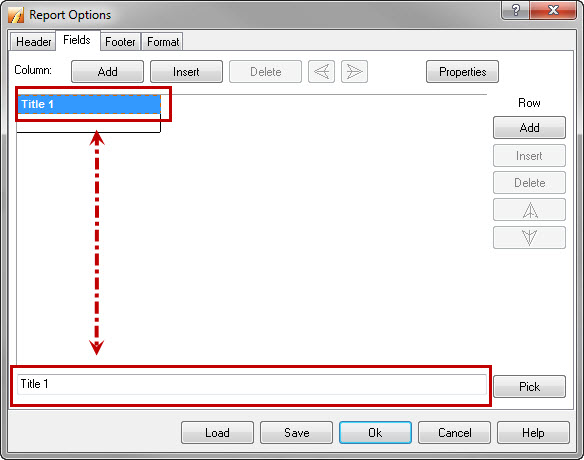 Selecting Data
1. Click in an empty cell below the column heading.
2. Click the "Pick" button to choose from a list of key field codes; like the column headings, the format can be set on the field code cells, which formats the data in the printed report.
3. Click in the cell to be formatted and click "Properties":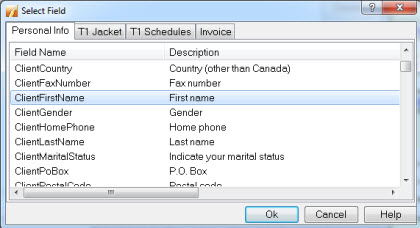 Adding a Row or a Column
When there is no blank cell available, new columns or rows can be entered.
1. Use the arrow buttons to move the cursor along the rows and columns of the report.
2. Click the "Add" button to create a row or a column after the last one.
3. Click the "Insert" button to place a new row or column according to your cursor position.
Selecting a Printer
1. Select the "Format" tab: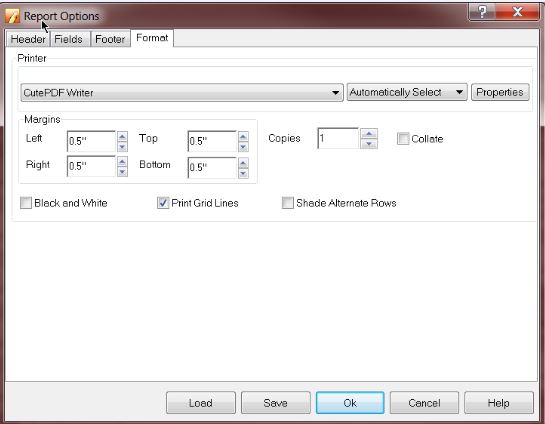 2. Select the printer.
Note: ProFile PDF Export will not print this function.
Saving and Printing
1. Click "Save" to save the options before running the report.
2. Click "OK".
3. On the main "Database" dialogue window, click "Print Reports".