The Pre-Authorized Debit (PAD) is a new CRA feature now available in ProFile.
PAD allows tax professionals to submit a payment to CRA on behalf of their taxpayers who have an amount due on their current-year T1 Personal returns.
This feature saves the taxpayer time over printing a T7DR(A) form and making the payment in-person at their Bank.
Note: you must complete a PAD and EFILE it for each taxpayer; if there is a spouse with balance owing that spouse requires their own PAD form and EFILE effort.
Completing the PAD Form
1. Complete the taxpayer's T1 Personal return in ProFile and EFILE.
2. Select the "Form Explorer" option from the "GoTo" drop-down menu in the top toolbar.
3. Search for "T1PAD" and open the PAD form: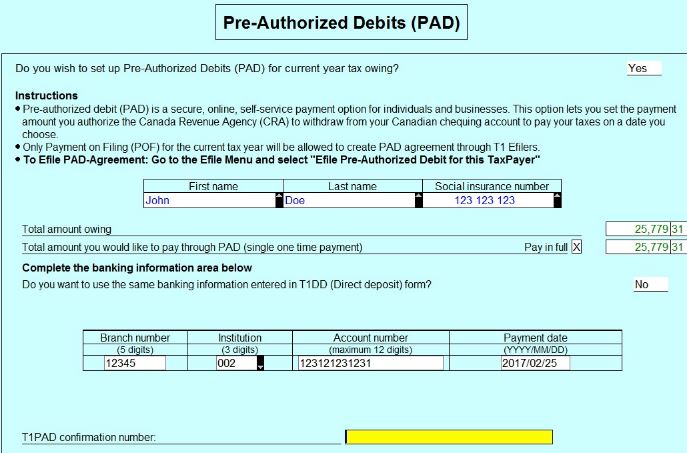 Note: if the taxpayer has completed the T1DD form you can retrieve their banking information from the T1DD to automatically populate on the PAD.
4. Change the "Do you wish to set up Pre-Authorized Debits (PAD) for current year tax owing" value from "no" to "yes":

5. Enter the amount to be paid in the "Total amount you would like to pay through PAD (single one-time payment)" field.
For payment in full check the "Pay in full" checkbox:

For partial payment, enter the amount in the value field:

6. Enter a payment date; the date must be between five days and one year in advance of the current date:

7. Enter details of the bank and account the payment is being made from:

The PAD form is completed.
8. Complete the corresponding T185 form (see below).
Completing the T185 Form
1. Select the "Form Explorer" option from the ProFile "GoTo" drop-down menu.
2. Search for "T185" and open the T185 form: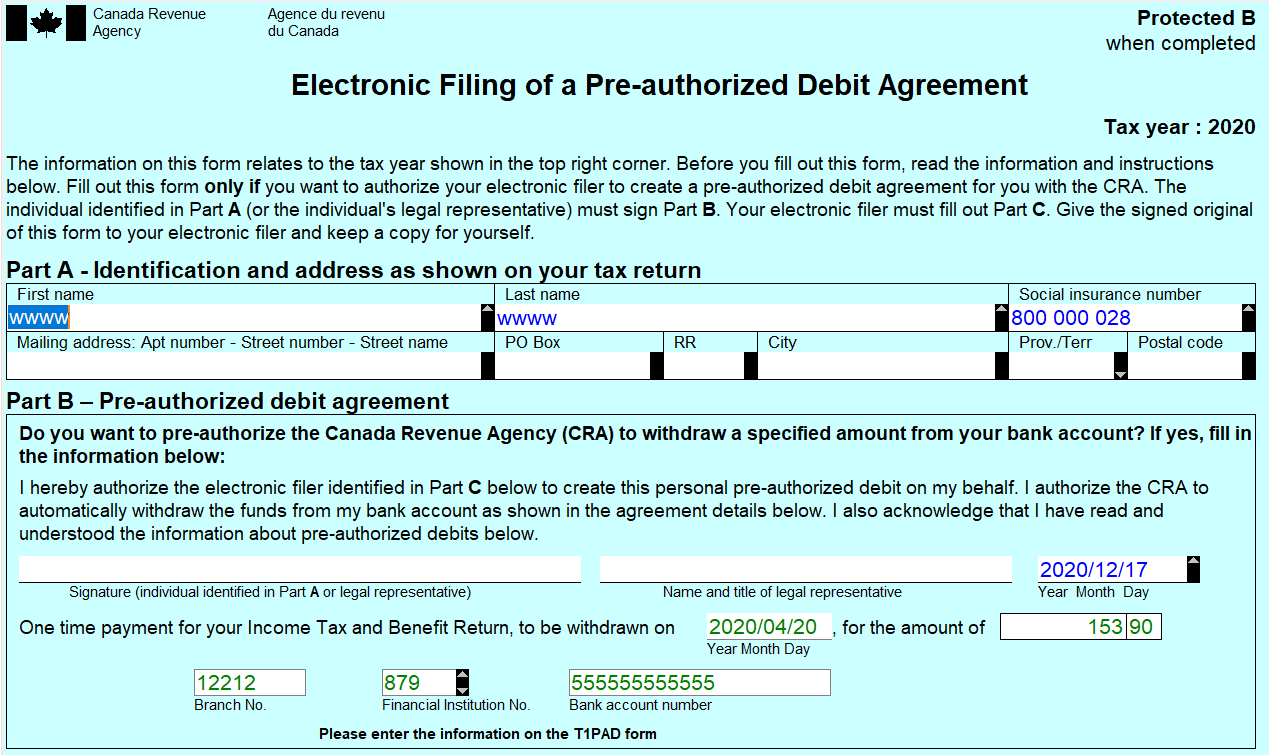 3. Print the T185 form and acquire a physical signature from the taxpayer in Part B of the form.
4. Print and save the T185 form and retain a copy for the preparer's records.
5. Provide the taxpayer with a copy of the physical, signed form for their records.
EFILE the PAD Form from the T1
1. Return to the taxpayer's already-EFILED T1 form.
2. Select the "EFILE Pre-authorized Debit for this taxpayer..." option from the "EFILE" drop-down menu: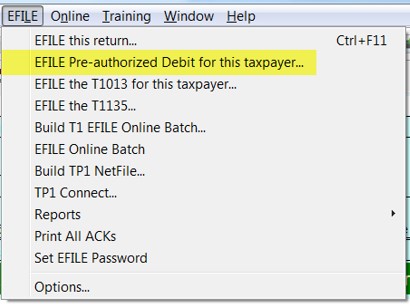 The PAD undergoes EFILE; the preparer receives a confirmation number that populates the PAD form (field "T1PAD confirmation number") and on the "Info" page following the EFILE.