1. Ensure that on the Information form of the T2 return in the Filing Section, the question, "Complete return from GIFI?" is answered "Yes":


2. Review code "9999" at the bottom of the schedule to see if there is no amount there or if it is overridden.
3. Open Form Explorer and click on "Used" on the left side. If you see another Schedule125, (other than S125#1) it means there is more than one S125 on the file and if it's not being used, it needs to be deleted.
Another way to check if there is another S125 on file is if client has an amount on S140 Line 9999. If so, the extra S125s need to be deleted.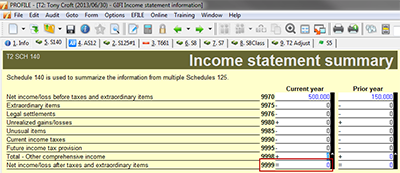 Get in touch with other Accountants

Follow us on Twitter and Like us on Facebook