We are happy to introduce our feature Client letters.
The benefits of Client letters include:
create client letters in the same place in QBOA as year-end and taxes
allows access to template letters
allows you to customize your own templates for your firm using data pulled directly from your accounts and tax returns
Select the Accountant Tools section in QBOA.
Select the Letters option from the menu: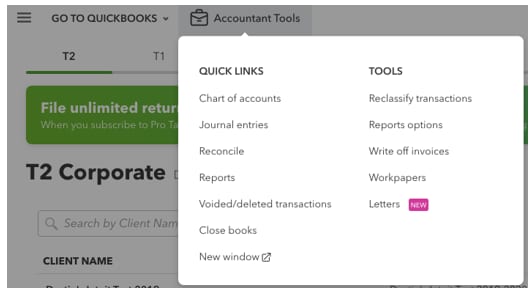 1. In your QBOA account, select Pro Tax from the left-side navigation menu.
2. Select Tax settings.
3. Select the Letters tab. Six default letter templates display: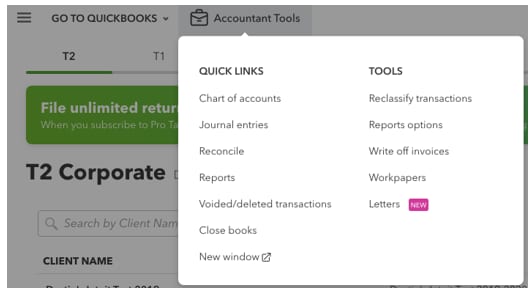 4. Select View under the ACTIONS column to review a template. If acceptable, you can customize the letter. This will create a copy from the default template and you can start editing to make the letter how you want it to look, with the client data you choose: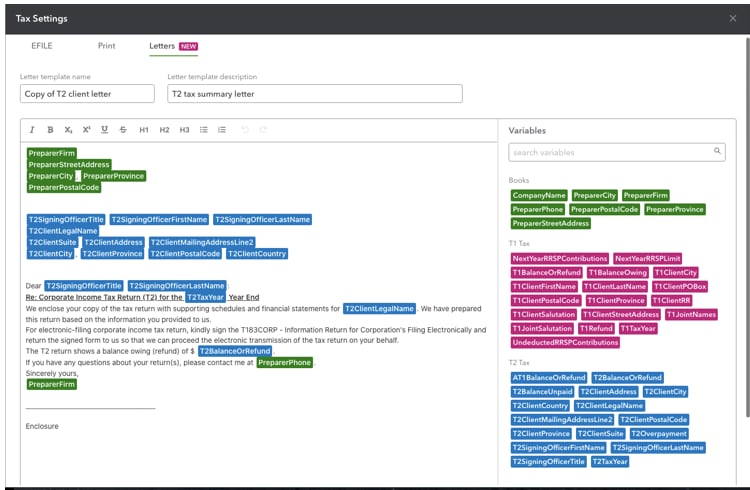 5. Verify or update the letter template name and description at the top of the screen.
Below you will see a template for your letter with default variables that can be moved to any part of the letter you want. The Variables are sorted by section and colour. These represent real values from the client's books, and will be pulled into the letter.
6. Drag-and-drop variables within the letter as needed from the variables section. Use the search function to look for a variable to add to your letter.
You can also add a new template from the Add a new template option on Letters tab.
Note: The view from Workpapers shows only a preview of the letter you created, with values instead of variables.
1. Select Documents in Workpapers.
2. Select the option Add a letter under the General menu: