Learn how to use File Doctor to fix company file issues in QuickBooks Desktop.
If you're having trouble opening your company file, QuickBooks File Doctor can help. Use it when you see:
Error -6150, -6000 -82, -6000 -305, -6000 -301, -6147, or -6130.
Missing or blank customer, supplier, or employee lists.
If you see Error H101. H202, H303, or H505, follow the steps in How to fix Error H202 and H505.
Step 1: Download and install QuickBooks Tools Hub
The QuickBooks Tool Hub helps fix common errors. For the best experience, we recommend using Tool Hub on Windows 10, 64-bit.
Close QuickBooks.
We recommend you download the most recent version (1.4.0.0) of the QuickBooks Tool Hub. Save the file somewhere you can easily find it (like your Downloads folder or your Windows desktop). Note: If you've already installed Tool Hub before, you can find out which version you have. Select the Home tab. The version will be displayed on the bottom right or you can select About to view the version.
Open the file you downloaded (QuickBooksToolHub.exe).
Follow the on-screen steps to install and agree to the terms and conditions.
When the install finishes, double-click the icon on your Windows desktop to open the tool hub.

Note:
If you can't find the icon, do a search in Windows for
QuickBooks Tool Hub
and select the program.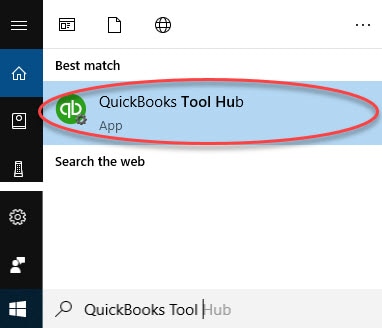 Step 2: Run QuickBooks File Doctor
From the tools hub, select the Company File Issues tab.
Select Run QuickBooks File Doctor. It can take up to one minute for the file doctor to open.
In QuickBooks File Doctor, select your company file from the drop-down menu. If you don't see your file, select Browse and search to find your file.
Select Check your file (middle option only) and then Continue.
Enter your QuickBooks admin password and then select Next.
The scan time depends on your file size. In most cases, it can take up to 5 minutes. Once the scan finishes, open QuickBooks and your company file. Your issue may have been resolved even if the scan says it was unsuccessful.
Step 3: Follow the steps for the issue you see
Important: If you're using a newer version of QuickBooks Desktop and try to repair an older company file, you'll have the option to convert it. This is optional. Select Repair the file for your existing version of QuickBooks first. If the repair isn't successful, go back and select Open the file in a newer version of QuickBooks to update the file.

Once you update, you won't be able to open your company file in older versions of QuickBooks.
If you still see issues after using File Doctor, please contact our support team. We can help you get QuickBooks and running again.
Step 3: Update and back up QuickBooks
After you fix your company file, back it up. For detailed steps, see create a backup of your company file.
You should also check for any software updates. In QuickBooks Desktop, go to the Help menu and select Update QuickBooks Desktop. Run updates regularly and verify and rebuild data to help get ahead of errors.