Learn what to do if you see registration error messages.
If you see any of the error messages below after you register, subscribe, or sync your data in QuickBooks Desktop, don't worry. An install file may be causing the issue.
"Error: The validation code is incorrect or the service is temporarily unavailable when activating."
"Error 3371: Could not initialize license properties."
"Message: You cannot use Online Banking because QuickBooks is not registered."
"You must subscribe to the accountant's copy file transfer service"
The Sync License Data Online option is greyed out.
We'll show you how to safely delete the file so you can refresh your registration.
Step 1: Run the Quick Fix my Program from the QuickBooks Tools Hub
The QuickBooks Tool Hub helps fix common errors.
Close QuickBooks.
Download the QuickBooks Tool Hub file. Save the file somewhere you can easily find it (like your Downloads folder or your Windows desktop).
Open the file you downloaded (QuickBooksToolHub.exe).
Follow the on-screen steps to install and agree to the terms and conditions.
When the install finishes, double-click the icon on your Windows desktop to open the tool hub.

Note: If you can't find the icon, do a search in Windows for
QuickBooks Tool Hub
and select the program.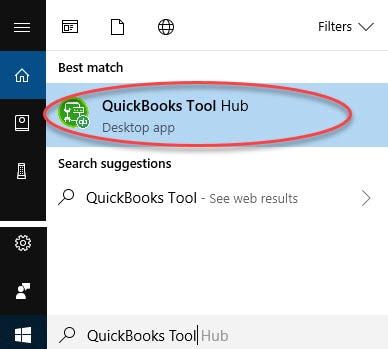 Step 2: Run the Quick Fix my Program
In the QuickBooks Tools Hub, select Program Problems.
Select Quick Fix my Program.
Step 3: Delete your Entitlement file
The entitlement file tells QuickBooks your product is valid and registered. Find the file and delete it so you can reenter your license and product info.
Open the Windows Start menu.
Type "Run" into the search and open Run.
Type C:\ProgramData\Intuit\Entitlement Client\v8 and then Enter. If this doesn't open a folder, enter C:\ProgramData\Intuit\Entitlement Client\v6 instead.
Find EntitlementDataStore.ecml. Right-click the file and select Delete. Select Yes to confirm.
Open QuickBooks and your company file.
Follow the on-screen instructions to register QuickBooks again.