This video shows you how to import bank transactions in CSV file format into QuickBooks.
Prepare your .CSV file before you begin your import. Here are some tips:
QuickBooks requires 3 fields Date, Description and Amount in order to successfully import bank transactions. Some banks in UK provides CSV transactions in 3 columns, and others in 4 columns (separating Amount into Debit and Credit fields). Both formats work for QuickBooks, as long as the fields are mapped correctly.
All mandatory fields should be filled in. For Amount fields that doesn't have a value (normally happens to 4-column .CSV files), enter a 0
Remove all symbols in the Amount field. For example, currency sign £ or comma.
If your Amount field is in one column, use minus sign - to depict money out rather than brackets ().
Remove any non-transactional information in the file, such as account numbers, opening and closing balance.
Save your changes.
Here's how your file looks like when it's ready.
3 columns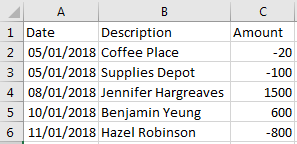 4 columns

Now that you've prepared your .CSV file, you are ready to import bank transactions from CSV file to QuickBooks
In the left nav, select Banking, then File Upload. If you have connected to a bank account in the past, click on the drop-down arrow to find your File Upload option.
On the File Upload page, Browse and choose the appropriate .CSV file then click Next.
From the QuickBooks Account drop-down, select the appropriate bank account you want to import your transactions to then click Next.
Map the statement fields according to your .CSV file's format. Check to make sure that the date format is same as the one in your .CSV file. Most of the time it is dd/MM/yyyy format for UK banks. If your CSV file separates out Amount into 2 columns, choose the 2 column option. Then, map the Debit and Credit fields. Debit field in QuickBooks mean money out and Credit for money in. When you are ready, click Next.
On the next page, all transactions in your .CSV file will be displayed. If you'd like to exclude any transactions, untick the checkbox next to those transactions then click Next.
Then, select Yes on the notification asking if you want to import now.
If you need more help, get support from our Social channels by clicking on an icon: