Multi-Split Functionality
The multiple split feature allows you to split transactions into more than two Schedule C-categories, designate a part of the transaction as personal, and set split rules for future transactions.
In addition, the Exclude button is set to exclude transactions from estimated taxes calculation. It is represented by a checkbox and accompanying text, excluding the transaction when checked and saved. For more details, see Exclude or delete transactions.
Note: Income transactions cannot be split to both Income and Spending, and vice versa.
Split Transactions
Web
Select Split from the Type column.
Split by Amount or Percentage.Note: You can add a line and choose multiple categories from one transaction.
To add a rule to the Split Transaction, check the box at the bottom. You can also apply the rule to past transactions with the same description.
App
Important: You can only split by amounts in the mobile app. To split by percentage, you need to log into your account via web browser. Splitting options default to including a business-personal split, but you can change this to split between two business categories.
Select the transaction you want to split.
Select the Split option at the top of the transaction.
Use separate line items to designate the split amounts and categories.
To add more lines, select the Plus (+) sign above "Attach receipt".
Select Save.
You can contact us to get additional support.
iOS: Select the Plus (+) icon at the lower right, then Ask QB Assistant.Android: Select the QB Assistant icon at the lower right.
Note: When you contact support, you will be prompted to attach an app log to the support email. This can help us identify any issues you're experiencing.
Unsplit Transactions
Go to Transactions and find the Split transaction you want to change.
Select Split icon to reopen the split window.
Select Delete beside the category that you want to remove.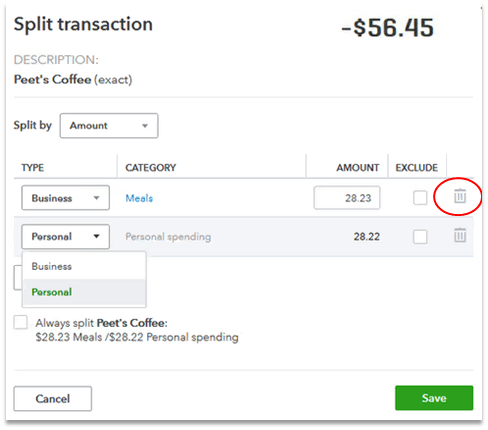 Exclude Transactions
To exclude a transaction, check the
Exclude
box found at the Transactions page, then
Save
.