There are a number of reasons why you may see the Take Action status for an open return after turning on Making Tax Digital, but don't worry, information on how to get going again is built into QuickBooks Online!
Here's some additional information on the most common reasons for the Take Action button to appear, and where to find the solutions in QuickBooks Online.
What does it mean?
This usually appears when the credentials used to connect QBO to HMRC for MTD are not authorised to retrieve information on or do a VAT filing for the VAT Registration number in the VAT settings.
Potential causes:
You have not signed up for Making Tax Digital. MTD is a new way of submitting VAT online which you need to sign up to in order to submit using this new method. If you have not signed up for MTD then you will not be able to submit on this new platform, even if you have submitted digitally through the old platform in the past.
You have signed up for MTD recently and are not set up on HMRC yet. You should wait for a confirmation email from HMRC advising that you can file using MTD.
You have used incorrect sign in credentials. The HMRC authorisation is not MTD specific and will accept any HMRC credentials, so you may have linked incorrect credentials instead of your MTD credentials (for example, Payroll credentials or an old government gateway).
Small Business: The MTD connection was set up by an accountant and you have not entered your own details so you can submit for yourself.
Accountant: The MTD connection was set up by your client and you have not connected yourself to the client so you can submit on their behalf.
You have not enabled yourself to file for this company with HMRC.
You do not have any open obligations with HMRC.
Troubleshooting and questioning:
Click on Learn More in the VAT centre. If the issue is related to an accountant and an SMB being able to submit for the same company then this will take you through the steps to connect your own account.
For other issues you will be taken to a list of the most common reasons for this error. Work through these with the following questions in mind:
For all types of QuickBooks accounts
Have you received an email from HMRC to confirm that your account is ready to submit VAT on MTD?
This will often happen if the VAT Registration Number in QuickBooks is incorrect. Have you checked the VAT registration number to make sure it's correct?
For small businesses
Did you use the correct login details when connecting MTD?
For QuickBooks Online for Accountant
HMRC will only allow you to add one client to your Agent Services Account at a time, and you will see this error if the VAT registration number for this company is not MTD enabled on your new Agent Services Account. Did you add this specific client to your account?
When you register for MTD you are asked to set up a new account which will have different sign up credentials. Did you sign up for new credentials?
What does it look like?
On the Taxes tab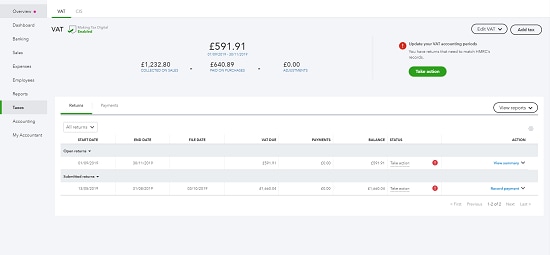 After Clicking Take Action.
On QBO Accountant: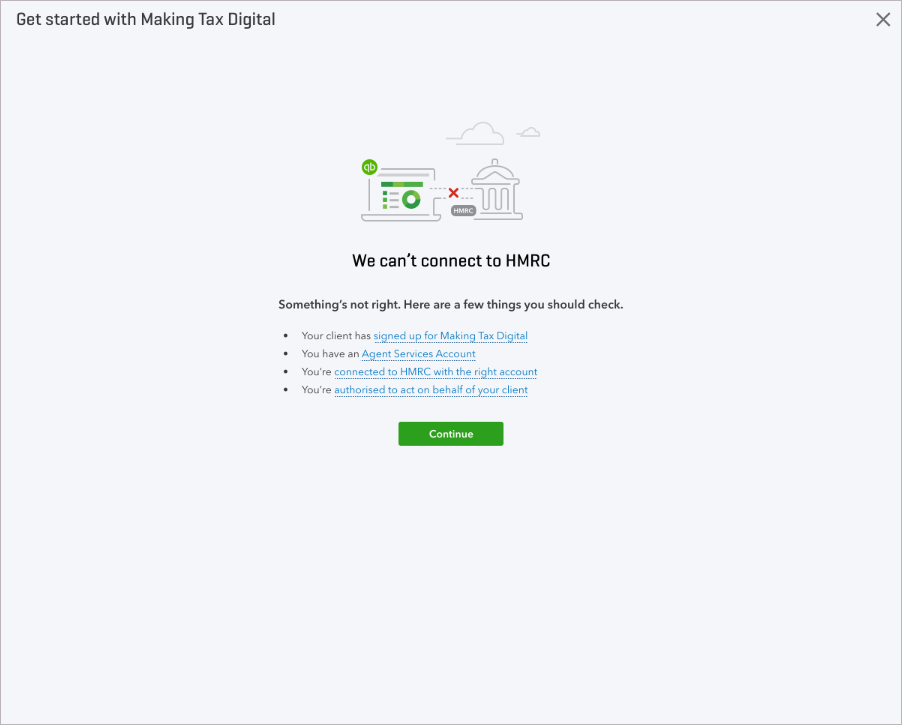 On QuickBooks Online:
What it means
This means that the VAT periods in QuickBooks Online do not match the VAT periods that HMRC have provided us for this VAT Registration Number. This usually happens when there is an open period in QBO or HMRC that is marked as filed in the other system but it may also mean that there's a VAT period that shows as rejected in QuickBooks Online and is not filed with HMRC.
How to resolve
This can be resolved by following the instructions that appear in QuickBooks Online when you click Go for it.
Note: Do not click Resubmit return for a rejected VAT filing as this will attempt to resubmit the filing using the same method as the original filing attempt so QuickBooks may attempt to file this period using the old filing method instead of MTD.
What it looks like:
Rejected Return on the Taxes tab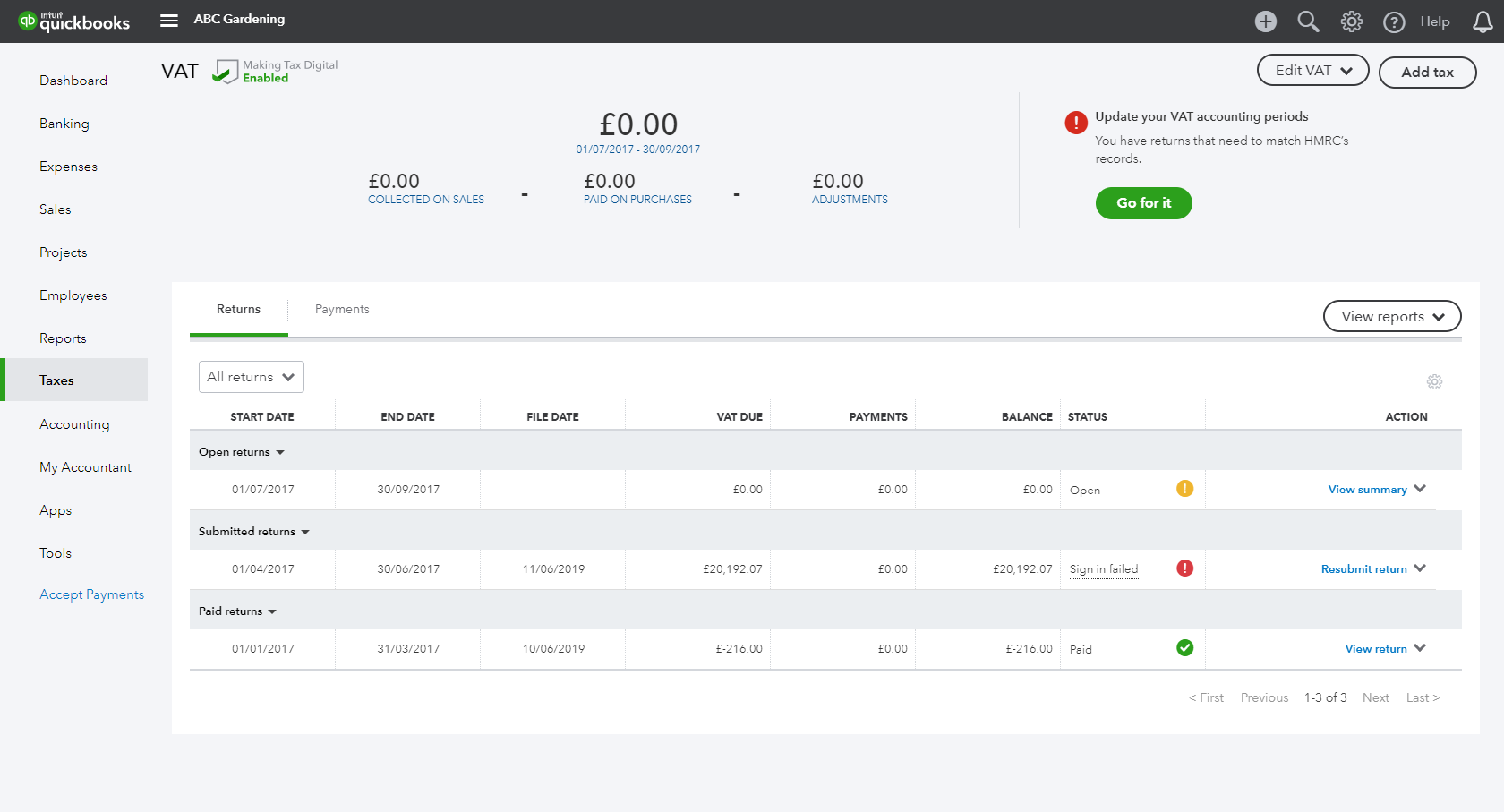 After clicking Go for it.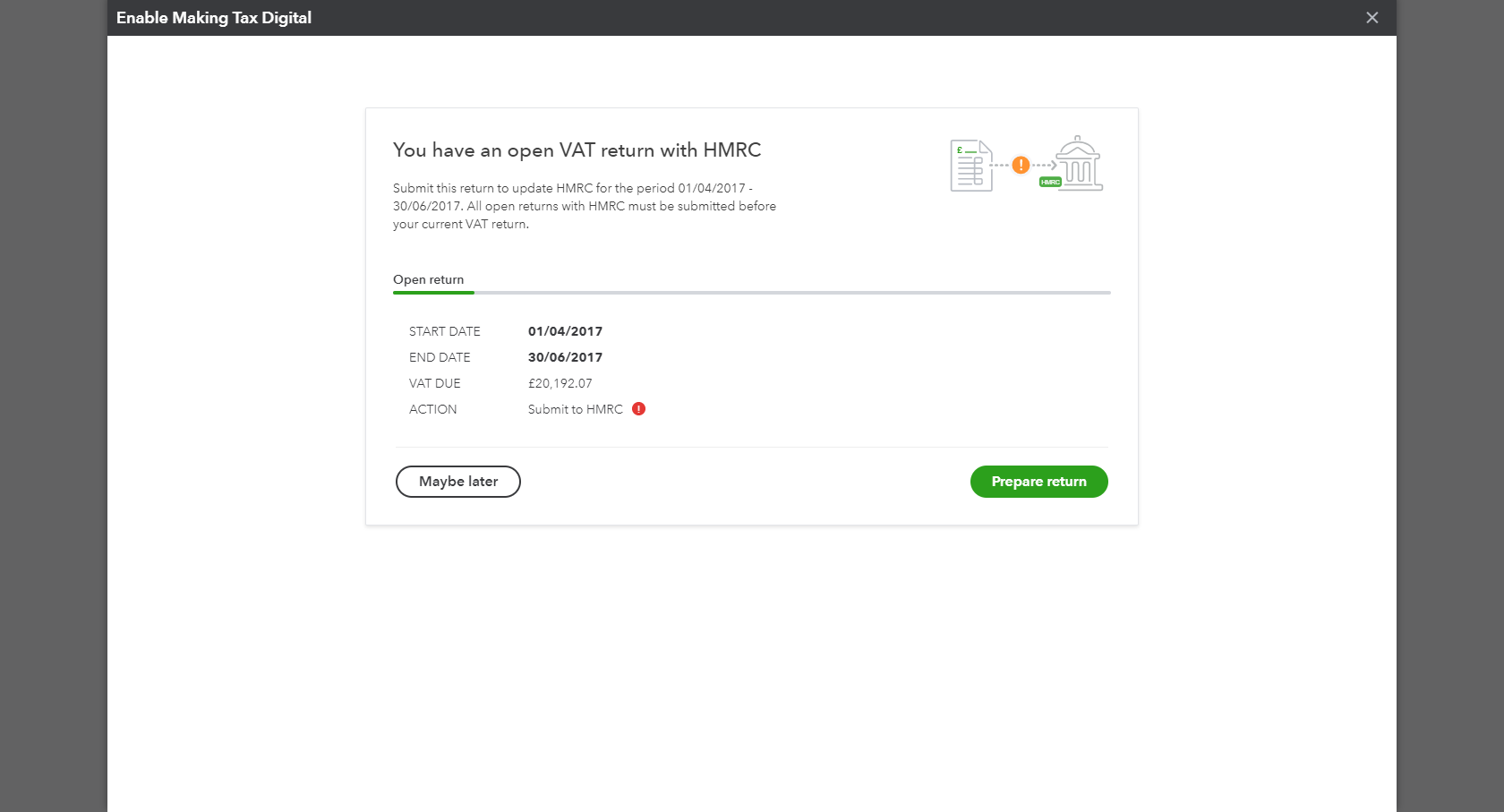 After clicking Prepare return.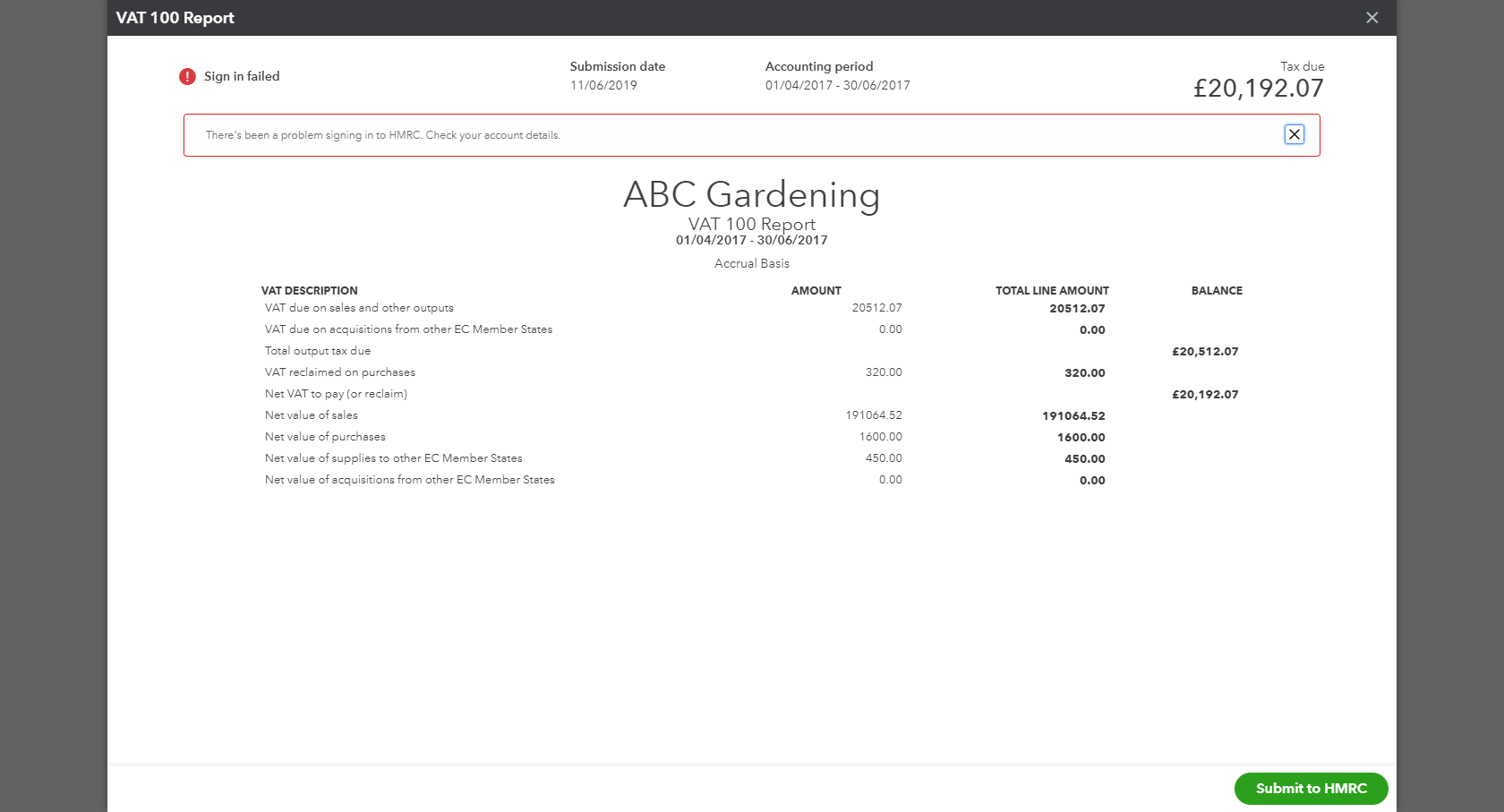 After clicking Submit to HMRC.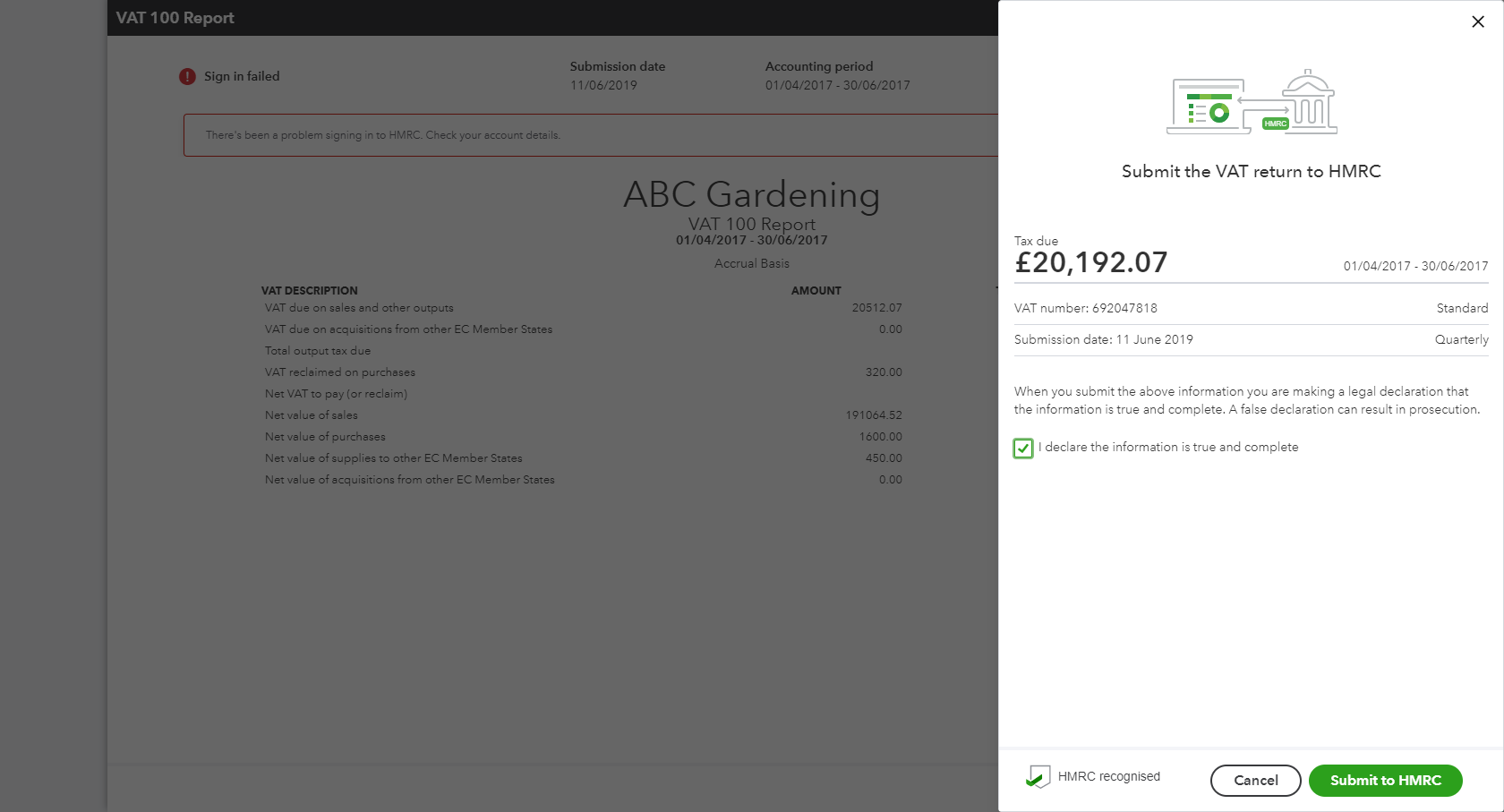 Period filed on HMRC but not in QuickBooks Online
VAT Centre.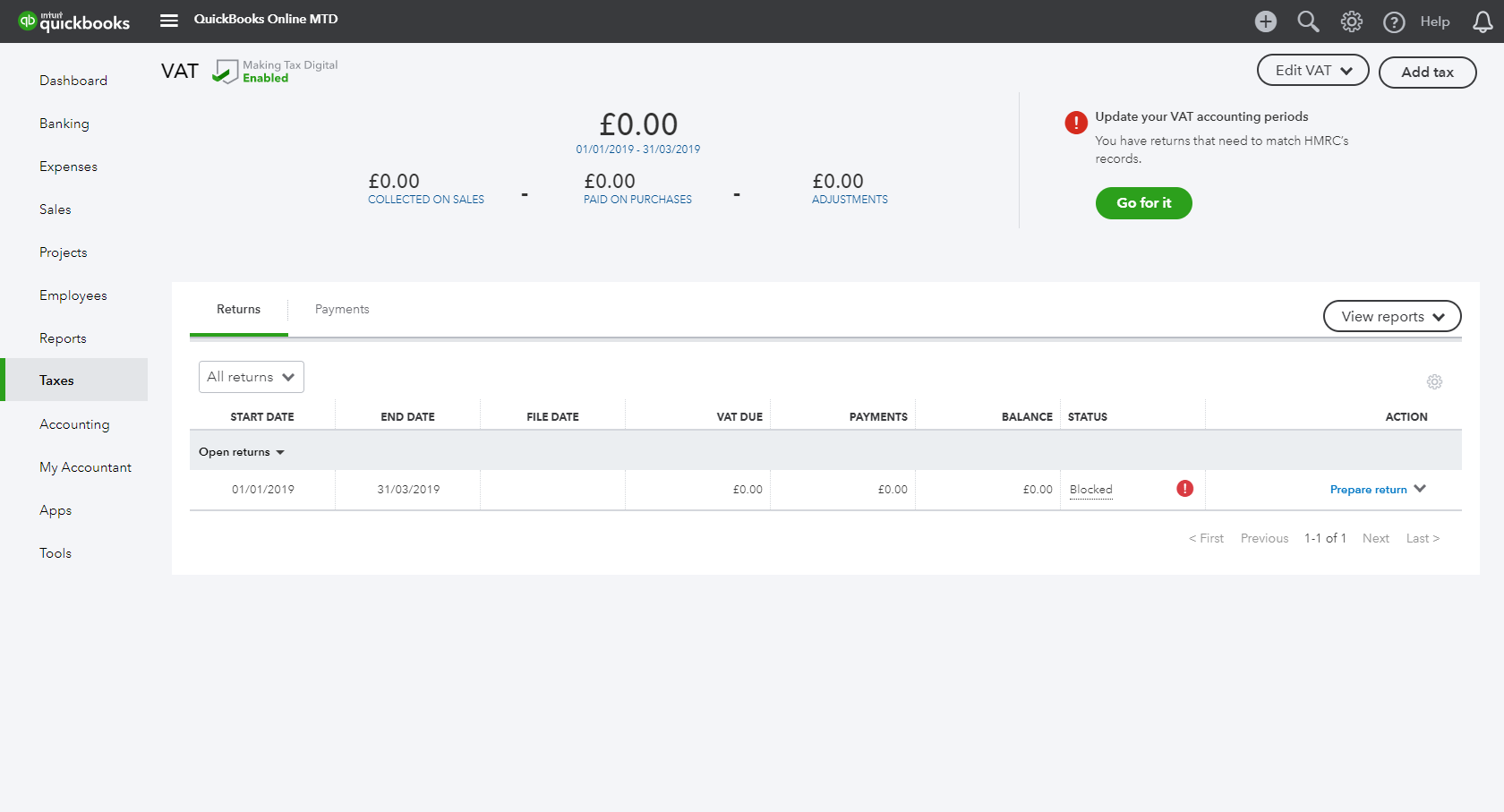 After clicking Go for it.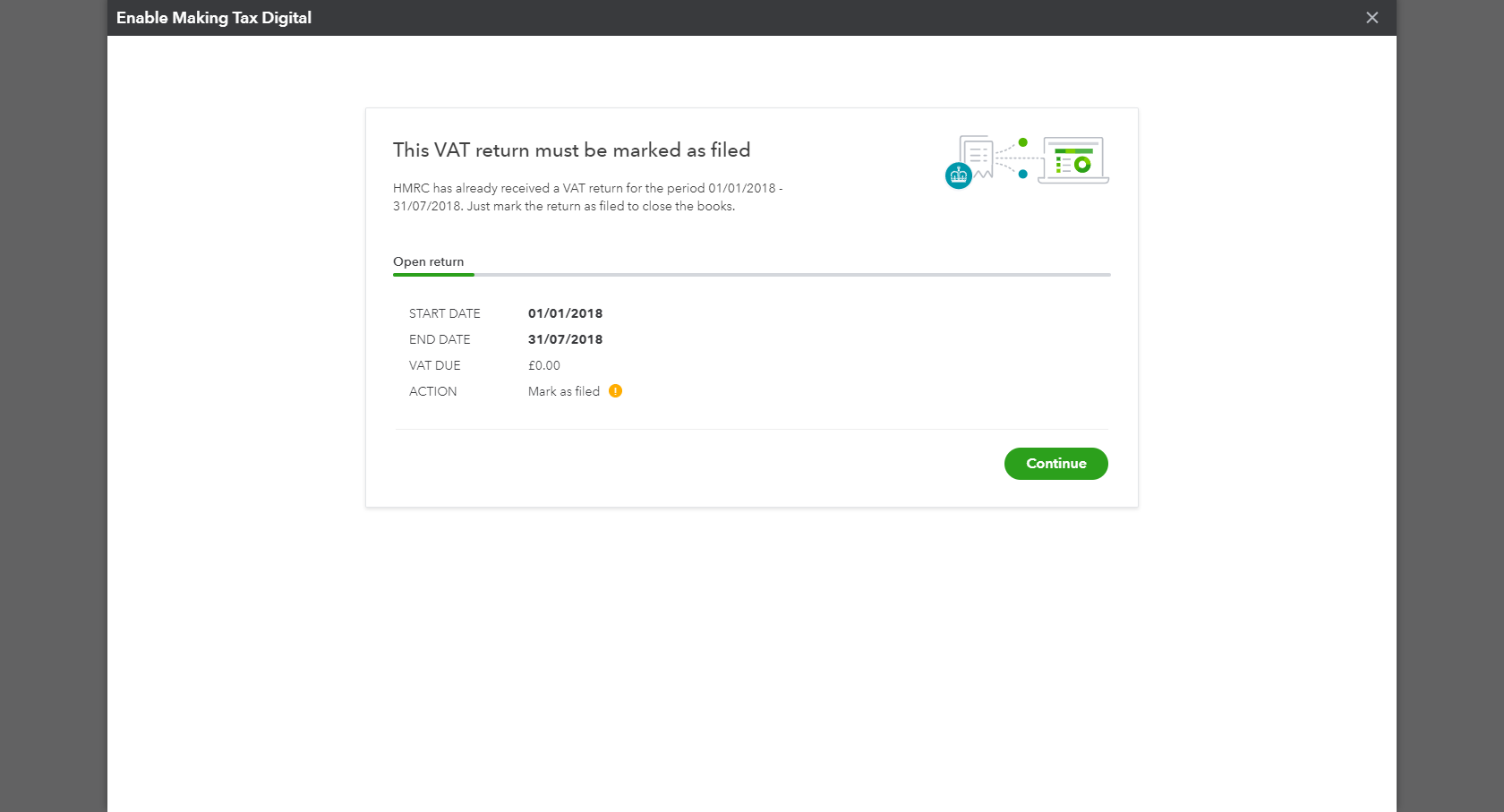 *QuickBooks MTD software currently supports Standard, Cash and Flat Rate schemes. QuickBooks Bridging Software supports Standard and Cash schemes. Annual submissions are not currently supported but will be coming soon. Businesses whose home currency is not GBP are currently not supported for MTD.