Connect your bank accounts and credit cards to QuickBooks using Open Banking so you can automatically download your recent transactions, and see all your business finances in one place.
Before you get started
Before you connect your bank account, make sure your bank supports Open Banking. If you don't see your bank in the list you can always import your bank transactions manually.
Note: If you have a foreign currency account, learn how to set it up here.
How to connect to Open Banking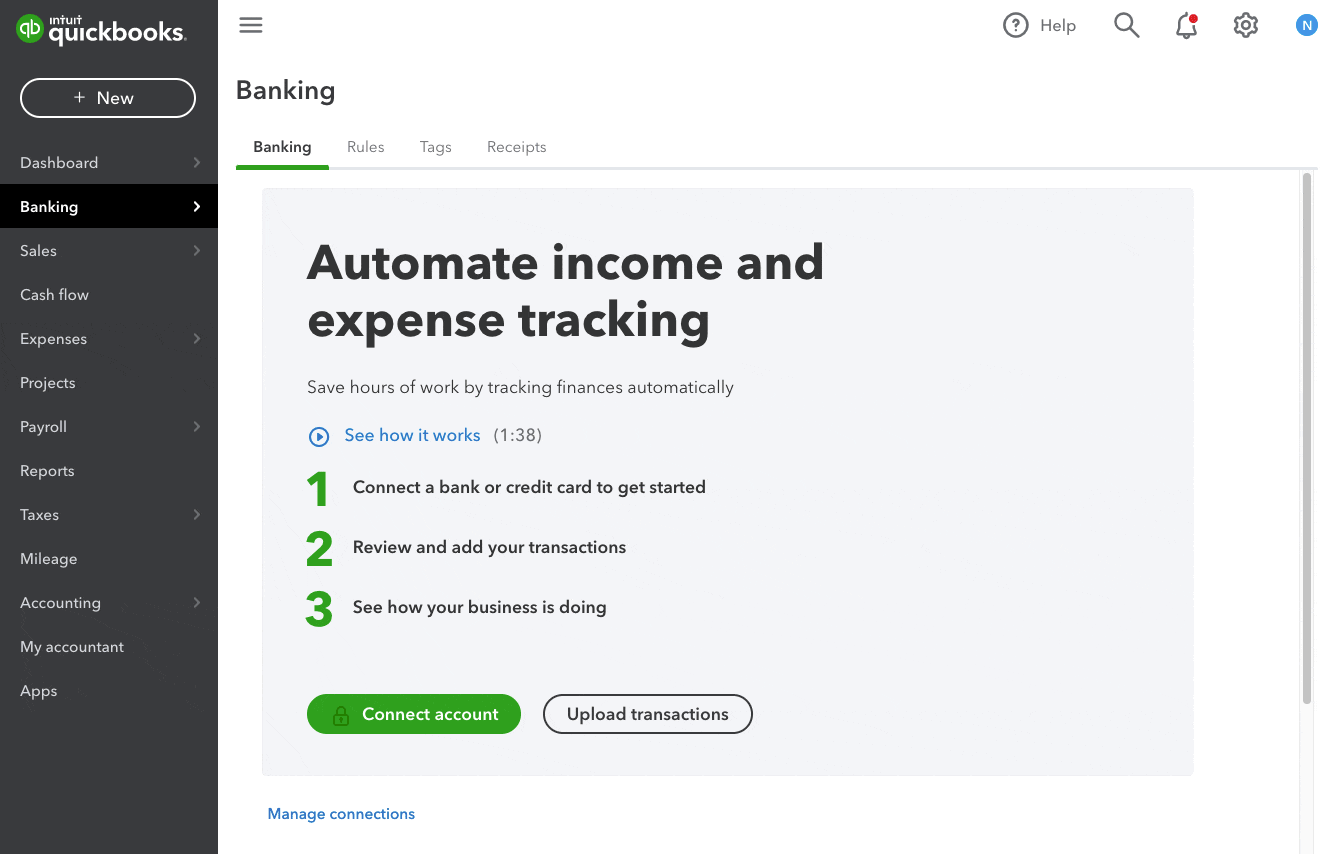 Go to Bookkeeping, select Transactions, then select Bank transactions (Take me there).
Select Connect account from the landing page, or select Upload transactions to manually upload your bank statements.
Search for your bank and select Continue. Read through the terms and conditions, then select Agree.
Follow the steps on your bank's internet banking page to authorise QuickBooks to connect to your bank account. Once you authorise the connection, you'll be redirected back to QuickBooks.
Select the bank accounts you want to connect, and which accounts they will link to in QuickBooks.
Select the date you wish QuickBooks to pull transactions from.
Select Connect. QuickBooks is now connected to your bank accounts and your transactions are now available in the Bank transactions (Take me there) menu.
Once you have connected your account, you'll be invited to reauthorise the connection in the Banking page every 90 days. Simply follow the steps in how to reauthorise your bank connection to get back on track.
If this is your first time setting up banking in QuickBooks, learn what to do next with this online banking guide which will walk you through every step of the banking process.
Need more help?
If you connected your bank account but something doesn't seem quite right, this article will show you how to fix common connection errors in QuickBooks.
For more information about Open Banking, check out our dedicated FAQ page.