After you connect your bank or download your transactions, QuickBooks looks for and tries to match them with existing transactions. If it can't find a match, it creates a new transaction record for you. You only have to approve the match or newly created transaction.
This article will show you how to:
If you use the QuickBooks Online app, follow these steps to categorise transactions.
Step 1: Find your transactions
QuickBooks downloads the latest available transactions every day–the specific time depends on your bank. You can also manually update your accounts anytime to get the latest available transactions: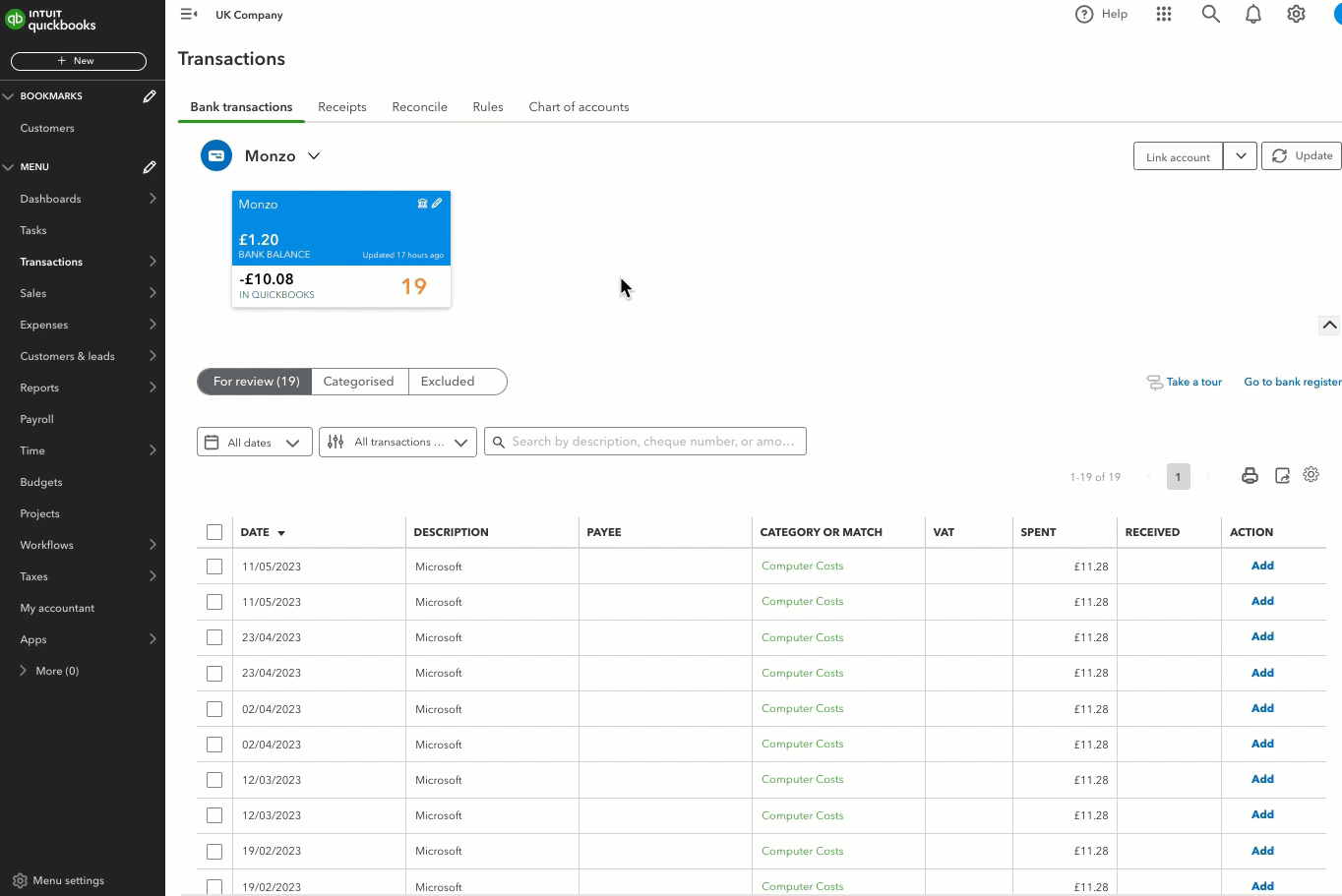 Go to Transactions, select Bank transactions (Take me there).
Select Update. This updates all of your bank and credit card accounts.
Select the bank account or credit card tile that you want to search.
Select the following tabs to see the different categories of transactions:

Newly downloaded transactions will be in the For review tab.
Recently categorised transactions will be in the Categorised tab.
If you mark a transaction as personal or a duplicate, it goes to the Excluded tab. QuickBooks won't add excluded transactions to your accounts. If you want to include it, select Undo from the Action column.
Step 2: Review and categorise your downloaded transactions
You can match, add, view or exclude multiple matches from the For Review tab. Select the following headings to find what you need.
Tip: You can set up bank rules that will automatically classify transactions to help speed up the review process.
Note: The Enable suggested categorisation ⚙️ setting in the banking window helps to auto-categorise transactions with similar bank details.
Step 3: Review matched or added transactions
After your match or add downloaded transactions, it's always a good idea to check that everything is in order and recorded accurately in QuickBooks.
Go to the Categorised or Reviewed tab.
Select the link in the Added or Matched column to review the transaction.
We're here to help
If you're confused about how to review, match or categorise transactions, or need help with manually uploading them, let us know. Sign in to QuickBooks and start a discussion with a qualified QuickBooks Online expert in the community.