From April 2022, HMRC requires all VAT-registered businesses to keep digital records and VAT returns under the new Making Tax Digital (MTD) rules. To learn more, here's everything you need to know about MTD. 
If you're new to MTD and not sure where to start, this MTD for VAT checklist will walk you through each step of the way. If you're an accountant and bookkeeper, read this.
Before you submit a VAT return
Once you're registered for MTD directly with HMRC, make sure you turn on MTD in QuickBooks using the MTD log in details provided by HMRC. 
Not sure if you've signed up for MTD? Check your inbox for an email confirmation from HMRC which will contain the new log in details. This usually takes up to 72 hours to arrive once your application is successful. If you're not yet signed up for MTD, you can submit returns manually via Business Tax Account service on the HMRC website until April 2022.
How to submit a VAT return
Go to Taxes and select VAT (Take me there).
Select Prepare return. You can also use the VAT error checker to check everything is in order.

Check the figures for each box. When you're ready to submit your VAT return, select Submit to HMRC.

Read the declaration and tick the I declare the information is true and complete box to agree, followed by Submit to HMRC.

Stay on the page while the submission is taking place until you see the receipt confirmation message.

Once your submission has been complete, you'll see a message saying HMRC accepted your return. Select Done to close the window.

Once the return has been submitted to HMRC you'll receive an email confirmation containing a receipt number along with information of your return. Here's an example: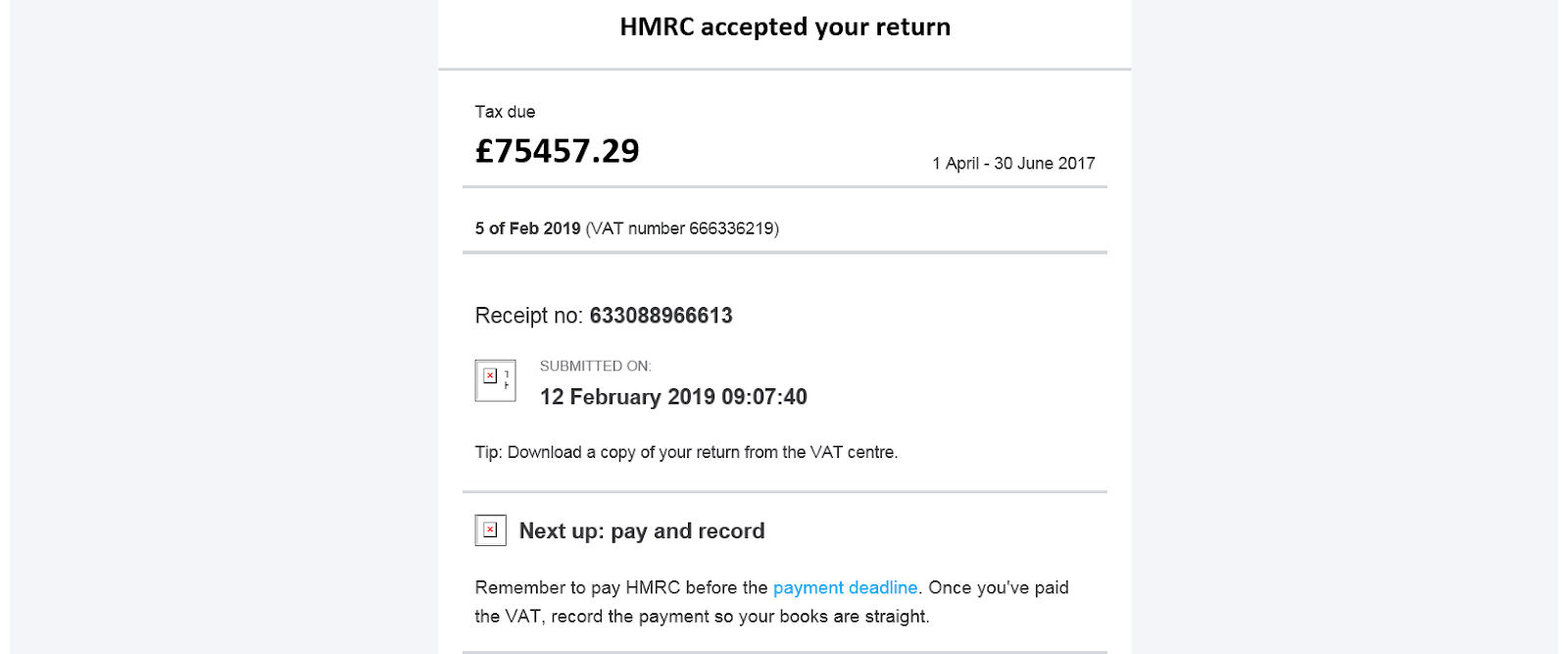 What happens next?
The next step is to record your VAT payment in QuickBooks. It's important to record every time money goes in or out of your bank account so that your books balance at the end of each tax year.
When you make a VAT payment to HMRC or receive a refund from them, you need to create a record in the VAT centre in order to match it with the associated bank transaction in QuickBooks.
Something not quite right?
If you're unable to submit a return or you see an error message, here's how you can fix common MTD issues in QuickBooks.
For more information like upcoming changes and deadlines, read everything you need to know about MTD for VAT. Or, get answers to frequently asked questions about MTD here.
*QuickBooks MTD software currently supports Standard, Cash and Flat Rate schemes. QuickBooks Online Bridging Software supports Standard and Cash schemes. Businesses whose home currency is not GBP are currently not supported for MTD.
More helpful articles
Authorise QuickBooks to interact with HMRC - MTD for small businesses
How to fix common MTD issues and errors in QuickBooks
Everything you need to know about MTD
Submit a VAT return in QuickBooks Online
Common VAT codes
Brexit FAQ