When you process a pay run in Advanced Payroll, you need to submit a Full Payment Summary (FPS) to HMRC on or before the employee's pay day.
If this is your first time making an FPS submission, make sure you set up RTI (Real Time Information) reporting along with your Accounts Office reference and PAYE reference number in your payroll settings.
How to submit an FPS to HMRC
First, create and finalise your pay run. Then, select the Finalise Pay Run button to choose your pay run submission options: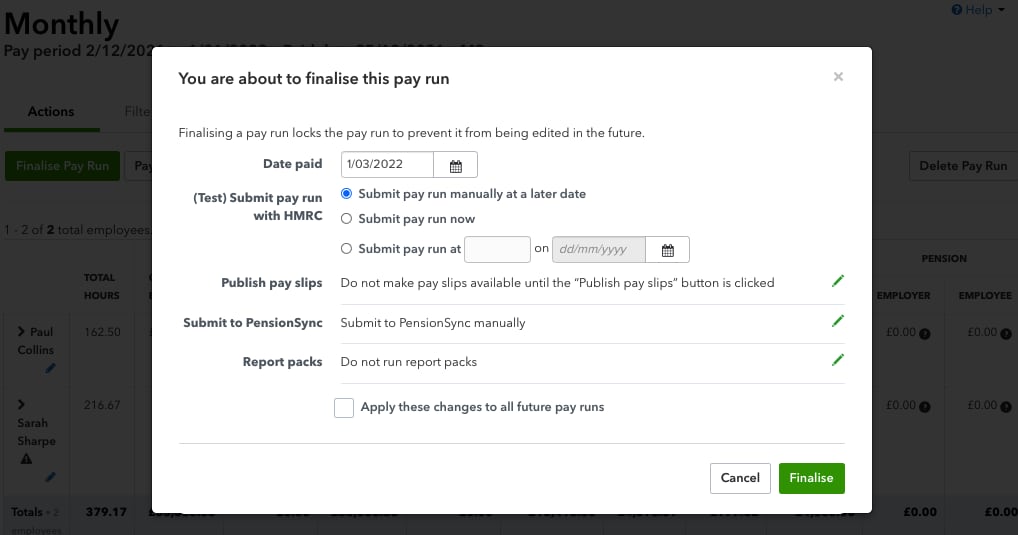 If you select Submit pay run manually at a later date, this will finalise the pay run as soon as you select Finalise, but will not submit the FPS to HMRC.

Note: You'll need to select Submit the pay run to HMRC manually on the pay run.

If you select Submit pay run now, this will finalise the pay run and submit the FPS to HMRC once you select Finalise.
To finalise a pay run and schedule the FPS submission to HMRC, select Submit pay run at and enter a time and day of when you'd like to submit the FPS.
And that's it! Your FPS has now been filed with HMRC.
Making a late submission
Open the pay run and open the Pay Run Actions. 
Select Mark all as late submission and choose the appropriate reason for the late submission.
Select Apply.
Checking the FPS submission status
Go to the payroll dashboard and select the Reports tab.
In HMRC reporting, select RTI Submission Messages.
Select the date range.
Select Search.
You'll be able to see a list of your submissions and the status–successful, pending or rejected by HMRC.