As a payroll manager, you get requests coming in all the time from staff that can potentially affect your pay runs. You may get ad hoc requests to add a child support payment or adjust a salary sacrifice super amount or to change an employee bank account. Sometimes these requests can be processed in advance, but you may need to adjust them in a pay run.
On top of this, you have the normal things you have to do like check the bank account for funds, review timesheets to ensure they're all approved, check for employees taking more leave than they should and more. These are standard operating steps that can easily be forgotten or missed on each pay run.
Pay run tasks makes it easy to track all your pay run processing steps by allowing you to setup recurring and one off pay run tasks that can be applied to the entire pay run or specific employees.
From within the task management screen, you can quickly add new tasks as well as review upcoming tasks for a given pay run.
Getting Started
Go to the Pay Runs tab and select Manage tasks.

Creating a task
Click on Create Task and use all or some of the following options to configure the task:
Description
Employees (all or specific employees)
Pay Schedule
Pay run/s task applies to
Task period end date
Private or public
Add notes to relevant tasks  (When adding notes, you can choose whether Managers (ie restricted users) are also able to view the note)
Attach any document(s) relevant to the task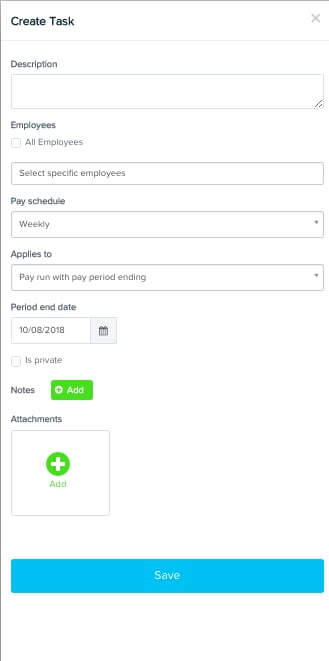 View and manage tasks
You can do a number of things from within View Tasks:
Create a Task
Create a Pay Run
View upcoming tasks
See a snapshot of tasks that have not been completed in pay runs
Mark a task as complete for an historic pay run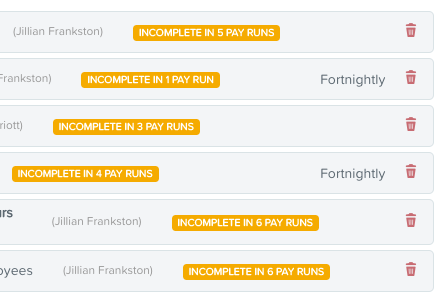 Select a task to open the context panel. You will be able to view details of the task, and see which tasks have been completed for each pay run.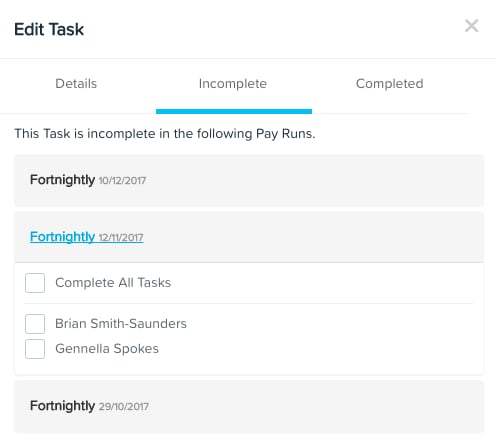 Tasks in the Pay Run
When you go to process a pay run, the task list will be present and you'll be able to view which tasks need to be completed.

You can quickly see which pay runs have tasks pending in the pay run list view.

From within a Pay Run you will be able to view the task list and then use the minimise arrow to  Move the list aside while you action the task.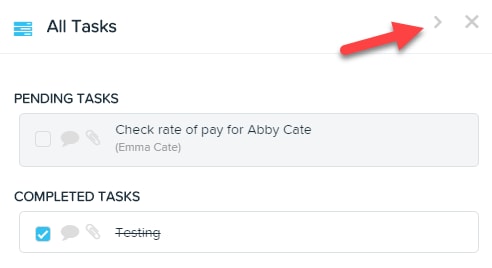 Then you can return to the list by selecting the arrow again.
You can also quickly see which employees have a task assigned as they'll have the Tasks indicator next to their name in the pay run.

Finally, you can review the tasks that were complete in the pay run audit report. You can also generate a Task Report to get more details of tasks for a specific pay run or date range.