You need to send PAYE (Pay As You Earn) information to HMRC (HM Revenue and Customs) every time you pay your employees. RTI (Real Time Information) is essentially reporting payroll details like employee pay, National Insurance Contributions (NICs) and deductions, all in real time.
By switching on RTI in Standard Payroll, you can stay on top of compliance and automatically send an FPS (Full Payment Summary) each time you run payroll. You'll also need to send an EPS (Employer Payment Summary) too, even for tax months you don't pay your employees.
Before you turn on RTI reporting and run payroll
You'll need your payroll Government Gateway credentials and reference number. If you need to, you can register your business on HMRC's website.
Make sure you activate your user ID and password within 28 days of receiving it from HMRC. You can activate it on the GOV.UK. If you don't, you'll need to get new credentials.
Note: If you've not yet received your employer PAYE reference from HMRC, you must submit the payroll as soon as you receive it and select Late reporting reason code G. For more information on late submissions, read this.
Enter your HMRC credentials in QuickBooks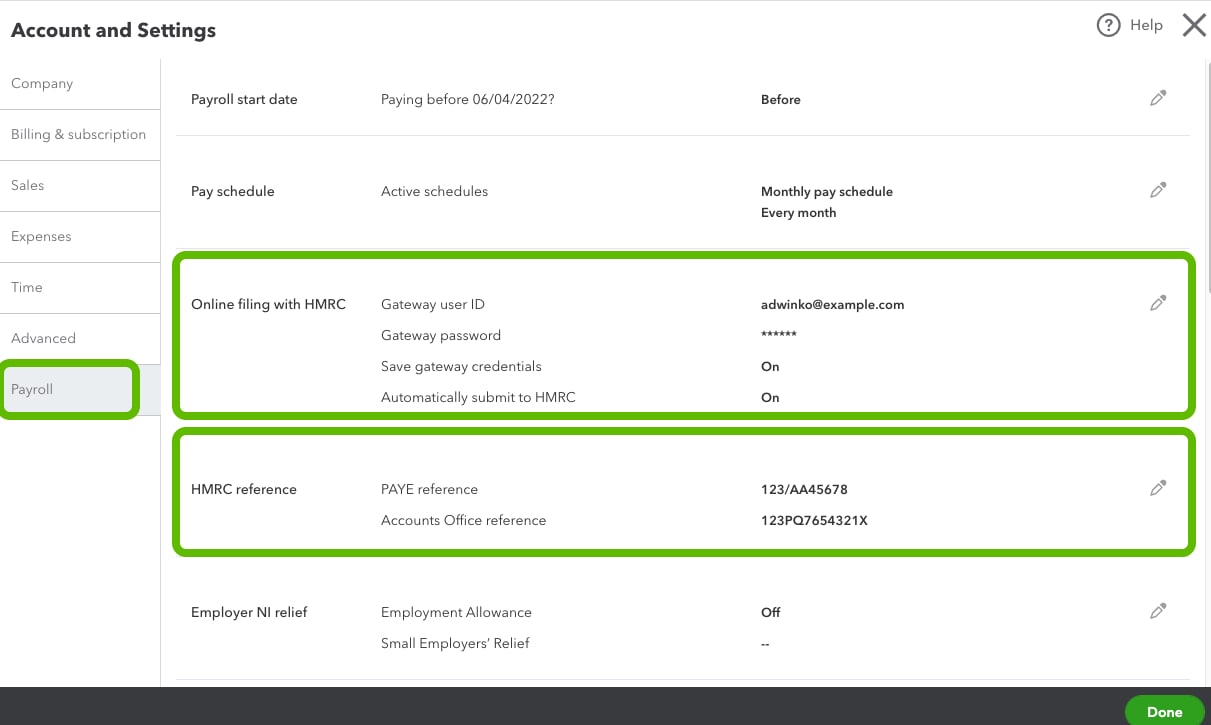 Select the gear icon, select Payroll under Account and settings.
Select the pencil icon next to Online filing with HMRC.
Enter the Government Gateway user ID and password. The user ID is usually a random combination of 6 letters and numbers, and the password is a combination of 12 letters and numbers. Note: When you change your password, make sure it follows HMRC's rules and is at least 10 characters but no more than 128 characters long.
Tick Save Gateway credentials so you don't need to enter them every time you file.
Tick Submit FPS automatically to HMRC with payroll if you want QuickBooks to submit an FPS filing each time you run payroll.
Save your changes and select Done.
To enter your HMRC reference number:
HMRC issues the PAYE reference when you register online. Same for the PAYE Accounts Office reference, this is used when reporting Class 1 NIC payments for the tax year. If you need to, you can enrol for PAYE online here.
Select the gear icon, select Payroll under Account and settings.
Select the pencil icon next to HMRC reference.
Enter your PAYE and Accounts Office reference.
Select Save and Done.
That's it! Your RTI status will now show as Complete on the Payroll homepage.
See also