In this article, we'll show you how to set up a pension scheme in QuickBooks Online Standard Payroll in just a few simple steps. Whether you're just getting started with auto enrolment or you've already picked your pension provider, this guide will help you get up and running quickly and easily.
To access workplace pensions in Standard Payroll
In QuickBooks, go to Payroll.
Select Overview (Take me there).
You can also access pension settings through your account and settings. To do so:
Select the gear icon, and then Account and settings.
Select the Payroll tab.
Step 1. Choose a workplace pension start date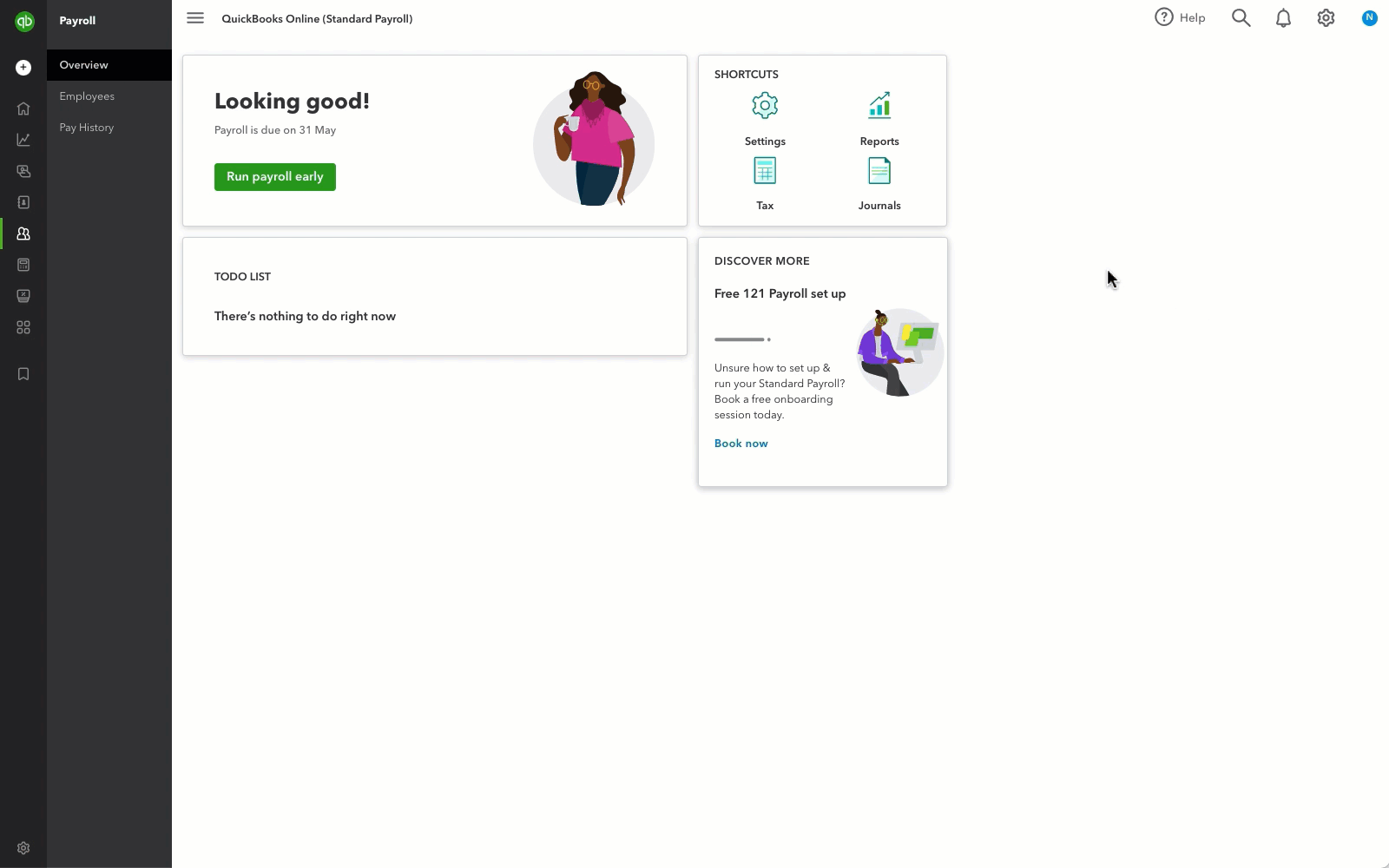 Select the pencil icon✏️ next to Workplace pension start date.
Select Yes if you've already paid your employees before subscribing to QuickBooks Online Payroll. If you've never paid employees, select No.
Tip: If you selected No, we'll work out your start date for you. When you run your first payroll, we'll check the starting date of your first employee–that will become your duties start date. Go ahead and pay your employees. We'll keep tabs on your employees and payroll info, and let you know when it's time to setup your workplace pension. You'll also get the option to postpone for up to 3 months.
Select the calendar icon to choose your start date. If you don't have a start date, tick the 'I don't have a start date' box.
If you'd like to choose your own start date, tick the 'I want to choose my own start date' box.
Select Save, and then Done.
Step 2. Set up a pension scheme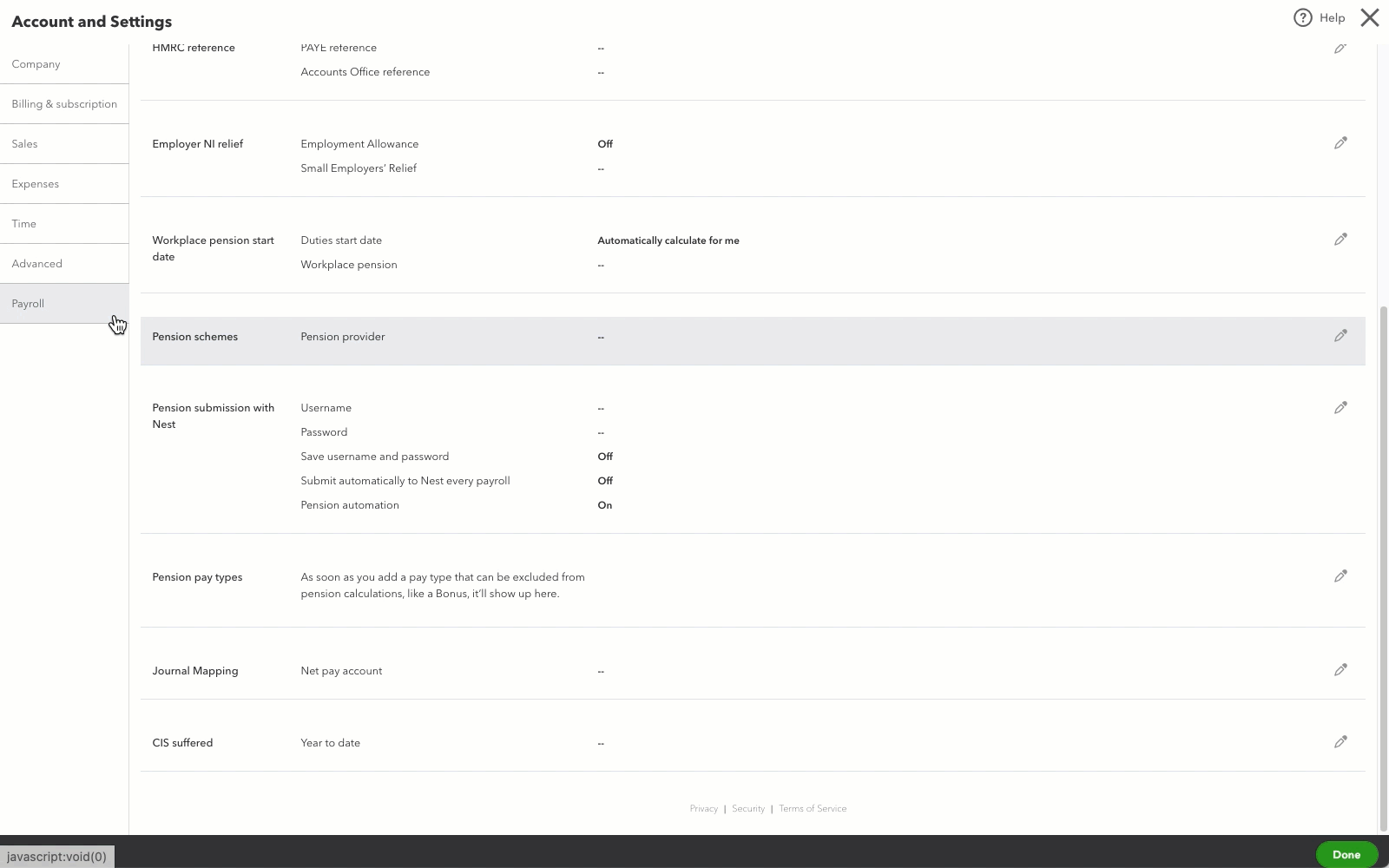 Select the pencil icon✏️ next to Pension schemes.
Select Add pension.
Select your pension provider from the dropdown list. If you use another pension, select Other.
Enter the following details:

Pension name - this will appear next to the pension amount on employee's payslip. You can give this pension a unique name.
Provider reference number - this is a unique reference provided and assigned to you by the pension provider, and is used to identify you.
Group name - use this if you have lots of employees and want them in different categories, it can also serve as your secondary reference.

Select Use earnings threshold and use the latest defined earnings thresholds to work out when employees are auto enrolled in the pension.
Select the Taxation method. We'll usually set the method for you based on the pension provider's taxation method.
Select the employee and employer contribution rates for your business. This is automatically assigned to all employees added to the workplace pension scheme.
Note:

You can customise the amounts in each employee's profile and when you run payroll.
We've automatically applied the minimum amounts required, but you can add more if you want. You can also customise individual employees' amounts in their profiles later.
You're required to contribute the same amount, based on regular pay, into an employee's workplace pension while the employee is on statutory leave. 

Select Save pension.
To add a pension pay type
You can choose the pensionable pay types you want to include in your pension earnings. These are the earnings selected during your set up with the pension provider.
Pensionable earnings will always include salary or wages, but you may have chosen to include other earnings like bonus, overtime or even statutory pay.
If you're using a qualified earnings pension scheme you'll need to make sure all your pay items, plus any new pay items you enter, are included in pension earnings. You can check this with your pension provider.
Some pay types, like a bonus, can be excluded from pensionable pay. Others, like salary, must be included when calculating pension amounts so they won't be listed here.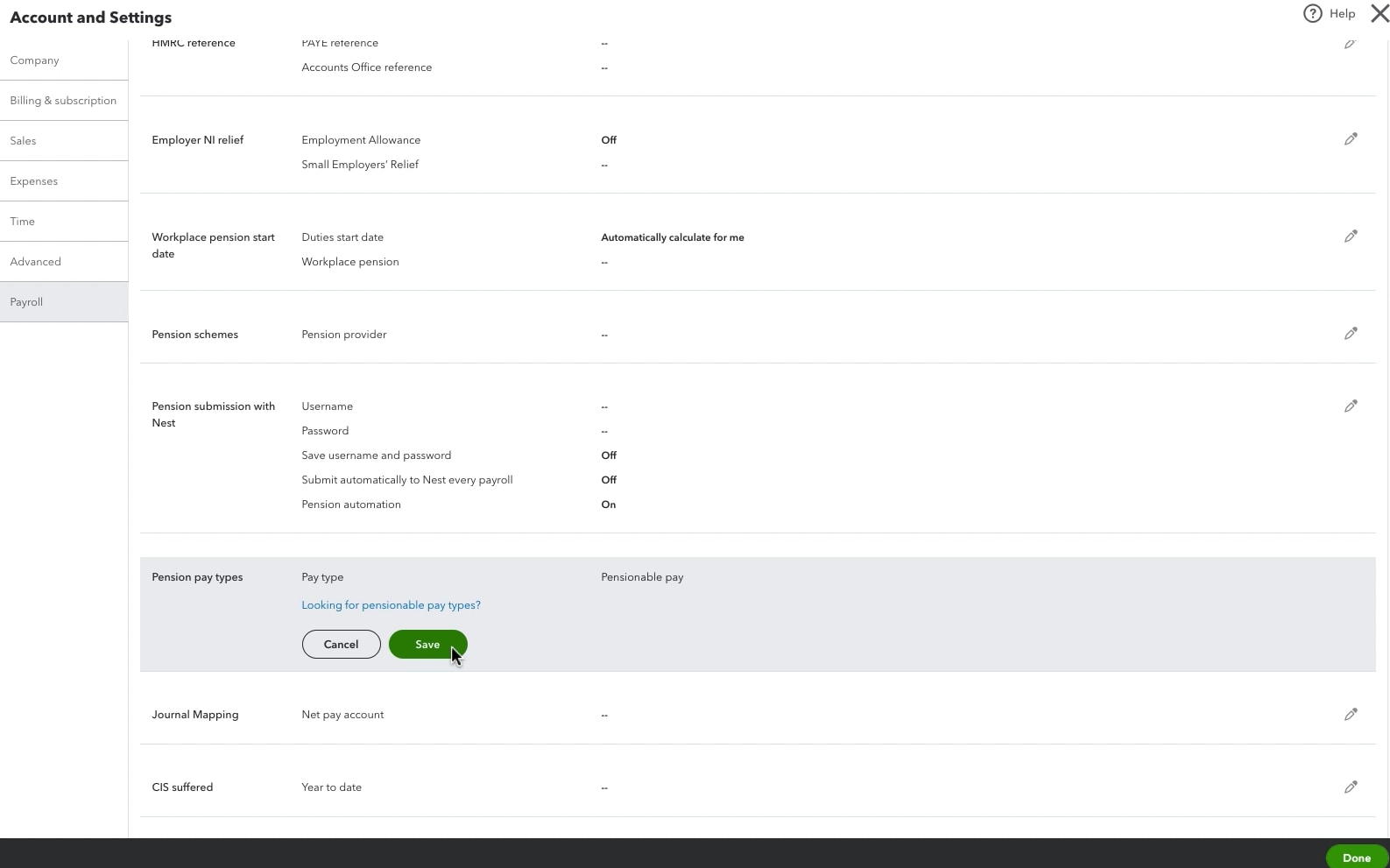 Select the gear icon and then Account and settings.
Select Payroll.
Select the pencil icon✏️ next to Pension pay types.
Once you add a pay type that can be excluded from pension calculations, like a bonus, it'll show here. If you're unsure of what you've chosen, reach out to your pension provider directly.
Step 3. Let your employees know
Next, it's time to tell your employees. As part of your employer duties, you must inform your employees of the enrolment process within six weeks of your duty staging date.
Some pension providers will offer to send out communications on your behalf. If not, you can use The Pensions Regulator's letter template to write to your staff.
Step 4. Add employees to the pension scheme
Time to enrol all your employees who qualify to be in the pension scheme and make employer's contribution.
To assign a pension scheme to an employee: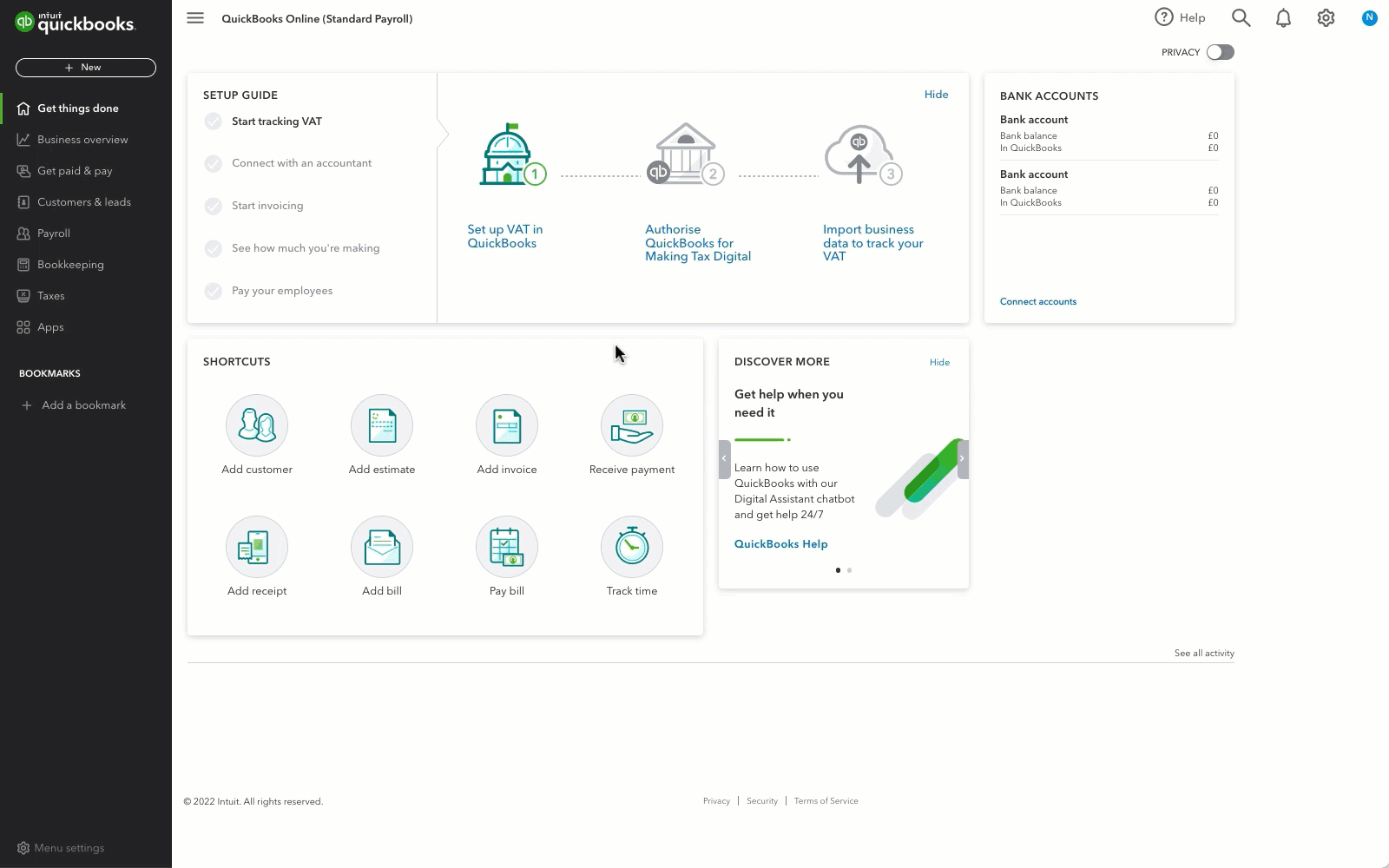 Go to Payroll, then select Employees (Take me there).
Select the employee name to open their employee profile.
Select the pencil icon next to Workplace pensions.
Choose the worker category and the applicable setting.
Enter the employee and employer contribution amount/percentage.
Select Save.
Step 5. Send the declaration stating you've met your employer duties
The Declaration of Compliance is used to let The Pensions Regulator know that you have met your automatic enrolment duties. You must complete the online Declaration of Compliance within 5 months of your staging date/duty start date. 
It's your legal duty as an employer to complete the declaration, although you can delegate it to an agent, accountant or to your pension provider, make sure that you know who is going to make the declaration. If you do not complete this on time you will be subject to fines and penalties.
The declaration is a secure, online service accessed through the Government Gateway. Use the Declaration of Compliance checklist to ensure that you have ready all the relevant information you will need to complete the form online.
Step 6. Reassess your employees
As part of the ongoing employer duties, every 3 years after your initial duty start/staging date you'll need to reassess all employees who have opted out or ceased their membership in the previous years. 
You're able to select the exact re-enrolment date within a 6-month window. There are similar requirements to inform employees who may have opted out or choose to cease their membership that they will be reassessed, and if applicable, re-enrolled. 
There's also a duty to complete the Declaration of Compliance with The Pension Regulator. Find out more about re-enrolment and re-declaration here.