When using Time Slider to enter team member hours, after adding team members names, you will see something like this:
If the team member names disappear, you will see something like this (Time Slider always displays your name by default.):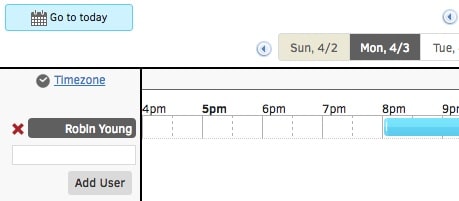 In this case, there is a good chance that your computer is missing a cookie. Cookies help websites remember information you have entered previously (such as team member names).
Here are some common causes of missing cookies and how to fix them:
Your web browser settings may be blocking QuickBooks Time from adding a cookie. To fix this, make sure that QuickBooks Time is in the allowed sites list. For instructions, search your browser's help documents. If you use Google Chrome:

At the top right, go to the three dots, then select Settings.
Select Advanced at the bottom.
Select Content settings, then Cookies.
Select See all cookies and site data and make sure www.tsheets.com is listed.
If not, go back.
On the Cookies page, under Allow, select ADD.
In Site, enter www.tsheets.com and select ADD.

You may have manually cleared your cookies. In Chrome, this would have been done in the Privacy settings by choosing "Clear browsing data."
Your antivirus software may be clearing cookies stored on your computer. This can usually be fixed by setting an exception rule within the antivirus software's settings section.