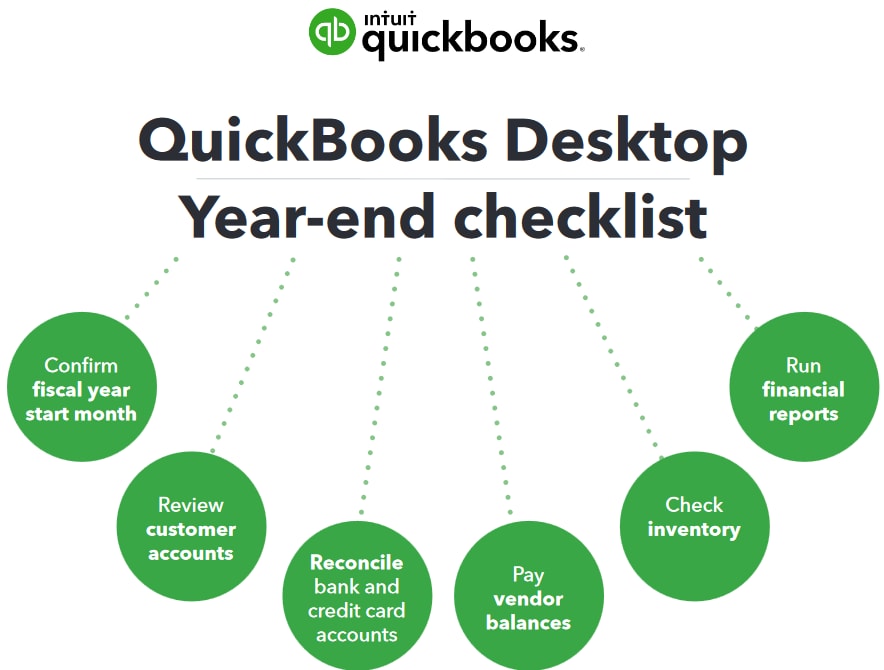 As the end of the year approaches, you and your accountant will need to complete certain tasks in QuickBooks to close out the old year and prepare for the new one.
The following sections can help guide you through these end-of-year tasks to make the ending of one year and the beginning of another easier.
It's important to ensure that the correct month is selected for the start of your financial year to allow QuickBooks to clear accounting ledgers behind the scenes while you work on other end-of-year activities.
To confirm or change the first month of your financial year:
Select My Company from the Company Menu

To check the financial year setting, select the pencil icon, then Report

Information

Make sure the first month of your financial year is correct so your financial

reports use the correct dates
Your financial year is confirmed.
At the end of the year, it's a good idea to ensure your client base has up to date account balances and that billing and payments are all up to date.
To check customer account balances:
Run an Accounts Receivable Ageing Summary or Detail Report so you

can settle any outstanding customer payments.

Under the Reports menu, select Customers & Receivables and choose either A/R Ageing Summary or A/R Ageing Detail.
Review the report to identify customers with outstanding balances.
Once you identify outstanding balances, you can send statements to the customers.
To send a statement:
Customers menu, go to Statements/Create Statements.
Choose the appropriate A/R account.Note that QuickBooks displays the A/R Account field ONLY when your Chart of Accounts contains more than one A/R.
Check the statement date.
Select the date period of the transactions.Note: You can specify the dates or you can include all open (unpaid) transactions as of the statement date.
Choose the customers you want to print statements for.
Choose additional options.
Select Print or E-mail depending on how you want to send the statements to your customers.
For more information about creating statements
You should also confirm that all deposits are cleared from the deposit queue. Any funds sitting in this queue will not be included in your current year's income.
For information about creating deposits, see How the Undeposited Funds accounts works.
The end of the year is a good time to take care of any outstanding bills you owe for the year, and address any outstanding credits, discounts, or products you're owed from your suppliers/suppliers.
To review outstanding bills:
Run an Accounts Payable Ageing Summary or Details report so you can

review and pay any outstanding bills

Under the Reports menu, select Suppliers & Payables and choose either A/P Ageing Summary or A/P Ageing Detail.
Review the report to identify any outstanding bills to pay before the end of the year.
Once you identify any outstanding bills, you can clear them up before the end of the year.
It is good practice to match your QuickBooks data to your bank and card accounts to ensure that all transactions have been recorded correctly, and that your year-end reports display accurate financial data.
Before you begin the reconcile process, make sure you have:
Entered all uncleared transactions for the statement period.
Received a copy of your bank or card statement.
For more detailed information about the reconcile process, see reconcile an account
Your accountant has the expertise necessary to give you suggestions on data input, help with your year-end process, and forecast your company's financial future.
QuickBooks Desktop makes it so that you can save the accountant's file locally, but also share it using the transfer service to send it electronically and safely.
To understand the Accountant's Copy, process, please see the Overview.
It's important to run year-end reports to review the information and identify any issues or discrepancies.
To run year-end reports:
Under the Reports menu, view the Company & Financial category
Locate and review the Profit and Loss report and the Balance Sheet, as well as any customised reports you or your accountant require.
You and your accountant can review the information in these reports to identify any potential issues to resolve. It is also important to understand how QuickBooks makes automatic adjustments at year's end, in preparation for the upcoming financial year.
If your Retained Earnings need to be divided among owners or partners, your accountant can assist you.
It's good practice to have previously set up an Owner's Equity and Draws ledger for any payments or withdrawals from the company during the year by the key people who founded the company.
To create journal entries:
Select the Company menu
Choose Make General Journal Entry.
For detailed information about journal entries, see Record a journal entry
Taxes are typically prepared by a company's accountant.
When you send your accountant an Accountant's Copy file, you give the accountant access to all the financial information they need to prepare and file taxes on your company's behalf, and to make any necessary changes.
Your accountant can use this information to prepare, or help you to prepare, any required year-end tax return.
QuickBooks Desktop does not require you to close the books as part of Year-End. However, it does offer the use of a closing date password to limit access to the closed accounting period.
To set a Closing Date Password:
From the Edit menu, select Preferences then Accounting.
Under Company Preferences, select Set Date/Password.
(Optional) Choose your closing date and set your closing date password.
Select OK to close the Set Closing Date and Password window.
Select OK to close the Preferences window.Note: To remove the closing date password, log in as the admin and remove the encrypted password on the Set Closing Date and Password screen.
For more detailed information setting the password, see Set, change or remove closing date and closing date password.
For more information on Year-End regarding Payroll, view the Following
Year-end checklist for QuickBooks Desktop Payroll