Open Banking is a regulation that changes the way you share your financial data. As part of this change, we are upgrading our bank feed connections to give you a better experience.
Simple and seamless upgrade experience
More accurate, reliable and uninterrupted bank feeds
Real-time reconciliation to see an up-to-date view of all your business finances in one place
Smarter cash flow management
Watch this video to learn more about upgrading.
Open Banking connection will be available for banks in phases. When it is ready for your bank, you'll see a banner on the Banking menu or Transactions menu. Master Admins will also receive an email from QuickBooks, detailing the steps you need to take to complete the update.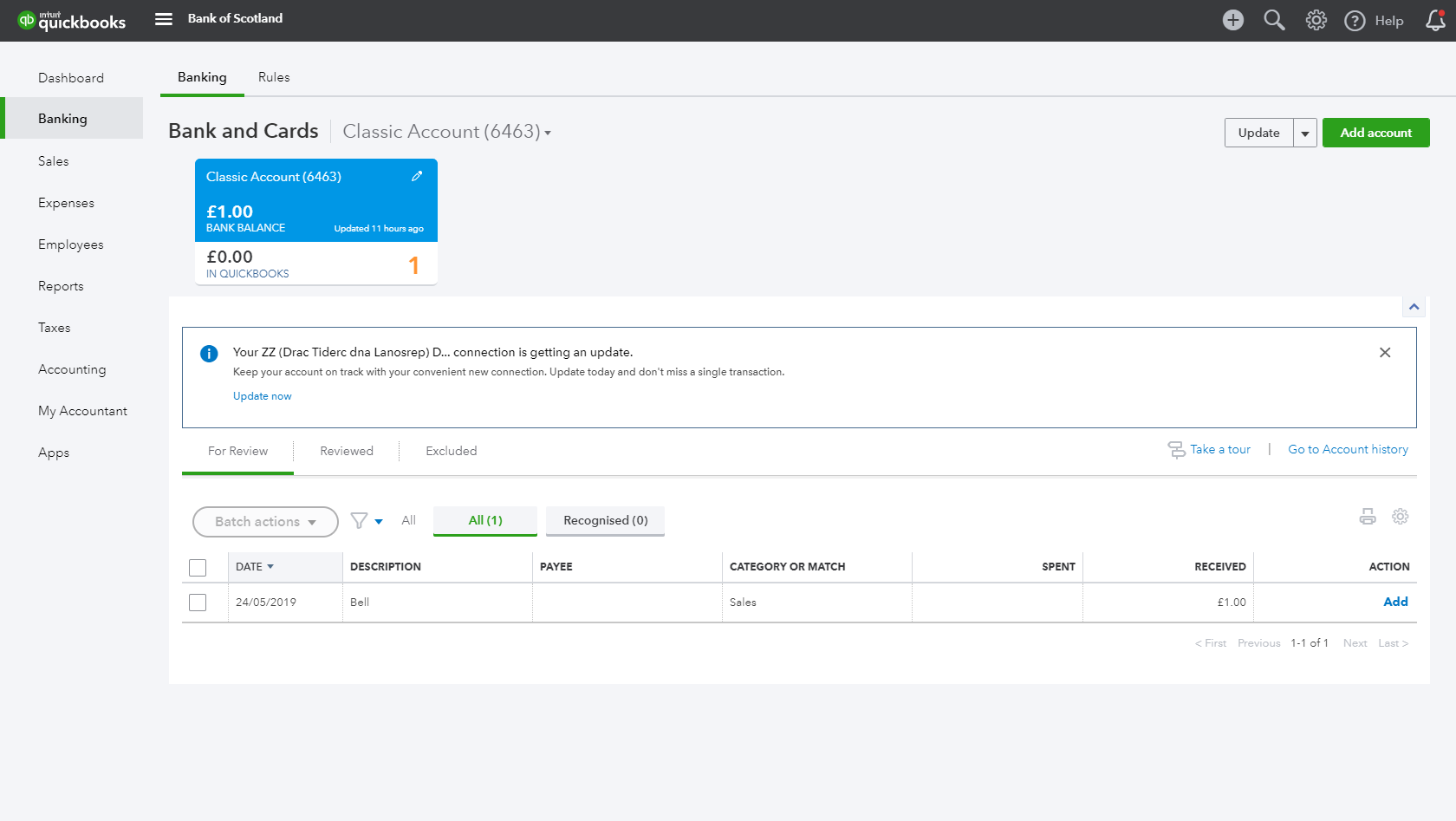 Update your connection as soon as you receive this banner, otherwise your current feed will stop working by the end of the grace period.
When you're ready, click on Update Now to switch to open banking.
On the next screen, click Update now.
Confirm your connection by clicking Agree. This opens up a new tab to your bank's online banking page.
On this page, follow the steps on your bank's online banking page to authorise QuickBooks to connect to your bank account. Once you have completed the log in process, you will automatically be taken back to QuickBooks.
On the QuickBooks page, select the bank accounts you want to connect, and which account they will link to in QuickBooks.
Select Connect.
QuickBooks is now connected to your selected bank account(s), and your transactions will be waiting for you on the Banking menu or Transactions menu.
Note: if you are a HSBC Personal customer, the way to generate a code is different to how you'd normally generate your code on login. Follow the onscreen instructions, or the steps below
From the Mobile Banking app: launch the app and select "Generate security code". Select re-authentication, enter your Digital Secure Key password and Generate code. If you're a Touch ID user, cancel the log on prompt and select Generate security code, then use the re-authenticate tab.
Using your Secure Key: turn on your Secure Key, then enter your Secure Key PIN. On the welcome screen, press the 3 button to generate a re-authentication code. The 6-digit re-authentication code will be shown on your Secure Key screen.
Frequently Asked Questions
How long do I have to update my bank feed to Open Banking connection?
You have about 30 days to update your bank connection from the day the banner is presented to you. Once the grace period is over, your current feed will not be updated, no transactions will be downloaded to QuickBooks.
To download your transactions, we recommend that you update to open banking connection. You can choose to import transactions manually but if and when you choose to update to open banking, it will download all transactions from the day your current feed has stopped. This means that the transactions that you have manually imported will be duplicated.
My bank's online banking page does not appear, I am unable to enter my login credentials.
This could be due to your pop up blocker stopping QuickBooks from opening a new tab. You'll need to allow pop up of your online Banking page in order to continue. Your pop up blocker is usually place on the top right corner of your browser. You can choose to disable your pop up blocker or whitelist qbo.intuit.com to display your online Banking page.
What is my membership number? (Barclays user only)
You require your membership number in order to authorise QuickBooks to connect to your Barclays account. If you have forgotten your membership number, follow the instructions on this Barclays page to retrieve your details.
I keep getting an error when I'm logging into my online banking page, but I am certain that my details are correct. (HSBC Personal account user only)
The way the authentication code is generated for HSBC Personal account user is different to how you normally log in to your online banking. Follow the onscreen steps to generate your code.
My transactions used to be automatically matched in QuickBooks in the past, what's changed?
The description on transactions brought through by open banking connection is different to your existing connection. If you have created bank rules to automatically match transactions, you may need to update your rules to the new description. Learn more about rules here.
Is my bank account ready to be updated to Open Banking?
This article details the open banking availability and status of banks and their account types.