Learn how to fix Error: Server busy in QuickBooks Desktop.
If there's too many programs running in the background, QuickBooks will prompt you with this error. Here's how you can resolve it so you can get back to business.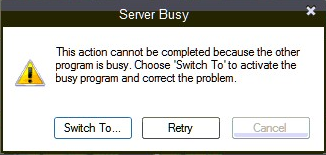 Solution 1: Close open programs
To let QuickBooks run smoothly, you have to close other programs running in the background. Or close QuickBooks then reopen.
Make sure there are no dialog boxes open in other programs. For example, Microsoft Word may have a dialog box open that asks you to save a document.
Make sure to close Google Desktop, Windows Defender, Vista Security, and Pivot Software Control.
Temporarily disable Spy Sweeper, or run it in Gamer mode while using QuickBooks Desktop.
Solution 2: Check for Windows update
Look for any windows update or if it needs to be installed. Learn more about Windows update.
Solution 3: Use the Quick Fix my Program
The Quick Fix will shut down any open background processes QuickBooks may be using. It will run a quick repair on your program.
Step 1: Download and install the QuickBooks Tool Hub
The QuickBooks Tool Hub helps fix common errors. For the best experience, we recommend using Tool Hub on Windows 10, 64-bit.
Close QuickBooks.
We recommend you download the most recent version (1.4.0.0) of the QuickBooks Tool Hub. Save the file somewhere you can easily find it (like your Downloads folder or your Windows desktop). Note: If you've already installed Tool Hub before, you can find out which version you have. Select the Home tab. The version will be displayed on the bottom right or you can select About to view the version.
Open the file you downloaded (QuickBooksToolHub.exe).
Follow the on-screen steps to install and agree to the terms and conditions.
When the install finishes, double-click the icon on your Windows desktop to open the tool hub.

Note:
If you can't find the icon, do a search in Windows for
QuickBooks Tool Hub
and select the program.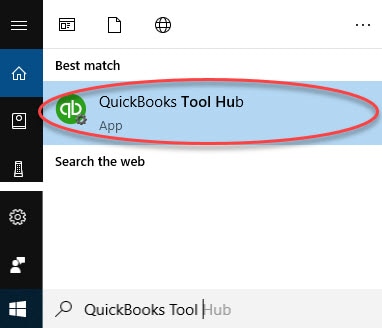 Step 2: Run the "Quick Fix my Program"
In the QuickBooks Tools Hub, select Program Problems.
Select Quick Fix my Program.
Open QuickBooks Desktop and your company file.
Solution 4: Turn off QuickBooks Automatic Update
If there's QuickBooks update and other program is running in the background, you need to turn off QuickBooks automatic update.
On your keyboard, press Ctrl+Alt+Delete.
Select Task Manager, then Startup tab.
Select QuickBooks Automatic Update, then select Disable.
Turn off shared updates in QuickBooks Desktop:

Go to the Help menu and select Update QuickBooks.
Select the Options tab.
For the Share Download option, select No.
Select Close.
Solution 6: Clean install QuickBooks Desktop
Completely uninstall your QuickBooks Desktop.
Additional steps
If the solutions didn't resolve the error, try these with an IT professional:
Boot Windows to SafeMode with Networking, then start QuickBooks Desktop and restart Windows to normal mode.
Run QuickBooks Desktop in Windows Selective Startup.
Note: Make sure to stop IntuitFCS.
If you run QuickBooks Desktop on a network, restart your computer, and then reconnect your computer to all mapped drives.
If a backup software is running on the server or network, it may scan the hard drive and block access to QuickBooks Desktop files.

Temporarily disable the software.
If the error still recurs, there's conflict with the scanning software. You can ask help from your system or network admin, from where you purchased the software, the manufacturer's or software developer's website, or a local computer consultant.