The Quickbooks tax code notification feature, for standard payroll, automatically updates employee's tax codes without the need to manually enter the new tax code. Please find below the notifications you will see when new employee tax code changes are received for your employees directly from HMRC.
Employee List Alert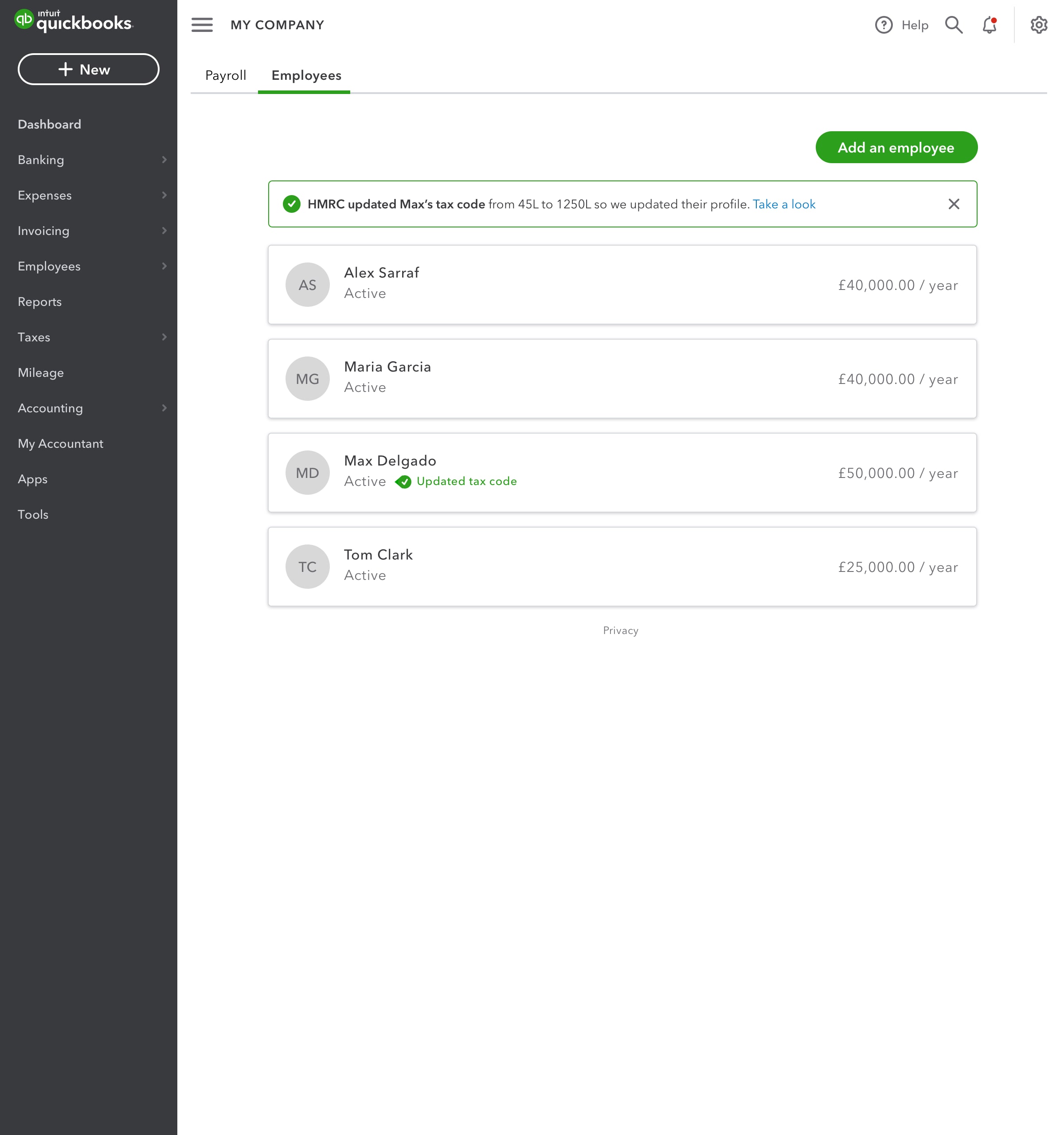 Employee Tax Information Alert Alert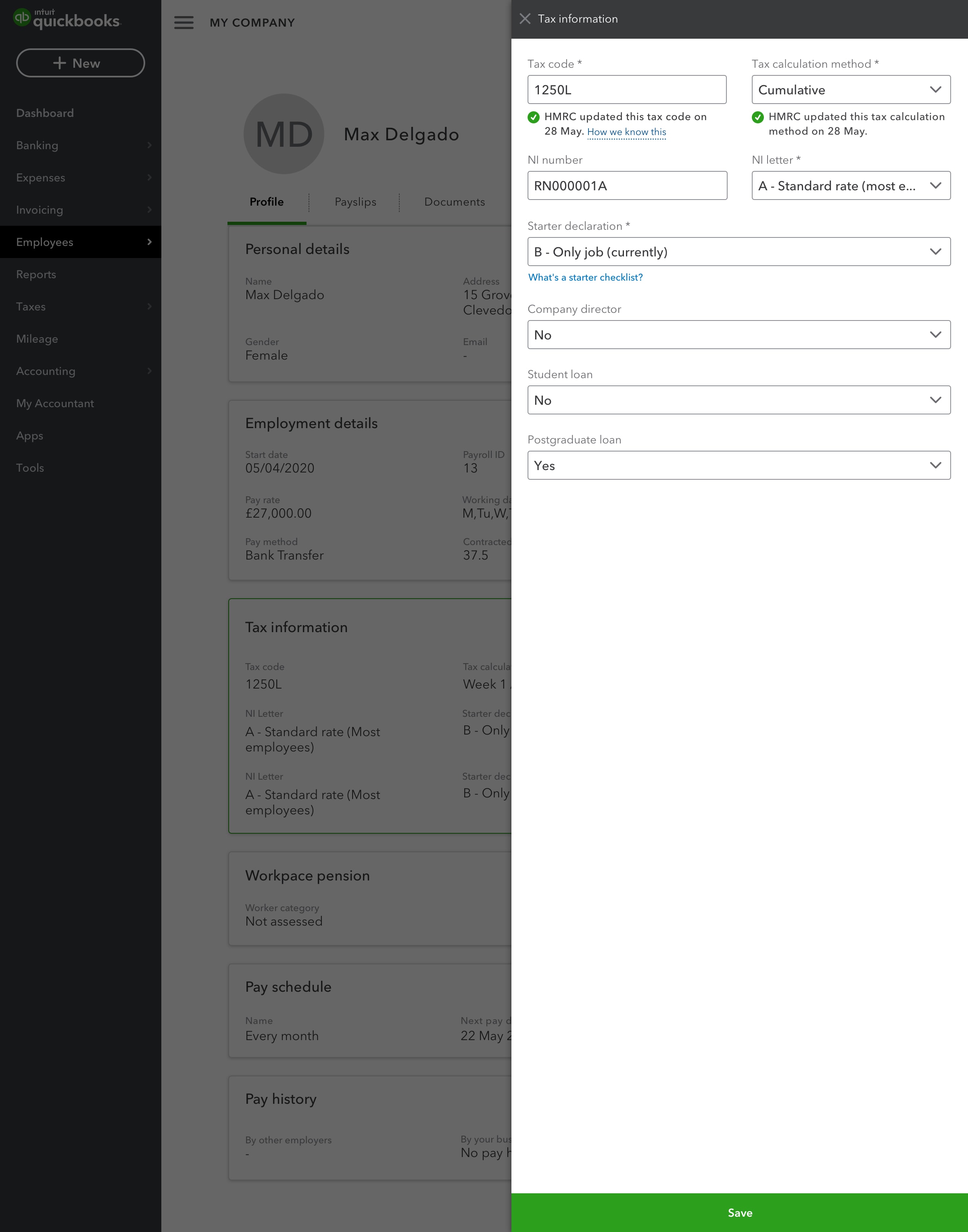 Running Payroll Alert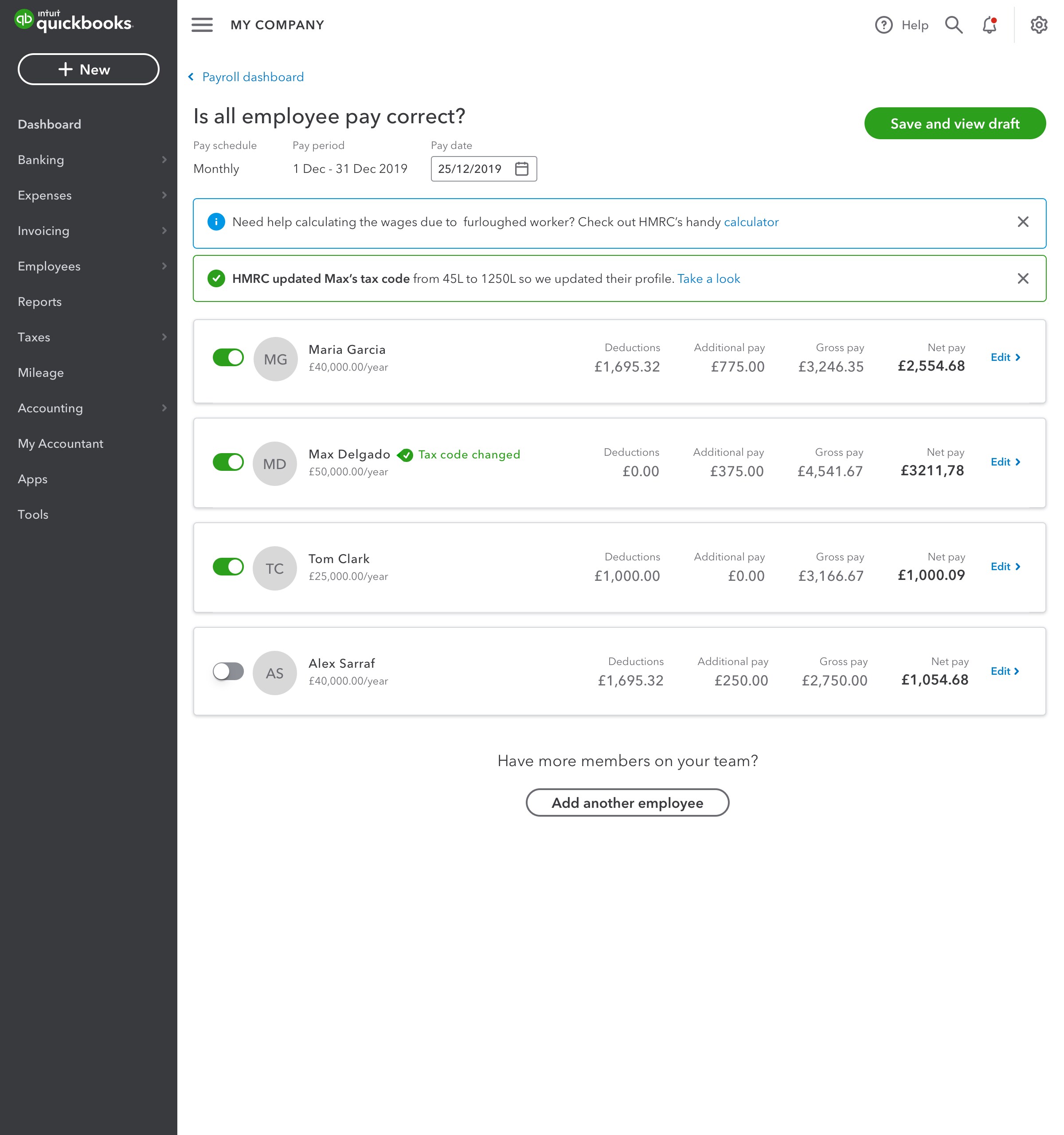 When are notices applied?
Tax code notices will be applied immediately or during the next payroll run.
What happens for unapplied notices when I run payroll?
Outstanding notices will be applied (see above).
What happens when I revert/rollback payroll?
When rolling back a payroll period and reverting to a previous payroll run, the previous tax codes will also be reverted and the tax code applied will be that before the new notice.
Can I manually override tax notices?
Yes, however after overriding a tax code or calculator method, when reverting/rolling back a payroll period the tax code will need to be manually reverted also.
You should only be changing the tax code if HMRC tells you. Your employee may pay the incorrect amount of tax if their tax code is wrong. For any issues, ask your employee to contact HMRC.
Are notices applied to leavers?
Tax code notices will not be applied during the period an employee is leaving or thereafter.
I have seen different notifications to those listed in help?
There are other variations of the alerts shown above:
There are warnings when updating tax codes manually, both before and after changes are made
Upcoming changes to tax codes will be shown on an employees tax information tab
The majority of tax code change in product alerts & notifications will be shown on mobile devices in addition to desktop web browsers
Are Scottish, Welsh, and non-standard tax codes supported?
Yes, Scottish, Welsh, and non-standard tax codes are supported.
Will automatic payroll codes start to happen automatically, or do we have to turn it on somewhere?
Once there are valid HMRC credentials entered in the Payroll Settings, the tax codes will be automatically retrieved from HMRC.
Do we still receive notification from HMRC as well (eg. through the portal) if an employee's tax code has been changed?
Notifications will still come through the portal. It is not possible to stop the notifications. Once you have signed up to the automated tax code service through the portal, paper notifications should stop. If you continue to receive the paper notifications, please contact HMRC.
Is there an audit trail showing what changes were made to the tax code and when?
There is no audit trail, to view previous tax codes, a previous payslip or a report would show the code.
What if you're an Agent and have multiple clients under one HMRC user ID and you don't enter your credentials into the software?
You will need to have credentials in the software to receive the updates. The credentials you enter would be applicable to the employer you want to retrieve the notices for.
Is there an additional cost for this feature?
No, there is no additional cost.
Whats updated, the tax basis, or just the tax codes?
The system updates the tax basis and the tax codes, although if a Tax Basis changes, HMRC will also send the tax code too. For example, tax code changes from 1250L to 1250L W1/M1, then 1250L W1/M1 will be sent through from HMRC.
Will student loan notifications update as well?
Not in this phase, although Student Loans, Postgraduate Loans, NI Numbers, and Previous Taxable Pay and Tax Paid may be part of future releases.
Will both P9 and P6 tax codes update?
Both P6's and P9's are supported.
Will this automatically update at beginning of the tax year for all new tax codes?
P9 notifications (start of tax year) will start to arrive around February/ March with an effective date of the new tax year (6th April), so should only be applied once at the start of new tax year.
What if you're an Agent and have multiple clients under one HMRC user ID and you don't enter your credentials into the software?
If you are acting as an agent, you need to contact HMRC to get the relevant permissions to pull the notices for your clients. If you attempt to pull the notices without the relevant permissions, there will be a notification banner in the product advising you that the PAYE reference is incorrect. We are working on better messaging for if and when this is experienced.