This article is for small businesses who are eligible for Making Tax Digital (MTD) or signed up for MTD voluntarily.
From April 2019, all eligible UK VAT-registered businesses will have to keep their financial records in a digital form and submit their VAT returns using approved software. Find out whether you are eligible here.
In order to submit VAT returns to HMRC for MTD, you'll have to first authorise QuickBooks to interact with HMRC. Watch this video to learn more.
You can also follow the steps below to complete this process.
Step 1: Enable MTD in QuickBooks
Go to Taxes on the left nav and select Let's go.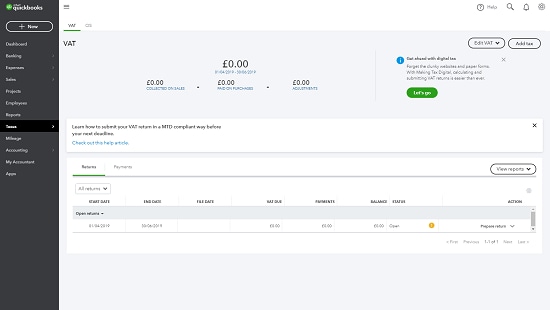 If you have dismissed this message, follow the steps below to enable MTD:
Click on the Gear icon, then Account and Settings.

In the Accounts and Settings page, select Advanced on the left menu. Then, select the Making Tax Digital header to expand the section. Click on Learn how to connect.

On the Get started with digital tax page, click on Let's go.

Step 2: Authorise QuickBooks to interact with HMRC
Once MTD has been enabled in QuickBooks. Follow the steps below:
Upon clicking on Let's go, you'll be directed to HMRC page as shown below. Click Continue to sign in.

Enter your HMRC credentials to sign in.

Once logged in, click on Grant authority to continue. The authorisation process will begin.

Once the authorisation has been given, you will receive a 'You're connected to HMRC' message as below. Click Continue.

When the process has been completed, click on Take a look.

Once you have completed this process, the Making Tax Digital badge will be enabled on the Taxes page. You can now submit your VAT return for MTD through QuickBooks.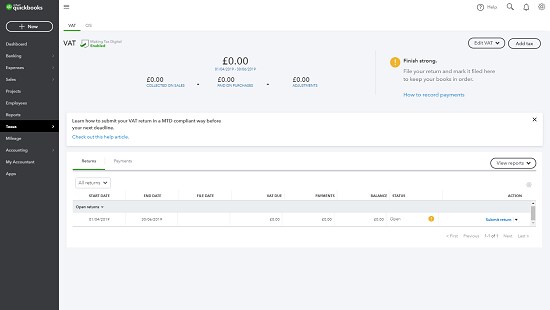 *QuickBooks MTD software currently supports Standard, Cash and Flat Rate schemes. QuickBooks Bridging Software supports Standard and Cash schemes. Annual submissions are not currently supported but will be coming soon. Businesses whose home currency is not GBP are currently not supported for MTD.