From April 2019, all eligible UK VAT-registered businesses will have to keep their financial records in a digital form and submit their VAT returns using approved software. Find out whether you are eligible here.
This article is for small businesses that are eligible for Making Tax Digital (MTD) or signed up for MTD voluntarily.
If you have not signed up for MTD, go to this article.
In order to submit a VAT return to HMRC for MTD, you need to have authorised QuickBooks to interact with HMRC.
Note: Make sure that you have received an email confirmation from HMRC before attempting to submit a VAT return for MTD. It takes approximately 72 hours after you have opted into MTD on HMRC's website.
Submit a VAT return:
Go to Taxes, then select VAT.
Select Prepare return.

Check the figures for each box. When you are ready to submit your VAT return, select Submit to HMRC.

On the next page, select the I declare the information is true and complete box, followed by Submit to HMRC.

While the submission is taking place, you will be shown a page as below. Do not close this page until the receipt confirmation message has been received.

Once your submission has been completed, you'll receive a message. Select Done to close the window.

Once the return has been submitted to HMRC you will receive an email confirmation containing a receipt number along with information of your return. Below is an example.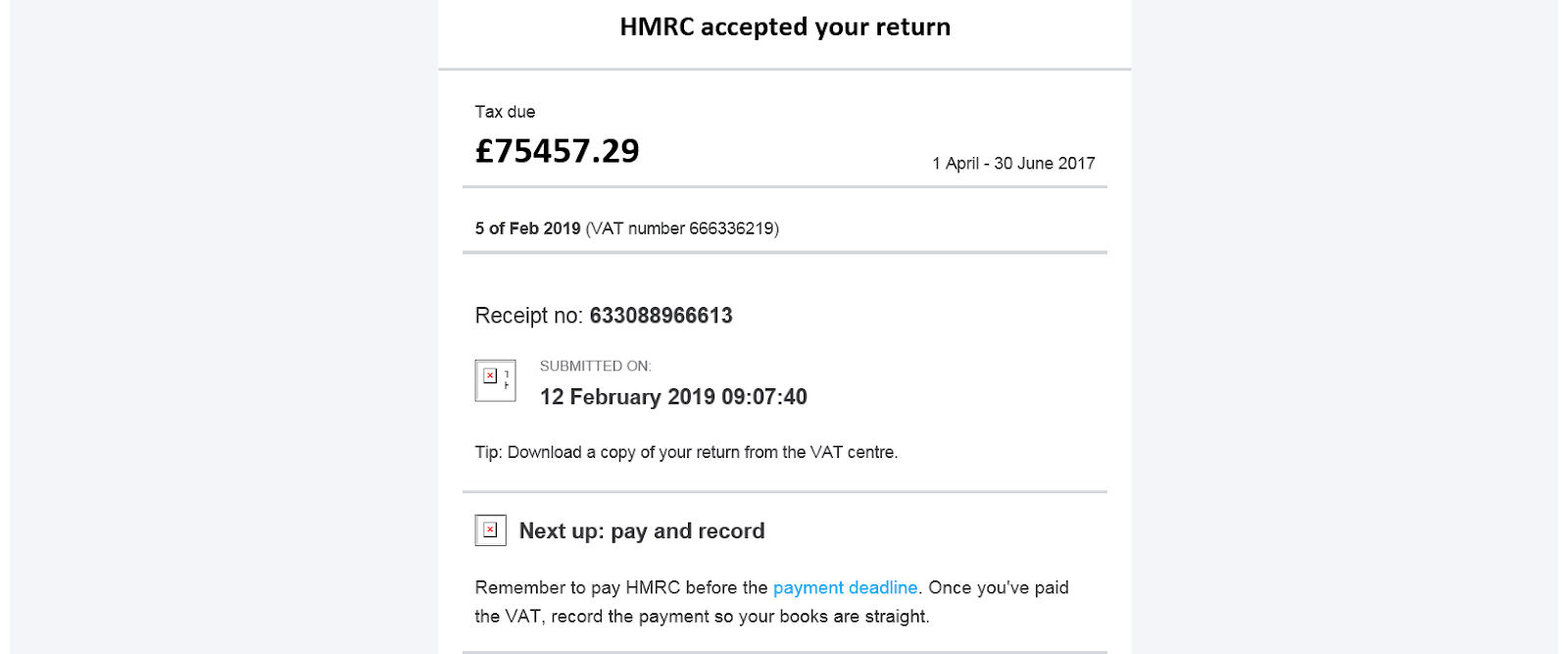 The email is sent from quickbooks-email@intuit.com. If you have not received this email within a few minutes after your return has been submitted, check your spam or junk folder.
You can review a list of MTD content here.
*QuickBooks MTD software currently supports Standard, Cash, and Flat Rate schemes, and annual submission. QuickBooks Online Bridging Software supports Standard and Cash schemes. Businesses whose home currency is not GBP are currently not supported for MTD.
More helpful articles
Authorise QuickBooks to interact with HMRC - MTD for small businesses
Everything you need to know about Making Tax Digital (MTD)
Submit a VAT return in QuickBooks Online
Common VAT codes
Brexit FAQ