Learn about Form 1099-MISC: which payments to report and boxes to fill in.
If you paid at least one vendor or independent contractor more than $600 last year, it's likely you'll need to prepare 1099-MISC forms in January. In this article we'll give you information on the payments you need to report and how to fill in the boxes.
You can download Form 1099-MISC.If you're looking for help classifying your workers, see IRS Publication 15: Circular E, Employer's Tax Guide.
Frequently Asked Questions
The following payments have to be reported on Form 1099-MISC:
At least $10 in royalties or broker payments in lieu of dividends or tax-exempt interest;
At least $600 in rents, services (including parts and materials), prizes and awards, other income payments, medical and health care payments, crop insurance proceeds, cash payments for fish (or other aquatic life) you purchase from anyone engaged in the trade or business of catching fish, or, generally, the cash paid from a notional principal contract to an individual, partnership, or estate
Any fishing boat proceeds
Gross proceeds of $600 or more paid to an attorney
Generally, payments to a corporation don't require Form 1099-MISC. Exceptions to this include: Form 1099-MISC reportable payments to corporations

Medical and health care payments reported in box 6
Fish purchases for cash reported in box 7
Attorneys' fees reported in box 7
Gross proceeds paid to an attorney reported in box 14.
The following payments don't have to be reported on Form 1099-MISC:
Generally, payments to a corporation. See reportable payments to corporations above
Payments for merchandise, telegrams, telephone, freight, storage, and similar items
Payments of rent to real estate agents. But the real estate agent must use Form 1099-MISC to report the rent paid over to the property owner
Wages paid to employees (report on Form W-2, Wage and Tax Statement)
Military differential wage payments made to employees while they are on active duty in the Armed Forces or other uniformed services (report on Form W-2)
Business travel allowances paid to employees (may be reportable on Form W-2)
Cost of current life insurance protection (report on Form W-2 or Form 1099-R, Distributions From Pensions, Annuities, Retirement or Profit-Sharing Plans, IRAs, Insurance Contracts, etc.)
Payments to a tax-exempt organization including tax-exempt trusts (IRAs, HSAs, Archer MSAs, and Coverdell ESAs), the United States, a state, the District of Columbia, a U.S. possession, or a foreign government
Payments made to or for homeowners from the HFA Hardest Hit Fund or the Emergency Homeowners' Loan Program or similar state program (report on Form 1098-MA)
Certain payment card transactions if a payment card organization has assigned a merchant/payee a Merchant Category Code (MCC) indicating that reporting is not required
If you paid contractors during the year with a credit card, debit card, gift card or PayPal through your your Payroll product account, delete the payment from your account before you prepare Form 1099-MISC. If you've combined and recorded the payment with another that was paid by cash or check, you'll need to separate and delete the portion paid by using the other methods.
Not sure what method you used to pay your contractors? Compare the 1099 payments in your Payroll product account with your credit card or bank statements, or your PayPal account.
The boxes on the form supported by Intuit differ depending on whether you use our E-File service or our Full Service Payroll product. See the breakdown below:
Intuit 1099 E-File Service: Boxes 1-14 are supported
Intuit Full Service Payroll: Only Box 7 is supported
| 1099-MISC Boxes | Example |
| --- | --- |
| Box 1: Rents | Real estate rentals paid for office space |
| Box 2: Royalties | Royalty payments for patents or copyrights |
| Box 3: Other Income | Enter other income of $600 or more required to be reported on Form 1099-MISC that is not reportable in one of the other boxes on the form |
| Box 4: Federal Income Tax Withheld | Enter Backup Withholding at 28% |
| Box 5: Fishing Boat Proceeds | Individuals share of all proceeds from the sale of a catch |
| Box 6: Medical and Health Care Payments | $600 or more in payments to each physician or health care services |
| Box 7: Non-employee Compensation | $600 or more in commission pay for services |
| Box 8: Substitute Payments In Lieu of Dividends or Interest | $10 or more received by a broker for a customer in lieu of dividends or tax-exempt interest as a result of a loan of a customer s securities. |
| Box 9: Payer Made Direct Sales of $5,000 or More | $5,000 or more in sales of consumer products to a person on a buy-sell anywhere other than a permanent retail establishment. |
| Box 10: Corp Insurance Proceeds | $600 or more paid to farmers by insurance companies |
| Box 11 and 12: (Reserved for future use) | Make no entries in these boxes |
| Box 13: Excess Golden Parachute Payments | Total compensation of excess golden parachute payments subject to a 20% excise tax |
| Box 14: Gross Proceeds Paid to an Attorney | $600 or more paid to an attorney for legal services. |
Here are the specifics for each copy of Form 1099:
Copy A: For record purposes only. Needed for manual filing only; however, manual filing is not supported by this service.
Copy 1: Employer copy to file with state when applicable.
Copy C: For employer records.
Copy 2: Contractor copy to be filed with state.
Copy B: For contractor's records.
Form 1099 is generally printed two or three to an 8x11 inch sheet. If at least one form on the page is correctly completed, you must submit the entire page. You must send the forms to IRS in a flat mailing (not folded). See also General Instructions for Certain Information Returns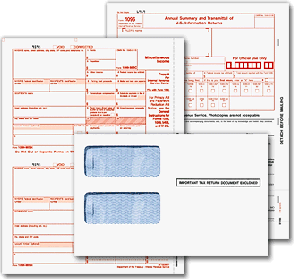 Intuit offers 1099 Forms (two per sheet) with size 8 1/2" x 11" that includes compatible double-window envelopes with size 5 5/8'' x 8 3/4". You can order them and find out what QuickBooks versions they are compatible with here.